735 JAMES JOYCE MIXSON, ARCHIBALD MIXSON (709), JOHN C. MIXSON (706), JOHN C. MIXSON (700), JOHN MIXSON IV (6), JOHN MIXON III (3), JOHN MIXON II (2), JOHN MIXON I (1)
James Joyce Mixson II, son of Archibald K. and Elizabeth Calhoun Mixson, was b. in Barnwell County, SC Sept. 16, 1832, d. Jan. 6, 1919, bur Laurel Hill Cemetery, Archer, Alachua County, FL. On Sep 17, 1857 he m. Elizabeth Stanyard Johnson (a second cousin) - b. Sept. 19, 1841, d. Dec. 26, 1927, dau. Of James Beckett and Elizabeth Calhoun Johnson. Wounded in Jonesboro GA on Aug. 31, 1864, Shot in left shoulder hereby losing bones in arm. Doctor report says "that his left arm and position of left-scapula had to be sesected from being wounded at 2 Jonesboro GA – which makes left-arm comparatively useless." (Updates from FL Civil War Pension Records) All their children (except the second) were born near the present town of Williston, Fla., in an area of Marion County later transferred to Levy County in the late 1800's. The second child, Archibald James Kirkland Mixson (790) was born on the James Beckett Johnson plantation near Johnson's Landing on the Savannah River in Barnwell District, South Carolina.
James Joyce Mixson
James Joyce Mixson was born in Barnwell District, South Carolina, September 14, 1832. He was deprived of his mother by death when a very small child; at 18 years of age he was overseeing for the largest planter in Screven County, Ga. Six years later he brought his father's negroes, mules and horses overland to Marion County, Fla. , where he engaged in farming and stock raising. He returned to Barnwell District, SC , Sept. 17, 1857 and was married to Elizabeth S. Johnson. On returning to Fla. , he purchased a farm near Archer in Alachua County and engaged in farming until the Civil War broke out and joining the 7th Fla. Infantry, April 12, 1862, went directly to Virginia where he followed the varying fortunes mf Stonewall Jackson and Longstreet. He was at both battles of Manassas and Bull Run, where no army in the world could stand up before the Southern riflemen. He went to Tennessee with Longstreet and was in both battles of Lookout Mountain and Cumberland Gap. It was this campaign where the Southern soldiers suffered terribly of cold, almost without shoes and clothes. During the rigors of winter, he was sent under Joseph E. Johnson to oppose Sherman, where at Jonesboro, on first day Hood took command when thirty thousand Confederates were ordered to charge one hundred thousand Federals in their trenches, a fragment of, shell struck his left shoulder and tore it to pieces. At the end of the Civil War, like other Southern soldiers, he helped to build a new South out of the old. He was always an ardent sportsman and kept a pack of hounds for the chasing of deer, fox and wildcat, and prior to the freeing of the slaves, a pack for catching runaway negroes. He was a member of the Baptist Church, also of Free Masons for sixty years and stated a short time before he died that he always lived up to the tenets and obligations of that order. He died January 6, 1919 at the home of his son, J. M. Mixson, near Williston, Levy County.
Dedicated in loving memory by his son, Williston, Jan. 18, 1919. A. J. Mixson
From Find a Grave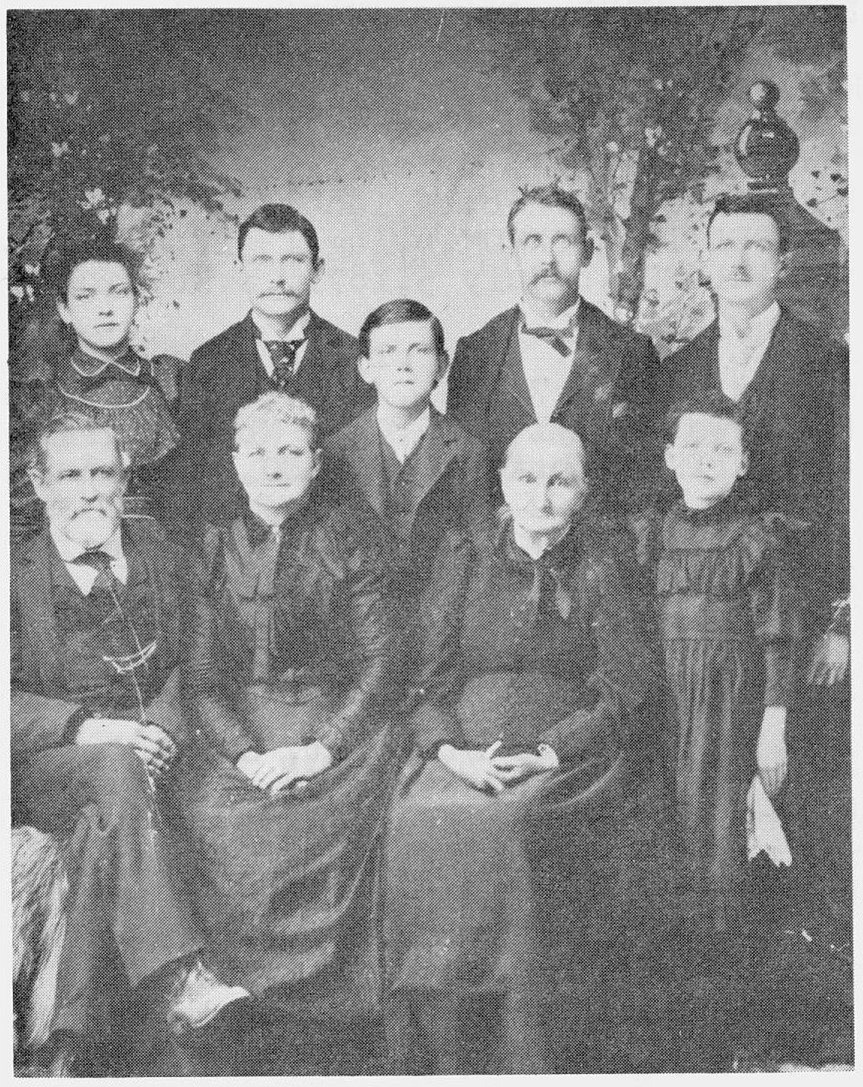 THE JAMES JOYCE MIXSON (735) FAMILY
Mr. Mixson was named for an uncle, James Joyce Mixson #(711)
Left to right (seated), James Joyce Mixson II and wife, Elizabeth Stanyarne Johnson Mixson, and her mother, Elizabeth Ann Calhoun Johnson. Middle row, Pasley Elhannon Mixson (# 796), girl at right Helen Mixson (#797), (both standing).
Back Row (standing), Pauline Rosa Mixson (#795), John Micajah Mixson (#793), Archibald James Kirkland Mixson (#790), Eugene St. Eval Mixson (#794).
The Mixson Bone Bed
In 1884 many fosslized bones were found by James Mixson on his plantation near Williston Florida. See more at The Mixson Bone Bed.
Civil War Record:
Enlistment date: Apr, 12, 1862; place: Camp Lee, FL; Rank: 2rd Sergt; Regiment: 7th Infantry ; Casualty Date: Sep 2, 1864; Casualty Place: Jonesboro, Georgia; Type of Casualty: Wounded; Casualty Information: Severe wound in shoulder
Census:
1860 Division 17, Alachua, FL, age 27, wife Elizabeth S-18, children: Sarah E-1
1880 Willis Mills, Levy, FL, age 48, wife Elizabeth-38, children: Archer-19, Mary-16, Harriet-13, John-8, Eugene-6, Paul-6mo
1885 District 3, Levy, FL, FL State Census, age 52, wife Elizabeth-43, children: March-23, John-13, Eugene-10, Pauline-4, Pasly-2
1900 Williston, Levy, FL, age 68, wife E S-58, children: Pauline-20, Pasley-17, Helen-14
1910 Williston, Levy, FL, age 77, wife Elizabeth-69, Eugene S-39, dau in law Eliza Mixson-52
1920 New Orleans Ward 12, Orleans, LA, Elizabeth Mixson age 78, widowed, living with dau. and her husband Thomas McCarroll-37, Helen McCarroll-34
Children:
*789 Elizabeth Sarah Mixson - b. Dec. 11, 1858, d. May 26, 1940, m. Joseph M. Edwards, Jan. 28, 1875
*790 Archibald James Kirkland Mixson - b. Sept. 26, 1860, Jan. 13, 1938
*791 Mary Walton Mixson - b.Feb. 11, 1864, d. May 18, 1917, m. (1) Robert K. Mixson, m. (2) Charles J. Phillips
792 Harriett Hasseltine Mixson - b. Aug. 13, 1866, d. June 5, 1882, bur. Laurel Hill Cemetery, Archer, Alachua County, FL
*793 John Micajah Mixson - b. July 4, 1871, d. Nov. 20, 1948
794 Eugene St. Eval Mixson - b. Mar. 15, 1874, Williston, FL, d. Aug. 18, 1917, bur. Orange Hill Cemetery, Williston, FL . He m. Elizabeth R. Matthews - b. Nov. 17, 1857, d. July 19, 1929, dau. of Dr. and Mrs. W.L. Matthews. No issue.
E. S. Mixson Killed
Mr. E. S. Mixson of near Williston and a negro servant named Brown Lewis were returning home from Williston Saturday noon when their car was struck by a northbound Atlantic Coast Line passenger train at the crossing two and one half miles from town. Both were injured fatally, tying two and three hours later. The car was completely demolished. Mr. Mixson was a brother of the late Mrs. Chas. J. Phillips and a prominent and highly respected citizen of the Williston section. His death is greatly deplored. There has been quite an epidemic of railroad versus auto accidents in the Williston section in the past three months. The Ocala Evening Star, August 20, 1917
----
Messrs. W. Mixson, T. N. Strange and family, Mrs. L. V. Mixson and Rev. J. F. Rorex went to Williston Sunday to attend the burial of Mr. E. S. Mixson. The Ocala Banner, August 31, 1917 Note: T. N.
Strange married Annie Maria Mixson, see §813
795 Pauline Rosa Mixson - b. April 9, 1880, d. Jun `1969 in New Orleans, LA, m. Arthur Masters, June 12, 1905, Children:
6826 Claire Masters
796 Pasley Elhannon Mixson was named for a famous old country doctor in Williston, Fla. area - b. Nov. 2, 1882, He m. (1), about 1910 Gertrude Craven of Raleigh, Fla. They had two daughters, one of which died in a fire at High Springs, Fla. The other daughter and the mother were living in or near Plant City, Fla. The mother later married a Mr. Smith.
m. (2) Sep 19, 1912 in Clinch, GA to Sallie Will Simmons, b. Aug 22, 1895, d. Jul 3, 1959 in Bexar TX. They had one child, a daughter
6827 Rubye Bishop Mixson - b. Sep 25, 1914, d. Apr 24, 1987, m. William Howard Lawson, b. Apr 6, 1909, d. Apr 3 1987.
Census: 1930 Precinct 1, Karnes, TX, Sally W Mixon age 34, with dau. Rube B Mixon-18
1940 San Antonio, Bexar, TX. William age 30, wife Ruby-26, children: Keonard B-8, Tommy E-6, Hazel Joe-3
Children:
21065 Keonard B. Lawson – b. abt 1932
21066 Tommy E Lawson – b. abt 1934
21067 Hazel Joe Lawson – b. abt 1937
m. (3) ____, of Chicago. They lived at Williston, Fla. for a time, but moved to Chicago about 1948.
*797 Helen Mixson - b. Nov. 29, 1885, m. Thomas Michael McCarroll, May 18, 1904, He was b. Nov 10, 1882 at Gainesville, Fla. , d. May 14, 1942 at New Orleans, La. He was a civil engineer. Children:
6828 Eugene Mixson McCarroll - b. Aug. 11, 1906, m. April 21, 1933 to Lolita Gladys Gelpi. All their children were born in New Orleans:
6829 Gladys Helen Gelpi McCarroll - b. M. 9, 1934, m. June 22, 1957. Kenneth Nott Mclntosh, Jr. Children:
6832 Kenneth Nott McIntosh III - b. April 2, 1957
6830 Jean Elizabeth McCarroll - b. Oct. 12, 1935
6831 Patricia Ann McCarroll - b. Dec. 18, 1945
Updated 09.14.2021
Page 109