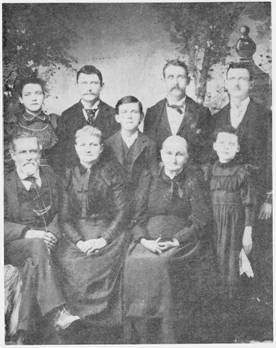 (735) THE JAMES JOYCE MIXSON II FAMILY
(Mr. Mixson was named for an uncle, James Joyce Mixson (711) Left to right (seated), James Joyce Mixson II and wife, Elizabeth Stanyarne Johnson Mixson, and her mother, Elizabeth Ann Calhoun Johnson. Middle row, (a boy) 796 Pasley Elhannon Mixson, a girl (at right) 797 Helen Mixson, (both standing).
Back Row (standing), 795 Pauline Rosa Mixson, 793 John Micajah Mixsan, 790 Archibald James Kirkland Mixson, 794 Eugene St. Eval Mixson.
Page 110