Map
147 Washington Ave
Indialantic By The Sea, FL
1976-1979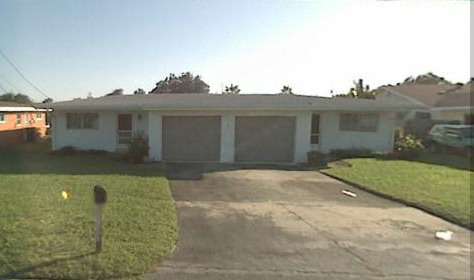 I lived on the left side
Upon accepting the job in Melbourne Florida, I had a small problem, where was I to live? As it turned out, my friend Robin was from Indialantic and her Mother who still lived there was a realtor, so Robin's mother found me a place in Indialantic, just across the Indian River from Melbourne that was one block from A1A which runs right along the beach.

Once again, I found myself living in a duplex. There five or six identical ones on the street with the owner/landlord living in the one next to me. Indialantic is a narrow strip of land with the Atlantic on one side and the Indian River on the other, I could walk to the beach in less than a minute and see a sunrise and ride my bike in the other direction and see the sunset over the Indian River. The office I initially worked at was mile down the road on A1A. Later when I started working at Harris, I had to drive across the causeway over the Indian River each day which is a most beautiful drive.

One sad thing about my stay there was I lost my cat Kathleen which I had brought with me from Gainesville.

It was in Indialantic at Pete's, a dinner at the end of the main street that I last saw Robin. I was having lunch when a noisy group came in and got seated when I hear, "Larry!", I turned around and it was Robin. Robin, with her husband Kevin and their new baby were home visiting their families, they all came to lunch at Pete's. We talked briefly for a few moments and she went back to her table and I to mine.

Old girl friend Anne came to visit

Flirting with the landlord's daughter

After renting since moving out on my own, I decided I wanted to buy a house of my own and bought a house in Melbourne on Easy Street.