ALASKA – HERE WE COME!
Barbara Mixson
May 25, 1994, the day had finally arrived! We, Betty and Billy Yawn, Morris and Barbara Mixson left for Alaska in our motor home.
Our first stop was in Branson, Missouri where we spent four days and took in several shows. On May 31, Joyce and Wyndall Skipper (Barbara's high school friends from Brandon, Florida) met up with us. They traveled in their pick-up truck and pulled a camper trailer.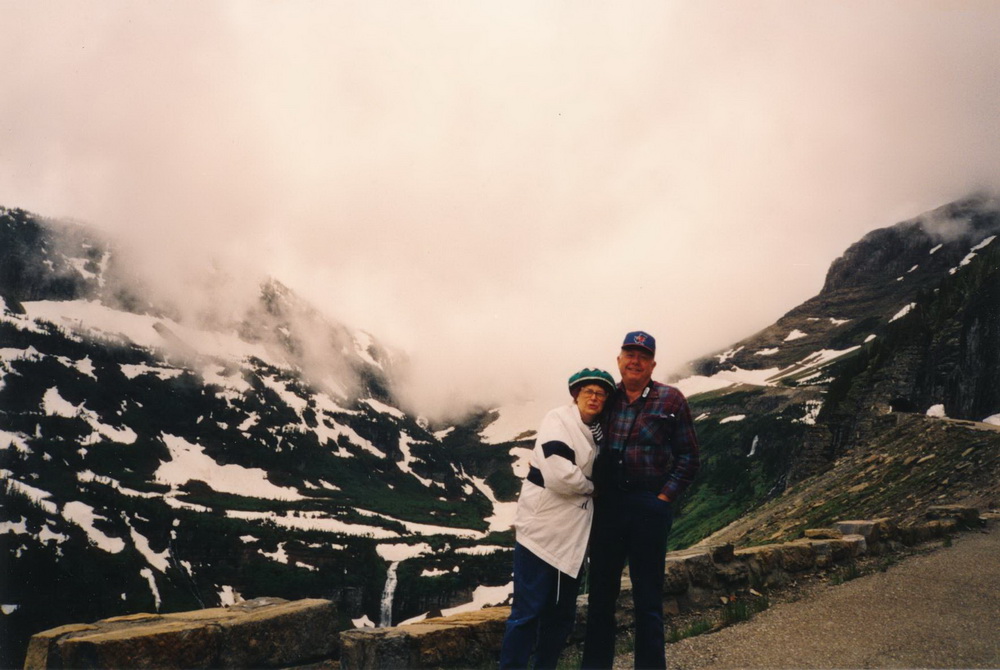 On our way to Rapid City, MT, we went through Mitchell where we saw the Corn Palace and Museum of Dolls and went though the Badlands National Park. We spent two days visiting Mt. Rushmore and Custer's National Park; then two days at Glacier National Park. While we were there we took the "Going to the Sun Road," where saw our first glaciers. That day it was very cold, light snow, sleet, fog and winds, but oh, so beautiful. By this time our CB radios were in constant use as we kept exclaiming one to another, "Isn't that beautiful, did you see the bears, or the moose, or the sheep or whatever?"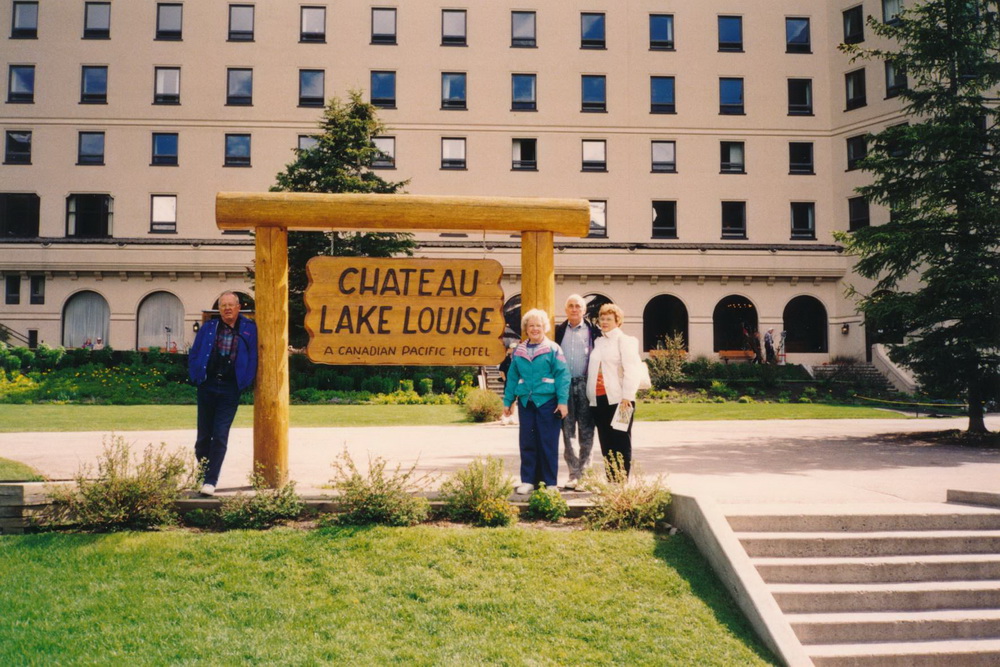 Our trip continued through Calgary, Banoff National Park, Lake Louise and Jasper National Park. We stopped early each day at a campground we'd pick out the night before. Some days we only traveled 15—250 miles. That way we had the whole afternoon and evening to sight see.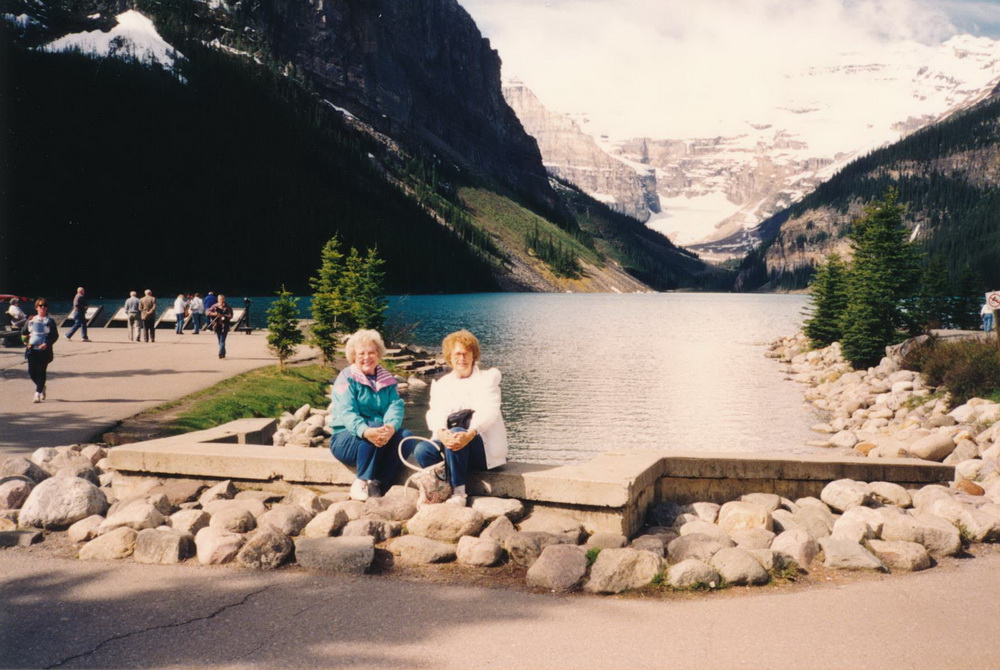 I (Larry) sat on this same place in 2017 on a business trip
Saturday, June 11 we had gone 3582 miles when we arrived in Dawson Cree, British Columbia, where the Alaskan highway begins. This is the starting point f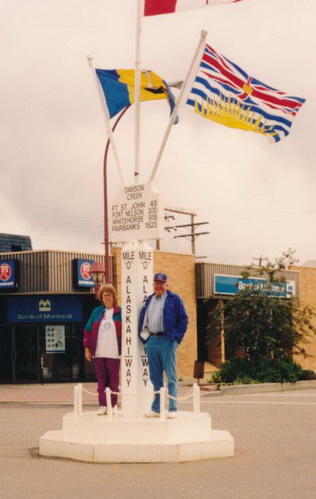 or those going on to Alaska and we met up with hundreds of rigs getting ready for the 1500 mile trip to Fairbanks. Travel days were getting shorter now due to the bad road conditions. At times, we were going ten miles per hour.
June 18 we arrived in beautiful Skagway, Alaska where we left our rigs and took the ferry (the night cruise from 11:00 pm to 6:00 am) to Juneau, the capital, were we spent three days and two nights. This was the only time we stayed in a motel. We all loved Juneau and the shopping there was great.

June 21, the longest day of the year, found us back in Skagway were from then on we had almost twenty-four hours of daylight.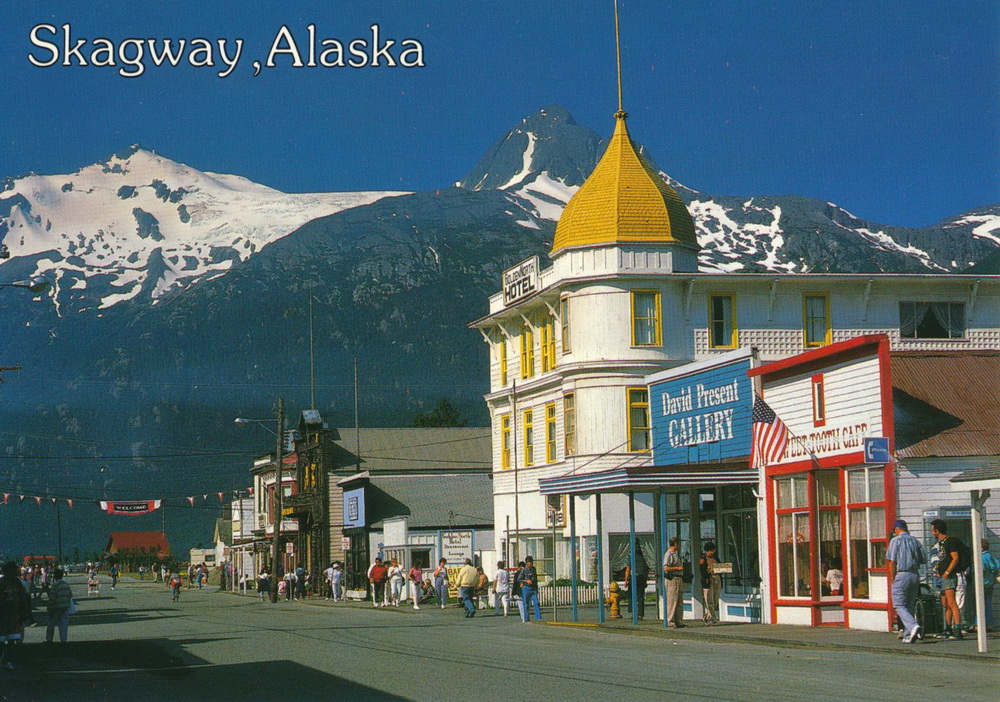 Leaving Skagway going to Valdez was the most incredible scenery anywhere on our trip. The road was high up on the mountains right along side of huge glaciers, beautiful waterfalls, creeks, rivers and lakes.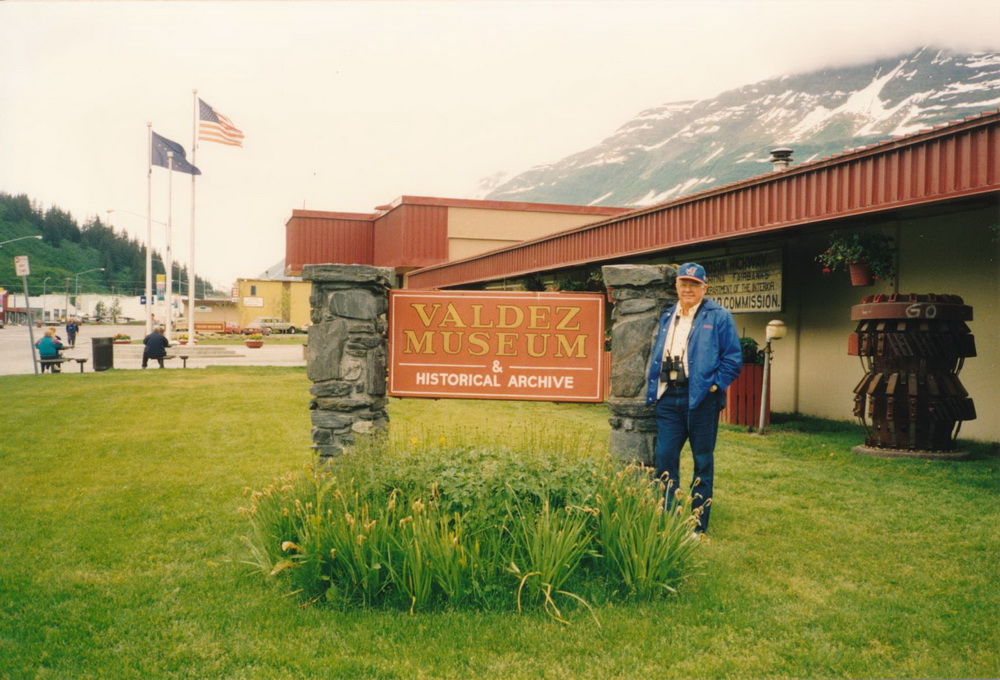 In Valdez, we went on a small cruise ship owned by a member of the First Baptist Church. We went out in the port of Valdez for a "different church service" led by the pastor of FBC. We left the dock at 8:00 am to worship God in the beauty of His world during the one hour cruise. It was great and one of the highlights of our trip.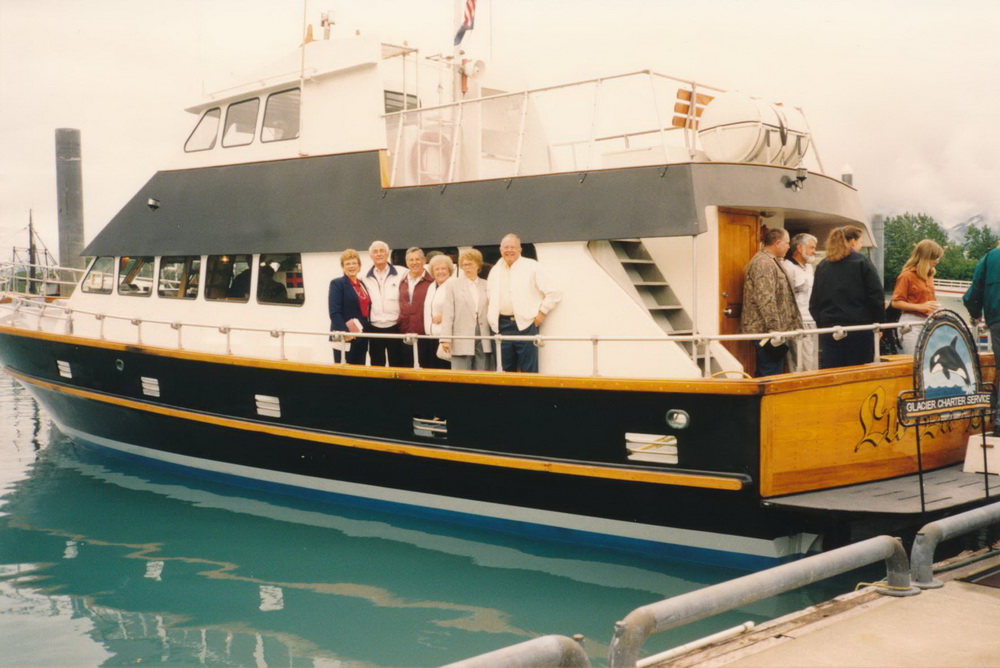 On to Anchorage, a large modern city of 250,000. Here we stocked up on groceries and supplies from SAM's, Walmart, and K-Mart. The cheapest gas since the states was found here -- $1.15 a gallon.
Our next stop was Soldotna on the Kenai Peninsula. Here we camped at the Deep Creek right on the waterfront and we met three other couples from Gainesville; friends of Betty and Billy's from their square dancing group. This area is known for its great halibut fishing but because of the bad weather (cold, rainy and lots of strong winds) their trip was canceled. So instead, we drove down to Homer and ate out and took in the sights and museums.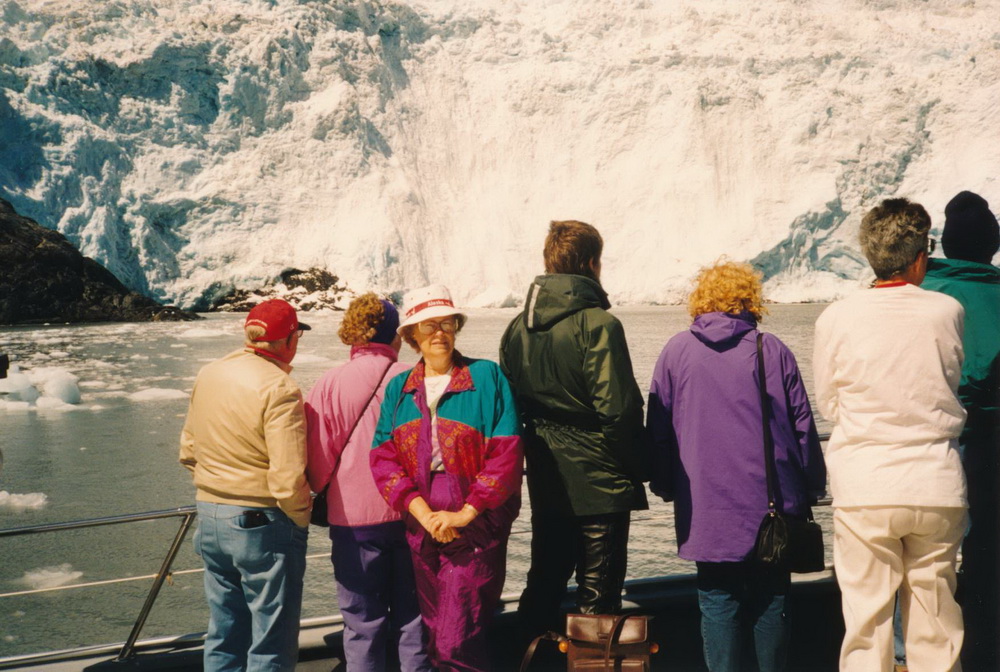 Seward was next where we took an eight hour cruise. It was a wonderful cool and sunny day after a week of rain. We saw a hum back whale, sea lions, puffins, and about fifteen other species of birds, and of course, the highlight of the trip was a close up view of the glaciers. We were some of the lucky ones as we saw a huge glacier calve, about six times in a row. Calving is when big pieces of the glacier fall off with a crashing sound into the water. These huge pieces of ice make icebergs in the water. It was a wonderful sight. Yes, we have this on video tape.
From Seward we went to beautiful Portgage Glacier; then to Hope, a gold mining town, small and peaceful, for a few days of rest.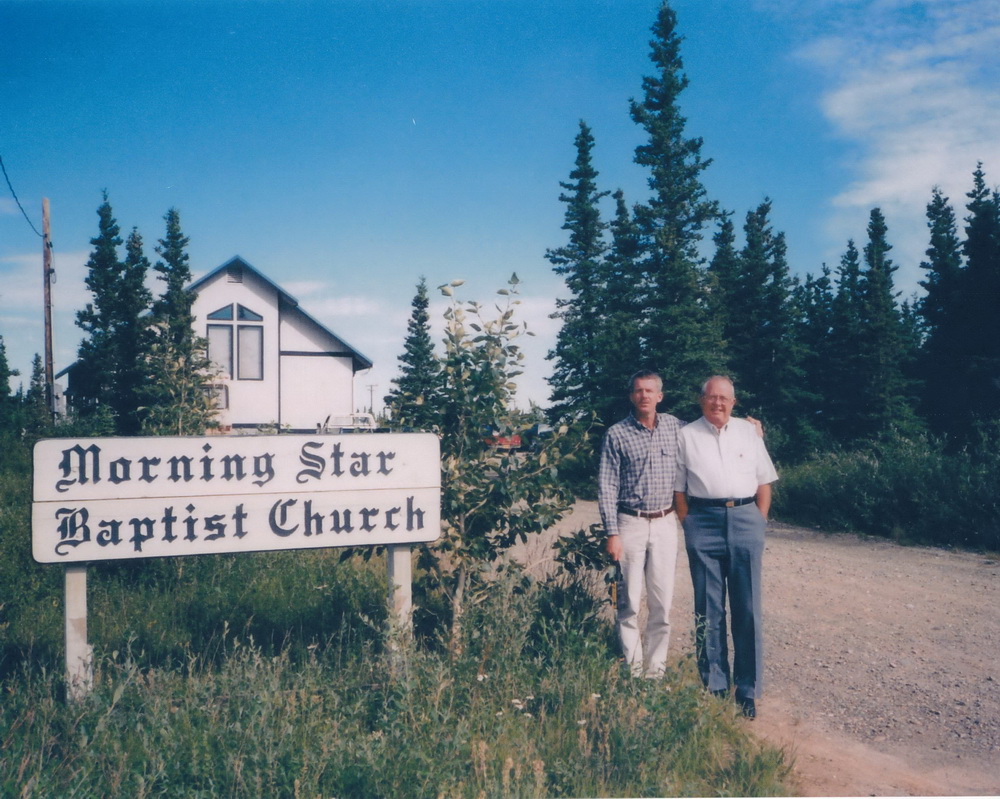 We met our son David, in Anchorage. He spent five days with us. We spent three days at Denaile National Park where we took in eight hour bus tour to see Mt. McKinley. Only 25 percent of the time can anyone see Mt. McKinley and unfortunately, it was covered with clouds when we were there, but on the way back we stopped and looked back and we did get to see the tope of it.
On July 19, we were in Fairbanks where David left us to go sight-seeing on his own. From there, we drove the awful gravel road trough Chicken, Alaska on the "Top of the World Highway." It was awesome, just beautiful and so different, in spite of the bad road.
We arrived at the Yukon River and waited in line for almost two hours for the free ferry, which held only four to six vehicles at a time, to take us across to Dawson City.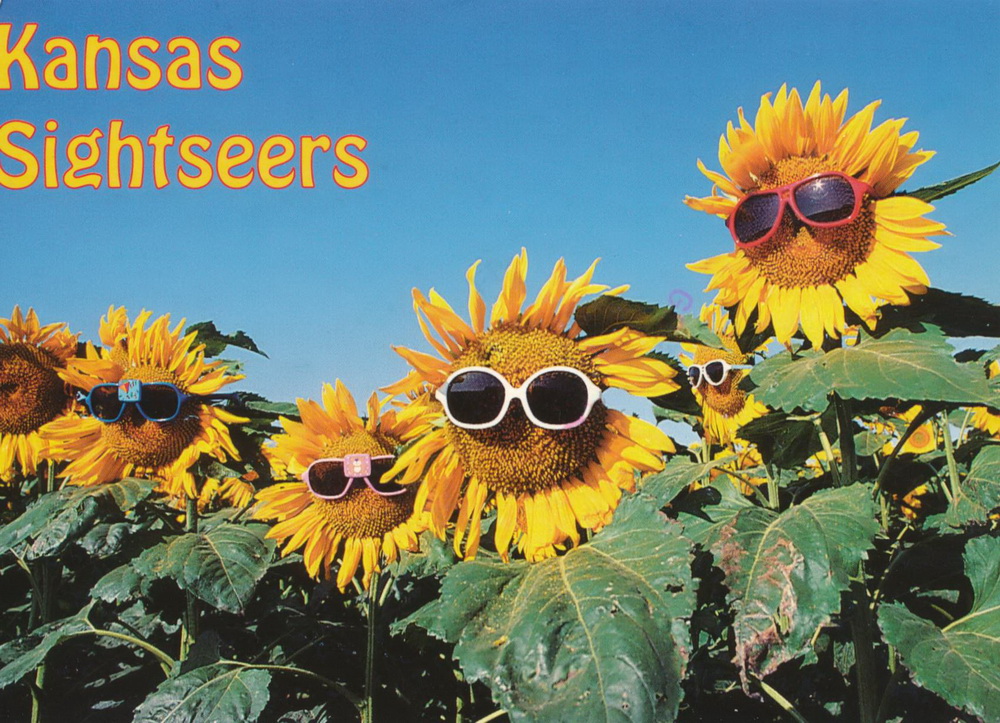 Our return route led us though Whitehorse, Watson Lake, Liard Hot Springs, Ft. Nelson, Dawson Creek (all in the Yukon); Edmonton in Alberta, Saskatoon, Minot, North Dakota, South Dakota, Iowa and Lawrence, Kansas where we spent a week with Brenda, Tom and the boys. Betty and Billy arrived home August 14 and Morris and I on August 20.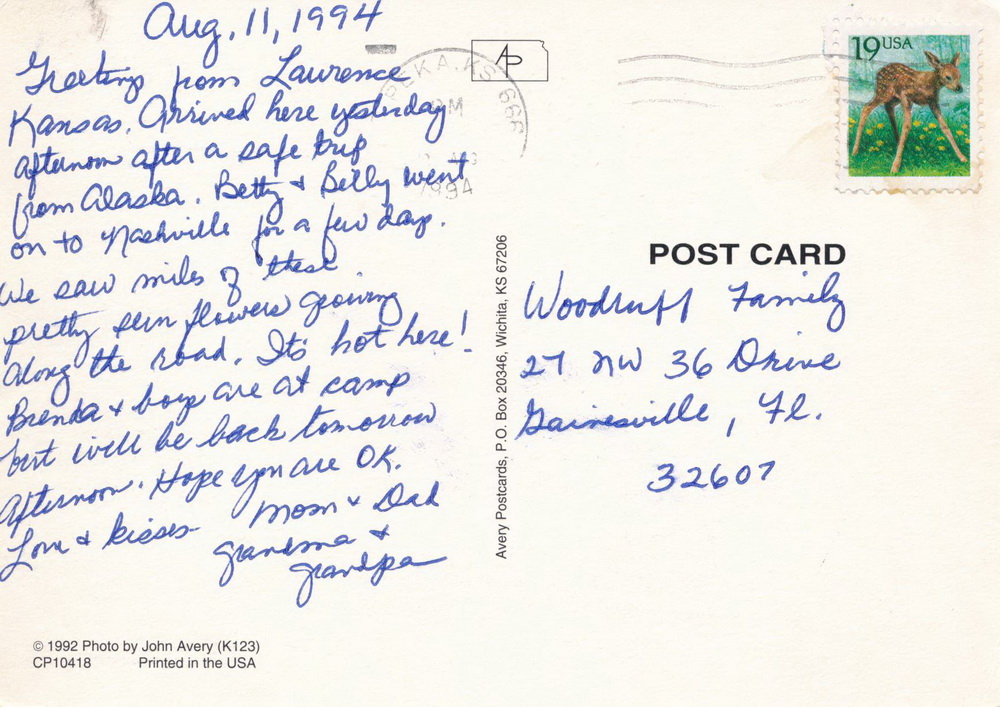 Back of Kansas Post Card
We were gone 88 days and traveled 11,600 miles. It was a great and wonderful trip; one that we will never forget. We thank God for a safe trip and for making such a beautiful world and that we had the opportunity to see a part of it.
Barbara Mixson