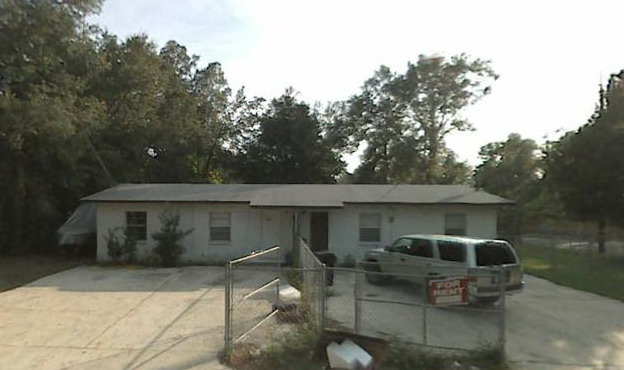 Picture taken around 2010. House did not have the concrete yard and fence when I lived there.
The summer after graduating from high school I moved out on my own for the first time. I had a part time job and was going to the University of Florida in the fall. My friend, Bill, who I knew from church (Westside Baptist) parents had moved to Jacksonville and he had a small apartment but was ready for something better. It worked out that we got the left side of a duplex on 36 Avenue. The house was a furnished rental which was perfect for university students. The inside was painted crazy colors with the bathroom being pink and dark blue strips. I couldn't stand it and repainted it white.
We rented the house from an Asian lady who had several rental houses. Bill and I always paid the rent in cash and would take turns taking the rent to her house each month. She would invite us into her house and have us sit, get some iced tea and then want to talk. It seemed nice at first but after a few times we hated it and would find some excuse not to stay.
Being a duplex, we always had someone living in the other half. There were a couple of college guys that were from Fort Walton. There was a single college girl for a short time. There were the two guys in veterinarian school at the UF, and then there were the two college girls. One was kind of chubby, the other with frizzy hair. For a few weeks they both seem to be coming on to Bill and me, the chubby one to Bill and the frizzy one to me. I think they had a bet between them who could get us into bed first. Well I know the frizzy one didn't win.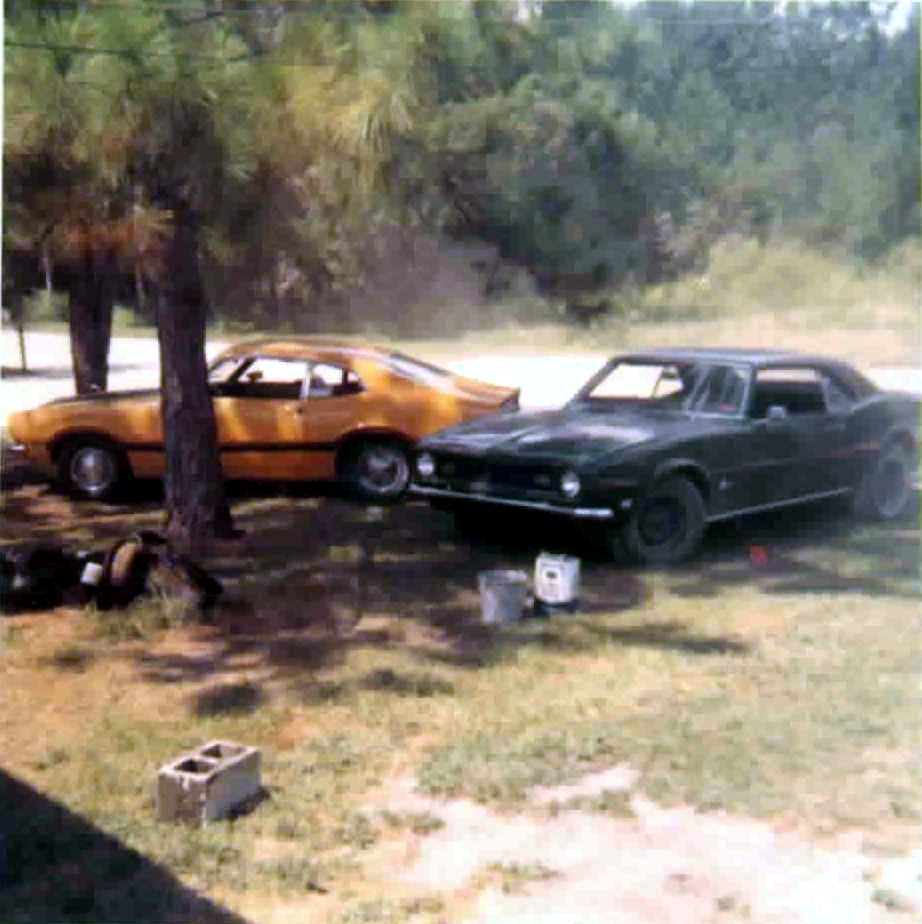 The time I lived here was the time of cars. I had a '68 Camaro and Bill had a '67 Mustang both which we were always working on, brakes, exhaust, carburetors even whole engine rebuilds. There was a tree in the front yard we used for an engine hoist, I remember some engine we took out sitting out under the tree for months. The back porch was a pile of car parts. One weekend we were planning to do a full engine rebuild when it started raining. That didn't detour us, we just moved inside and rebuilt the engine on the living room floor. Well into the build the doorbell rang, I open the door and much to our surprise it was the landlady. I don't remember what she wanted, but she looked in and saw what we were doing. Every time I went to pay the rent after that I was worried that she was going to say something but she never said anything about it.
Bill worked at an auto parts store in town which was really great for we got all our parts at a discount, but it also meant Bill, while working, was always coming across some deal on a car. There was some big old car with fins, a big one-ton truck, a Spitfire-GT6 and a Ford Econoline van. The last two I ended up buying from Bill. Those were great years but with all the cars and partying I didn't do so well at the University and dropped out after a few quarters.
In the end having a roommate began to bother me and I found a place and moved out to a place on Archer Road.