Bicycling
I started bicycling at an early age and have continued to do so throughout my life. Here are some stories about my bicycling experiences.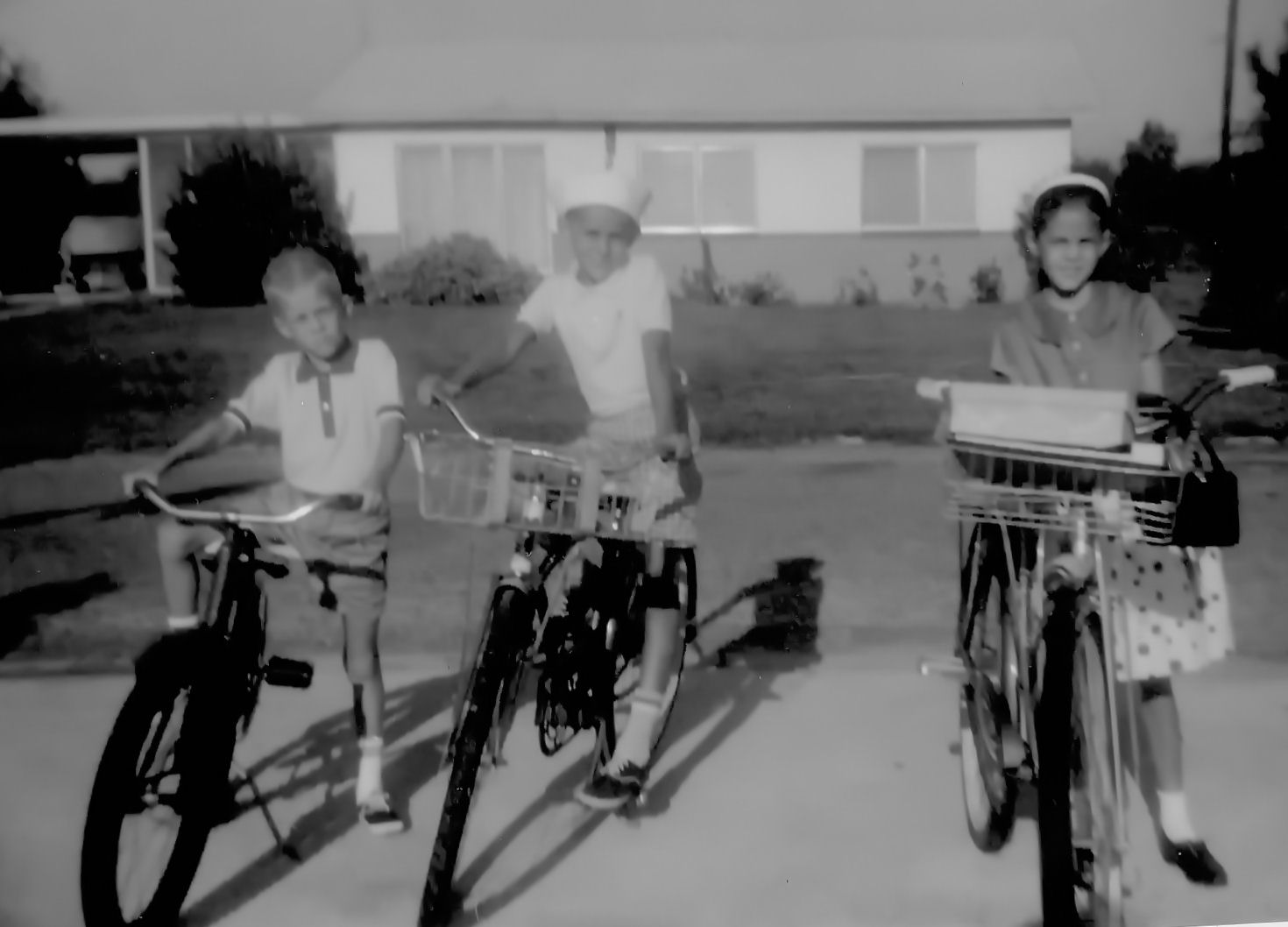 David, Larry and Brenda on our bikes about to go to school 1961
I vaguely remember my dad teaching me to ride. We were in the road in front of our house on 27th drive in Gainesville. I got on and dad started behind me holding the bike and then letting go. When I was in elementary school I rode my bike to Littlewood which had just opened. It was about a mile ride which wasn't far but at that age it seemed longer. I don't remember what kind of bike I had but it was a one speed with a coaster brake in which you peddled backwards to engage the brake. David and I would ride up and down the street sometimes in the fog behind mosquito truck that came each week in the summer. I remember in the summer it sometimes rain every afternoon and sometimes we would be on our bikes and see the rain coming down the street and we could ride just in front of the advancing rain until we got to our house.
While in junior high school I got a "new" bike, it was three speed Schwin hand-me-down from my uncle Corky. The Schwin was almost like new and had three speeds with hand brakes with big baskets on the back for carrying my books. This was like way cool, could go faster and further. I road to school almost every day and would bike all around the neighborhood and sometimes over to my friend Hank Weaver's house which was near Westwood school. During this time David and Brenda got new Sears three speed bikes for Christmas. I initially felt left out because they got new bikes and had an old bike. To make my bike look better I painted the bike all black and then added bright yellow strips using yellow tape. About year or so later I was I felt different as the David and Brenda's Sears bikes started to have problems and break while my sturdy old Schwin held together. This was in part due I took care of it and was often adjusting or tightening things.
As I started high school I couldn't ride my bike to school anymore as it was too far to ride to Gainesville High (I took the bus and later rode with Brenda or my friend Bill). I still rode my bike a lot as it was my only means of getting around until I got my first car in summer of 1970. I would ride over to my friends Bill, Ed, John houses. I also remember riding over to Hog Town creek by Gainesville High School to look for sharks teeth. I remember having a crush on Ginny Gordon in my senior year and road across town to see where she lived. I never did have the nerve to ask her out.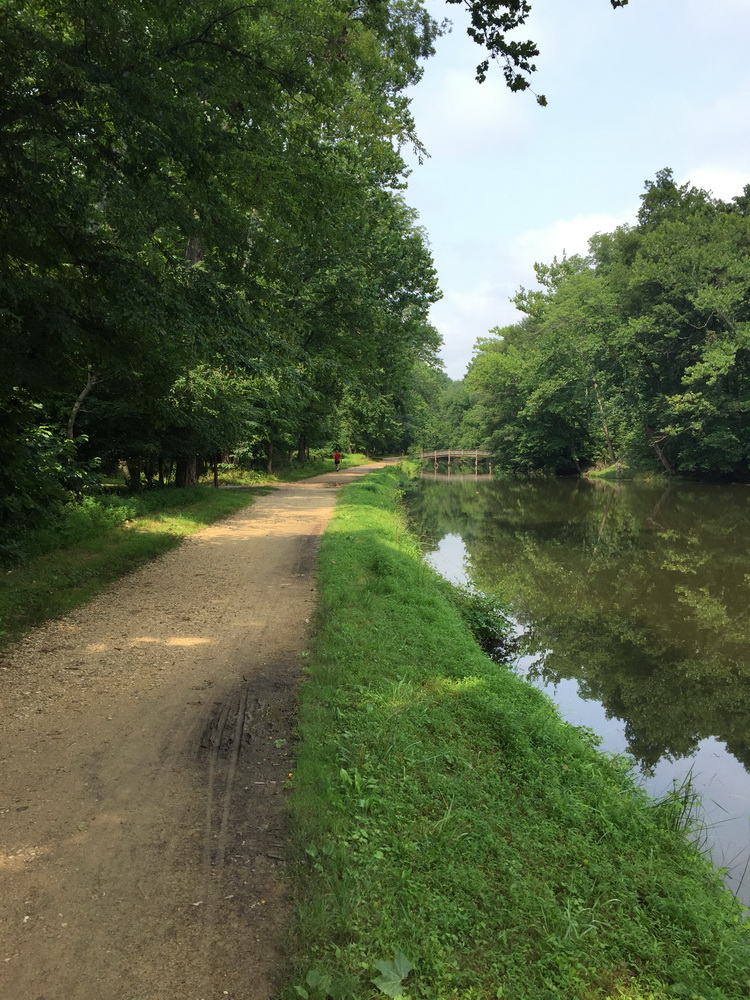 The C&O Canal
When in college I got a new ten speed Sears bike. Ten speeds were relatively new at this time and it was a big improvement. I would often ride from my house on 36th avenue to work or class at the University of Florida which was three or four miles. It was during this time that I started to go out for longer bike rides just for the enjoyment of the ride. I remember one weekend I was riding across the university campus and there was a bike race just starting. I thought this is cool and just got in line with everyone else at the starting line. The races begin and went around the roads on the campus and back to the ending line and I was like in the top five or so riders. The people at the finishing line were quickly going around to the riders recoding their position in the race when I realized you were suppose to sign up in advance so I just quietly road away.
In 1976 I moved to Indialantic for a new job and a few years later to Melbourne where I would go out for bike rides around the area.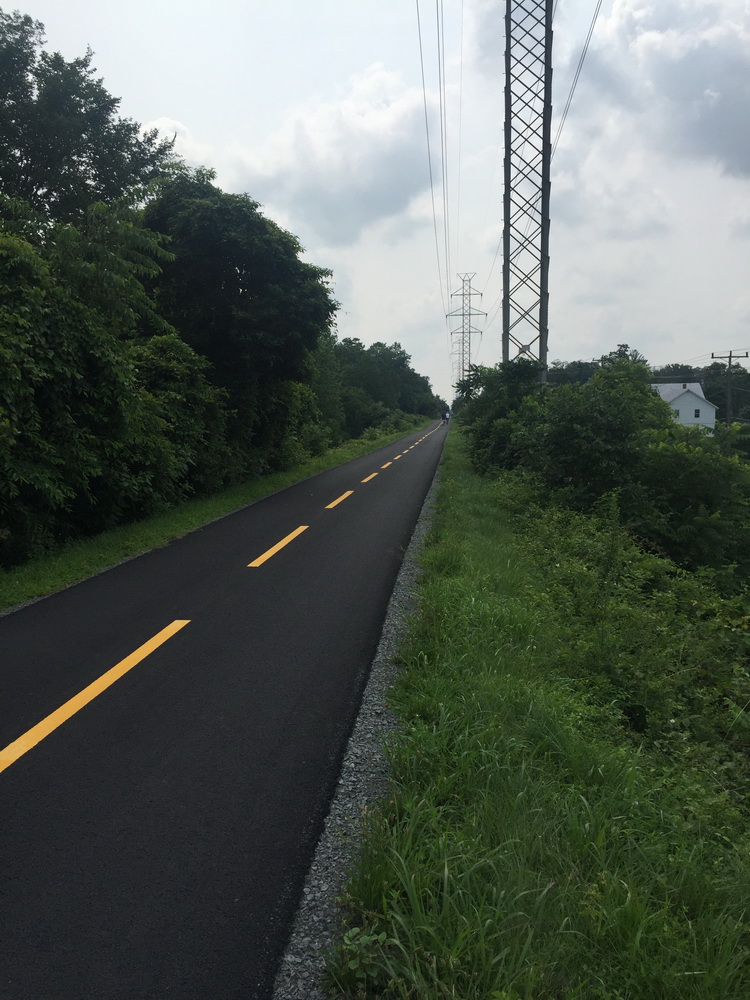 W&OD Trail
In 1988 I took a job in Reston Virginia and didn't have a car and so one of the first things I did was go out buy a new twelve speed road bike and I started riding my bike more often. During this year I took my first rides out the W&OD Trail with Willie who I rented a room from. Over the next few years I started riding more and more often doing thirty to fifty mile rides on the weekends. Twice I did the Multiple Sclerosis 150 mile weekend ride and the 300 mile five day Bike Virginia ride in 1992 and 1993. A few years later sold my road bike and bought a hybrid bike as there were a number of unpaved trails in the area one being the Chesapeake & Ohio Canal along the Potomac River. After doing 10-20 mile rides on the C&O Canal, in 1997 I, along with three others, over three days rode the 180 mile length of the canal.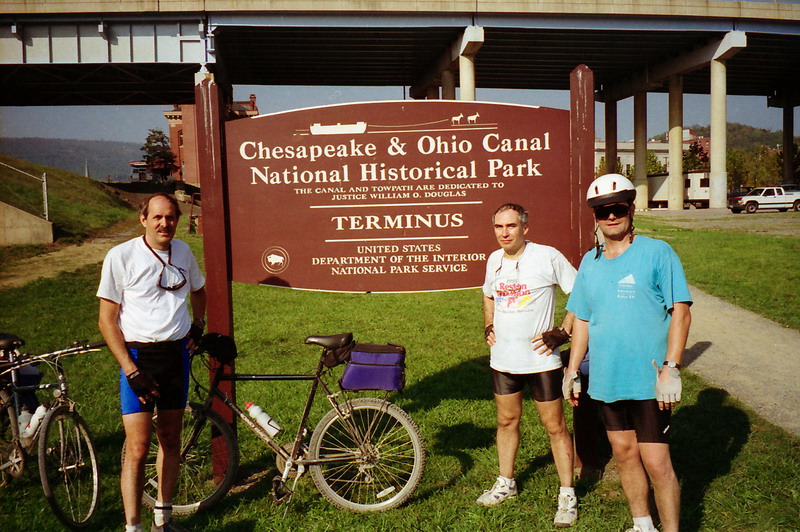 This area is blessed with a lot of nice ridding trails, many or converted Rails to Trails. The W&OD Trail is my regular staple as it is only a mile from my house. It is easy to go out and and do a quick 20 or longer 30 -40 mile rides on the weekend. I have done rides on the Mount Vernon Trail from Washington to Mount Vernon, the New River Trail State Park, The Gunpowder Trail, The Youghiogheny River Trail, Rock Creek Park and others.
I still go out riding when the weather is good but I don't get out as much as I use to.
Larry Mixson, 2011