1959 was a very busy year for our family, with visits with family and friends, outings to springs and the beach, new school and a few minor accidents. I was six that year and remember though a child's eyes many of the events but it was Mom's daily diary she kept that year that bought back many deeply rooted memories which this story is based on.

It started in January when...
The new year didn't start out so well for my brother David when on January 2nd he had the firetruck he got for Christmas in the bathroom him when he slipped off the toilet and cut his knee on the ladder of the truck. Dad had the car at work so Mom called her brother Gary, who had just turned eighteen and got his driver license, to come over and drive her and David to Doctor Brasher who put three stiches in David's knee. This all happened while Brenda and I were at school. The next day Dad got up early and went fishing with his friend John Smith, which they often did, and caught four good size fish. A couple of days later Mom cooked up a fish supper with the fish, grits, cornbread and blackeye peas for dinner. Grandpa and Grandma Junior, Gary, Corky and mom's uncle Bart all came for the dinner and adding Mom, Dad, Brenda David and I made ten that Mom cooked for. Grandma Junior would have helped some but mom did most of the work. Us kids were drafted to set the table and to clean up afterwards. With so many coming for dinner Dad put the leaf in the table in the living room and where the adults would sit. The kids would sit at the small table in the kitchen, it would be many years before we got to sit at the adult table.
The following week on cold January day I lost my hat while walking home from school. I had worn the hat in the morning when it was cold, but it had warmed up in the afternoon and had stuffed in my pocket and it fell out on the walk home. Brenda knew how much I liked the hat so she rode her bike all the way back to the school and back to try to find it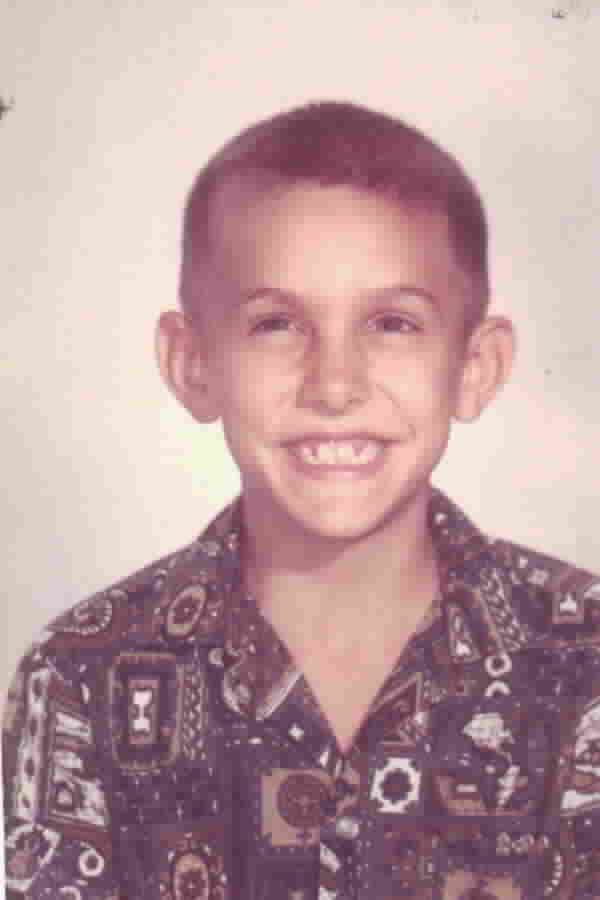 with no success. I was disappointed, I was always freezing with big ears getting so cold I could hardly feel them. I really needed that hat, so Mom got me some bright blue fuzzy earmuffs which I loved, no more cold ears and let me tell you I had some ears, bigger than average that really stuck out with my hair cut short. The only problem was the other kids made fun of them, but I didn't care for they kept my ears warm. It was a mile and half to Westwood which was quite a walk for me at the age of six but soon I got a bike and surprised Mom on how quickly I learned to ride it and couldn't wait to ride it to school.
People had a hard time understanding what I was saying at this age except for my sister Brenda who understood me fine so she would often tell others what I was saying. In January Mom went to see my teacher Mrs. Petty for a teacher-parent meeting which schools did with parents once or twice a school year. Mrs. Petty told Mom I was a real good student, and my speech had improved a lot in the past semester. I did OK in first grade making all 3's in every subject on my report card for all six semesters in the school year except for one 4 in spelling which was surprising for have always been terrible at spelling.
On Saturday January 10th Donald & Irene and their boys, who lived next door to us at our old house, Bart and Corky all came for dinner and Mom made chili. After dinner Grandpa Junior came by and the men all went to see the Florida Gator basketball team play Auburn while the women stayed home with us kids. It was late when the men got home, not happy that Florida lost to Auburn 54 to 63. The next morning we all slept late and had an early lunch and then piled into the car and went out to Flemington and spent the afternoon with Betty and Billy. While the adults caught up on things, we kids caught up on what we all got for Christmas. After leaving Betty and Billy's we went by and saw Grandma and Grandpa Mixson who lived just a few miles down the road from Betty and Billy's. We didn't stay for long and came home and had sandwiches for dinner.
The following week I was getting tired of walking to school and so was determined to learn to ride bike which was a hand-me-down from Corky. At first I would get on the bike while Dad was holding it and he hold it while I started peddling and he would then let go. It only took a few times before I was able to get on and start by myself. Mom wrote in her diary, "Larry has learned to get on his bicycle by himself and he's a sight as he goes wobbling down the street! But he's so proud. He and Hank Weaver are such good pals. They ride up and down all afternoon."
For Mom's birthday on Friday January 16th, Mom made a chocolate cake for herself and Dad grilled steaks for dinner. Uncle Bart came for dinner then babysat us kids while Mom and Dad went to the movie to see a Jerry Lewis movie. Uncle Bart was a strange character, showing up every few years and staying for a few weeks and then would be gone. Uncle Bart is Mom's uncle, her mother's younger brother. He was always kind of rough looking man with tattoos on his arms and a darkly tanned from working outside on construction jobs. I'm sure Mom and Dad didn't pay him for babysitting, the steak dinner being enough for him. Bart would often come to our house in the following month and have dinner with us to play canasta with Mom and Dad or babysit us kids while Mom and Dad went out to a movie. Mom also got a birthday card from her uncle Bob in Michigan who had the same birthday as Mom. Mom bought two books for herself for her birthday, she really liked "The Day Christ Died". Mom was a big reader and started getting Reader's Digest condensed books every few months.
The following Sunday we all went over to Grandma and Grandpa Junior's after church where Grandma cooked another birthday dinner for Mom. Mom wrote, "We had steak, baked potatoes, tossed salad, corn, black eyed peas, and a wonderful cake. It was all just delicious. Bart came over and late in the afternoon and we played canasta until about 10."
Mom would go shopping during the week while Brenda and I were at school. Since David was not in school yet she would take him with her. One day she stopped in at the Personality Shop and bought herself a dress and red high heels. She got a bargain, paying only $6 for the dress which was normally $14.95. She described the dress as, "real cute, grey, just a darling". I'm sure Dad liked it when she wore it to church the following Sunday.
At the end of January, Betty with her kids Timmy and Karen, who were not in school yet, surprised Mom by stopping by just before lunch so Mom fixed lunch for them all. After lunch Betty asked if Mom could watch Timmy and Karen while she went to a doctor's appointment. It was of course no problem, it would give David someone to play with. The following Friday night we all drove out to Reddick where we met Betty and Billy's and their kids for the high school basketball game. We all really enjoyed the game, but it was way past our bedtime when it was over and we kids all fell asleep in the car on the way home.
Dad continued to work for Grandpa Junior repairing check writers and in January, mostly on Saturdays and making trips to Sanford and Daytona Beach to fix them.
Updated: 03-23-2022