1943 In the summer of l943 Daddy sold his Grand Rapids Coffee and Tea Company business and our house to move the family to Atlanta, Georgia so he could study at the Atlanta Bible Institute for the ministry. Mom told this next part of the story; "We had no one to move our furniture to Atlanta then one day a man rang the door bell and asked to use the phone as his big truck broke down right in front of our house and he needed to call his boss. Mom talked to him and found out he was going to Atlanta, Georgia and his truck was empty and would be glad to haul our stuff to Atlanta." What an answer to prayer.
We left for Atlanta right after that and stopped in Cartersville, GA. to see Mom's Uncle McKin, (Grandma Schwander's Brother) Aunt Lea, and their kids. I think we even spent the night with them before going on to Atlanta. I remember they drew their water from an outdoor well, and Aunt Lea cooked on a wooden stove. They had horses and a big barn, but mostly I remember how they talked. It was so southern that we could hardly understand what they were saying.
This was right during World Was ll. Daddy invested his money in the chenille business and was very successful and made a lot of money. He did all of this while he was going to school, building and preaching at the Prior Street Baptist Mission and making a living for our family.
One story I remember well was that when we got to Atlanta we had no place for us to live. Since it was war time places to rent were very scarce. So we moved in with the students at the Atlanta Bible Institute and we ate all of our meals with the students in the cafeteria. We hated southern cooking and the strange foods they cooked. We never heard of grits, peas, etc. Anyway we were always hungry and one night we got to the supper table and saw they had chocolate pudding for dessert, one of our favorite desserts. We finally ate our supper and dived into the chocolate pudding, and what a surprise. It was prune pudding. We gagged and spit it out and embarrassed mom so that she said we had to sit there and eat it or take a spanking when we got back to the room. We all took the spanking except Sue. She ate hers'.

After a few months of living like this we found a 2 story house (only about 3 blocks down from Georgia Tech) right on Peachtree Street. Daddy had his chenille business down stairs and we lived upstairs. Daddy's chenille business sold bedspreads, house coats, rugs and I don't remember all what else. He was good at it and made quite a bit of money.
I went to Clark Howell School in the 6th grade. It was miserable year. It was very, very different from the schools in the north and I had many problems and no friends this year. One thing we were never taught to say "yes mame or yes sir" so I constantly got into trouble with the teacher for not answering her right. So I finally decided not to talk at all in class, but I was a good student otherwise and got good grades, but I hated that year. Sue and I started playing with paper dolls and we had boxes of them and would spend all of our allowances each week on new ones. At recess I never joined in the games, just sat off to myself.
I still remember the song we sang at our 6th grade graduation. It went like this:
Pussy Willow had a secret
That the snow drops whispered her
And she told it to the south wind
As it stroked her velvet fur
And the south wind hummed it softly
To the busy honey bee
And the bee told it to the wood brook
Brimming full of melted snow
And the snow told Robin Red Breast
Who babbled it too and fro
Spring is here, Spring is here, Spring is here.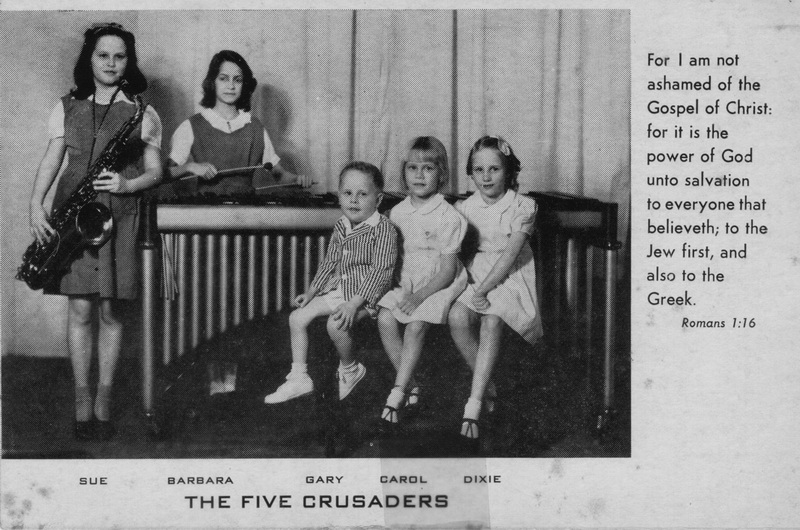 About this time, I started playing the marimba, and Sue started playing the saxophone. That summer or the next we visited the folks back in Michigan. On the way we held the Junior Family and their Crusade for Christ, meeting in all these little churches from Atlanta to Michigan. Mama did the chalk drawing, I played the Marimba, Sue the saxophone and Dixie, Carole and Gary sang songs and Daddy preached. (Corky wasn't born yet.)
Sue and I started playing with paper dolls and we had boxes of them. We would spend all of our allowances each week on new ones at the Dime Store.