l948 January 16 was my 16th birthday. My five best friends, Shirley, Fay, Charlotte, Mary Anne, and Phyllis all came to our house and I opened my presents. Then Mom and Dad took us out to a very nice restaurant and then they dropped us off at our school to see some play.

June l948 Mom and Dad sold everything they had and moved us to Oklawaha, Florida on Lake Weir. First we lived next door in an old house Daddy fixed up that belonged to the Noble family. Then we bought some property right down the road from there and built us a house with the business attached to the front of it. He sold chenille products, oranges, juice, shell decorations, and yard decorations.

Postcard from Georgie
October 1948

I was so unhappy leaving my good friends in Atlanta. I cried and cried. Mom let my two best friends Shirley and Fay come visit me for 2 weeks and that helped a lot. During this summer I met Georgie Albright who was a year older than me. He became my first boyfriend.

Daddy preached a revival at Flemington Baptist Church that summer and it was there I first met Betty Dixon, Billy Yawn, Jimmy Mixson and Betty introduced me to Morris Mixson.

School started in September at Weirsdale High School. There were only 12 kids in the llth grade. What a difference from Atlanta where there were hundreds of us in the l0th grade.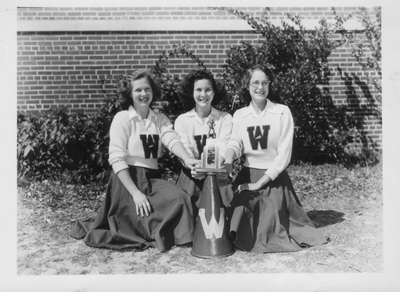 Basketball was the sport here. I was elected cheerleader and was soon going to all of the games and having a good time. Together Georgie and I rode the school bus to all of the out of town games. Except for a few parties basketball games were our dates. It took a long time to be accepted into this group of kids. They all had known each other from 1st grade on and didn't take much to new comers. Also everyone from 7th grade on lived at the Beach where they danced, listened to the juke box and played pool, all of these were considered a sin by mom and dad so we could not go to the beach. But we did have a lot church parties at our house and also church parties at Flemington. One time daddy gave a big party (a cook-out) at our house for all of the basketball players and cheerleaders. I was impressed with daddy, he was a big hit with all of the kids.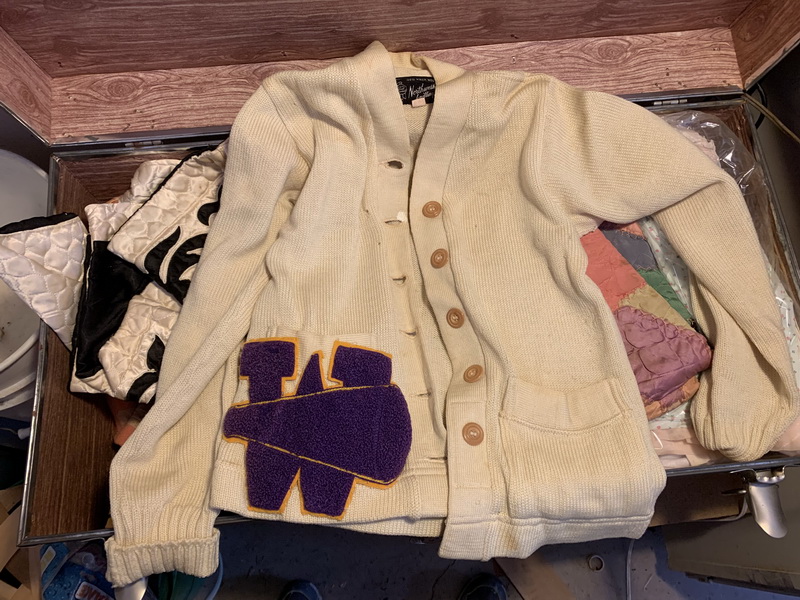 Mom's Weirsdale High Cheerleader Sweater found in a trunk 2019


It was fun going to the basketball games and dating Georgie. He gave me my first kiss one night parked out in the orange grove (thats where all of the kids made out). I didn't like it, it was so wet.

Then one night Morris showed up at our house to see me (or was it to see Sue?). We both thought he was the cutest thing and we both liked him. After he sat around for awhile he finally asked me to go out with him, boy was I happy.

Most of the time I saw Morris on Sunday afternoons after church. Daddy was the preacher at Flemington now. We would be invited to someone's house after morning services for dinner and then we would spend the afternoon and not get home until late Sunday night. Morris would pick me up after dinner and we'd spend the afternoon together. Sometimes he'd drive me home after the night services and he'd have to drive all 55 miles back home. Sue and Jim also started dating at this time. During the week and on Friday nights for the ball games I was dating Georgie. He did not know about Morris, nor did Morris know about Georgie.

The basketball tournaments were in April of that year in Anthony, Florida. I had gone to the game with Georgie on the school bus. I was getting a drink of water and looked up and there stood Morris. I had no idea he'd come to one of our games. I finally had to get back to the other cheer leaders and I sat down by Georgie and Morris tagged along and sat on the other side of me. I finally had to introduce him to Georgie. Morris wanted to take me home but I said no, I had come with Georgie and I knew I should to home with him. He got mad and on the way home Georgie got mad and broke up with a few days later. Now I had no one to take me to the Sports Banquet or the Jr-Senior Banquet that was coming up soon. Finally Morris and I made up and he took me to both banquets.

That summer I was elected along with my friend, Anne Schmidt, to go to Girl's State in Tallahassee for a week of learning about how to run the government. It was a fun week and I enjoyed meeting girls from all over the state and I got be good friends with Anne. While I was there I missed Morris so much, I knew I was in love.

Morris picked me up at the bus station in Ocala when I returned and my, it was so good to see him. I think he fell in love with me that summer too.

Later on that summer the whole family piled into our car (or was it a station wagon?), which had no air condition and we went to Michigan to visit relatives. We were gone 4 or 5 weeks. Morris and I wrote each other almost every day. I missed him so much. (I still have all of the letters we wrote to each other).

We also went to Sturgeon Bay, Wisconsin to see Daddy's relatives. This was the first and only time we ever saw his mother. We never did see his father as he had died earlier. Daddy had two brothers, Harvey and Ray and one sister Margaret. We visited all of them and met many cousins. I only remember Aunt Margaret's two daughters, Marian, and Jean. In 1982 Morris and I went through Sturgeon Bay and stopped and visited Marian and her husband Bill. They were very friendly and took us over to Jean's house. She and her husband lived in a neat house right on Lake Michigan. Jean died the next year.

Anyway, back to our trip. I remember it was so cold at Lake Michigan (and it was July) that we froze our feet just wading in the Lake.

We brought Dick (Daddy's son by his first marriage) back home with us. Can you imagine how crowded we were in that car? Seven kids and two adults. Dick had just graduated from high school and wanted to see Florida. He only stayed a few months. He missed his friends and his mother so he went back to Michigan. While he was at our house, he and I got our driver's license at the same time in Ocala. The patrolman took us out in the same car at the same time. Daddy bought mom a green Chevrolet convertible which they let me drive.

Boy, was Morris and I ever glad to see each other when we got home. We must of kissed for hours that first night (after dark, sitting down on the dock so mom and dad couldn't see us). This was the first time we said we loved each other and we planned to go steady.