1945 - Morris during the war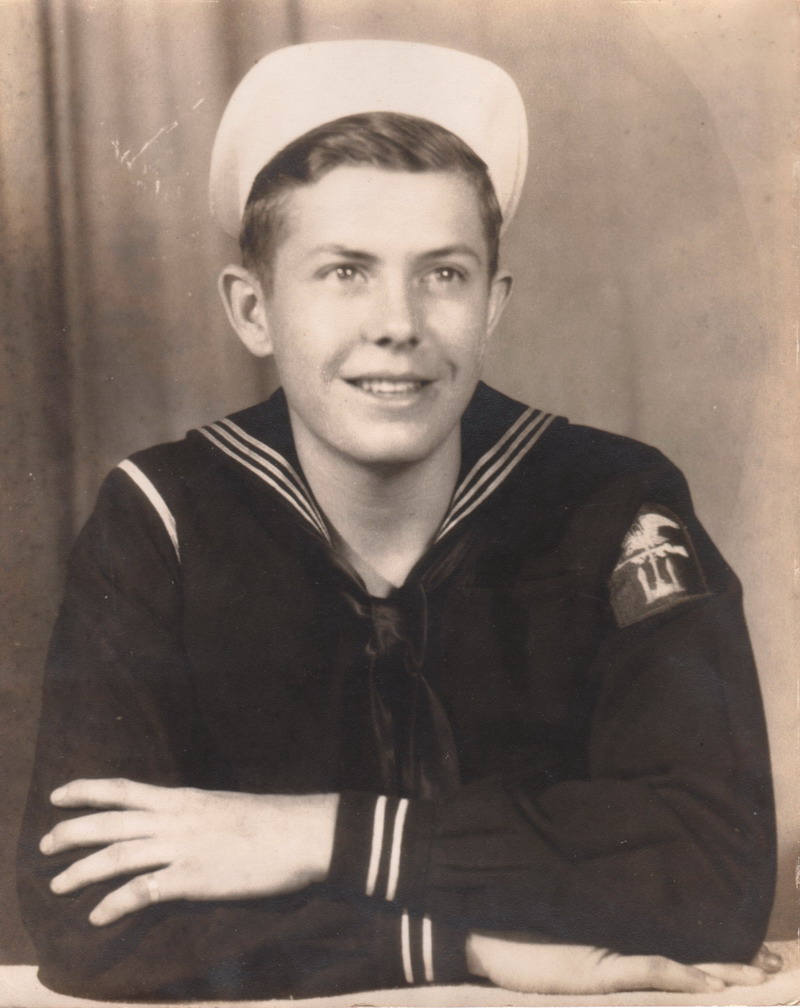 Morris was a junior in high school at Redick High School near the end of World War II in 1945. Upon turning 18 he joined the Navy Reserves and then to boot camp for about 12 weeks at the Great Lakes Naval Training Center. After a nine day leave, Morris went to Camp Braford in Virginia Beach

for amphibious training. Morris got assigned to ship Company 1009 for training on the Chesapeake Bay. On January 4th, 1945 he got liberty in Baltimore and then returned to Camp Bradford. On January 18th he left to go to Pittsburg where he stayed in the dorms at the Carnegie Institute of Technology until he got his assignment to the LST-1041

which was being built at the shipyard in Pittsburg.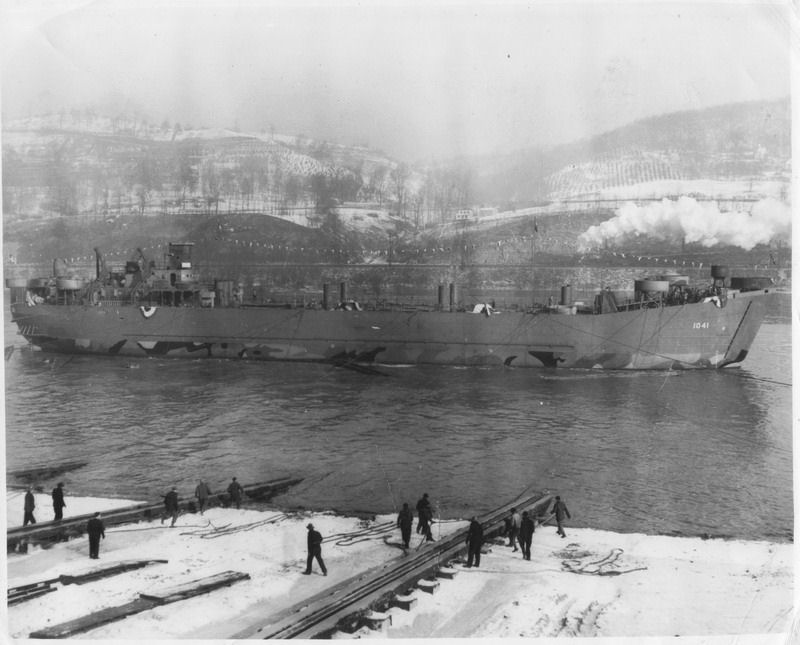 Launching of LST-1041, Jan. 20, 1945
Morris boarded the LST soon after it was launched January 20, 1945. From Pittsburg they then traveled down the Ohio river to the Mississippi River to New Orleans where the LST-1401 was commissioned on February 19th. Soon afterwards the LST with Morris onboard went on a shakedown cruise in Saint Andrews Bay where the did practice landings on the beaches there. On March 1st they were back in New Orleans where they loaded four Higgens PT boats on March 26 though 28th

(see photo).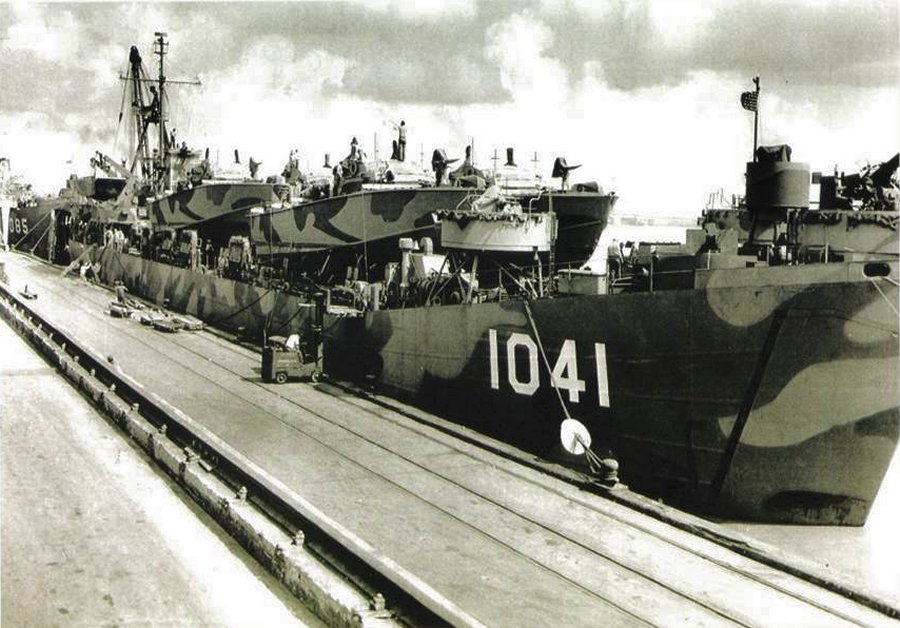 LST 1041 With PT Boats
The ship left port on April 4th passed through the Panama Canal and then on to San Francisco arriving in Bremerton Washington where they unloaded the PT boats for transfer to Russian crews who took them to Russia at Winslow ship yard.

From Bremerton/Seattle the ship sailed with a convoy of 88 ships to Pearl Harbor and then on to the Marshall Islands arriving on June 13.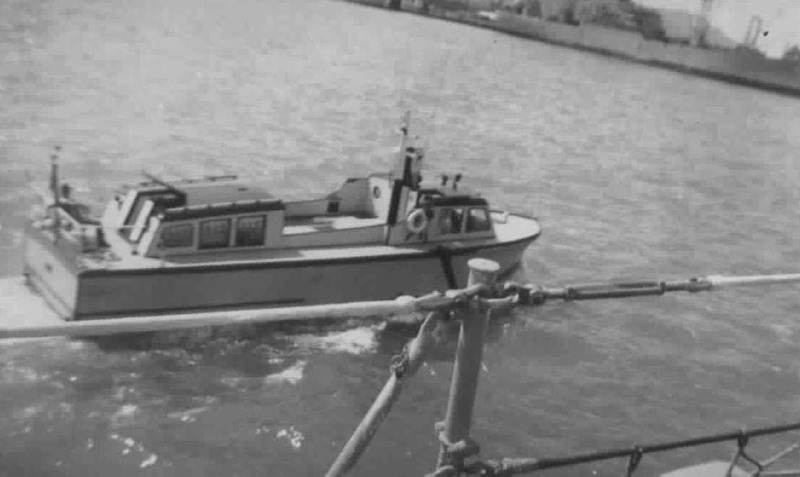 Harbor Patrol in Guam
The ship was mostly based in Guam and from June through August 1945 the ship sailed back and forth between Guam and other islands including Saipan, Eniwetok, Okinawa and stopping in Agrihan Island North of Iwo Jima to pick up Marines. On July 8th 1945 Morris recorded in his journal "All excited about new bomb" in reference to the news about the U.S. dropping the atomic bomb on Hiroshima. His ship got the word the war had ended on August 15th. Near the end of the fighting, the LST traveled to China to take parts to U.S. Marines stationed there. Some crew got leave in Tientsin but Morris had to stay on board. With the war over Morris transferred to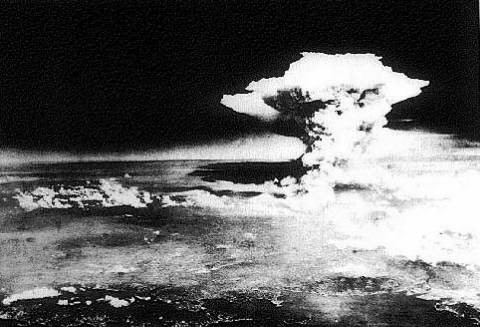 LSM 64 for the returned to San Pedro California where the LSM was decommissioned. Morris tells how in the after the war had ended they were going to use the LST as a floating post office and they built a post office building on the tank deck but a typhoon delayed the ship and it was tore it down before it was ever used.
Morris then transferred to the LCI 689 for about 20 days in San Pedro California where he got discharged and then took a train for a 105 hour trip back to the Yukon Naval facility near Jacksonville Florida

from where he then returned to his home in Micanopy Florida. After his return he finished his high school and attended Massey Business College for a short time in Jacksonville Florida. After the war jobs were hard to come by so Morris registered for unemployment which found him what they told him was a short term job at the University of Florida Chemistry Department. Morris worked at the Chemistry Department for 41 years until he retired in 1989.
Read Morris's diary aboard the LST-1041 during the war: WWII DIARY