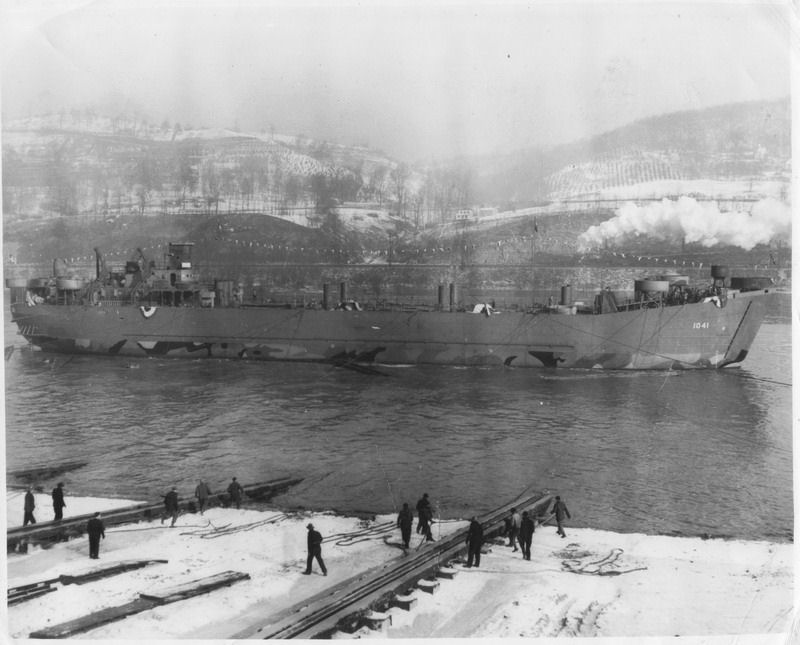 The Launching of LST-1041 in Pittsburg
In January 1945 while the Juniors were enjoying their life in Atlanta, Morris, finished navy bootcamp and traveled with other newly trained recruits by train to Pittsburgh. Arriving in Pittsburg, they found their new ship was not ready, so the Navy put them up in the dormitories at The Carnegie Institute of Technology. Finally, the ship was completed and on February 8th Morris and the other crew boarded the newly launched LST-1041 (Landing Ship, Tank) then spent the next week traveling down the Ohio River and Mississippi River.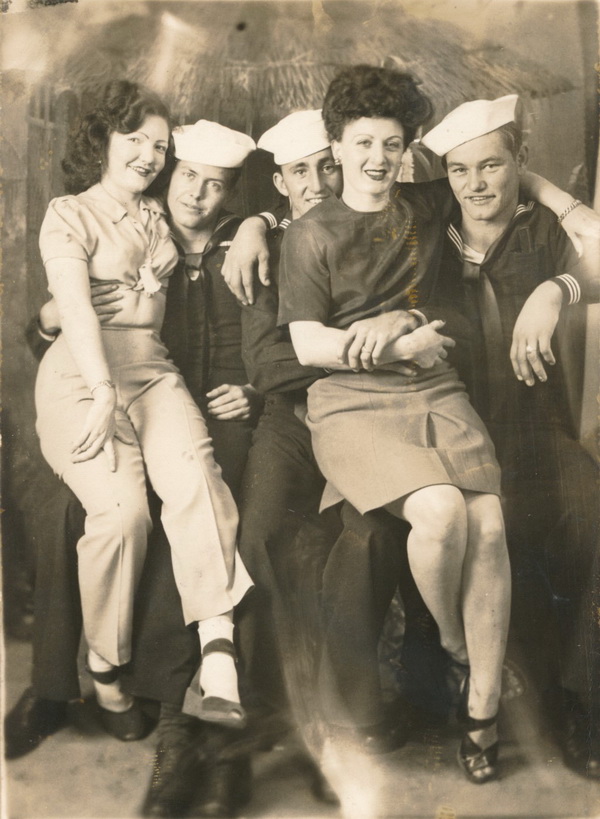 It was a miserable trip for Morris not being used to the freezing weather, he was cold all the time and to get out of deck duty, he volunteered for mess duty. With mess duty he had to work more hours but it was warm and he got extra food. After about two weeks they arrived in New Orleans. Morris was happy to be back in warmer weather. In New Orleans the crew got a day of leave and went into town where Morris and his crew mates had their picture taken with "some nice-looking women" and it only cost them five dollars apiece.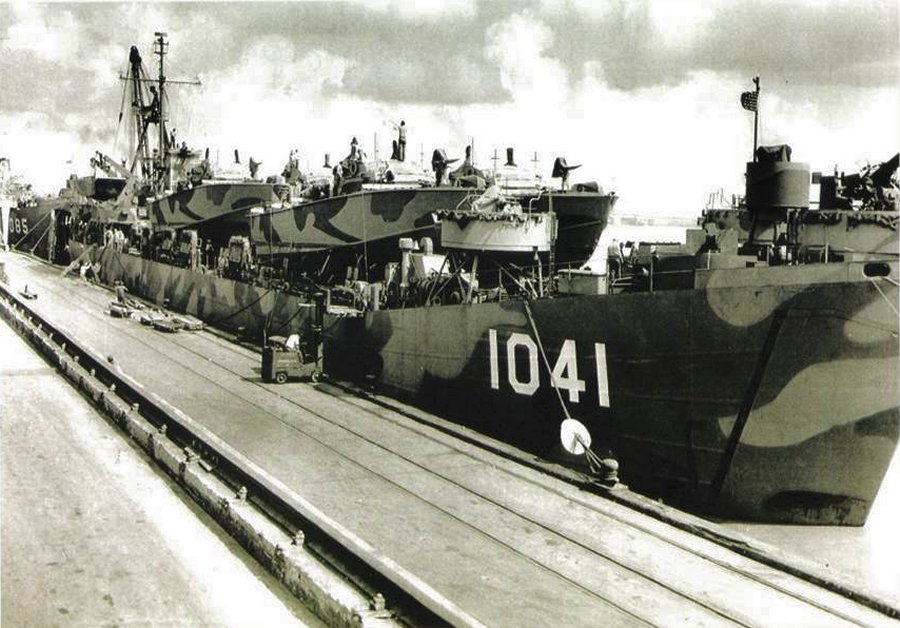 LST-1041 in Seattle with PT Boats
Florida where they practiced landings on the white sand beaches of Panama. Upon completion of training, LST-1041 loaded four Higgins PT boats – made famous by the PT-109 commanded by John F. Kennedy – and shipped out traveling down the Gulf of Mexico to the Panama Canal, crossing over to the Pacific then proceeding up to San Diego, San Francisco and then stopping in Seattle. In Seattle they heard of President Roosevelt's death before unloading the PT boats which were delivered to the Russian crews. From Seattle they procced to Pearl Harbor then on to, first arriving the Marshall Islands at Eniwetok Atoll. At anchor, the movie Swing Fever with Kay Kyser was shown to the men on the main deck. From Eniwetok they spent the next few months traveling between Guam, Saipan, Okinawa, and Agrihan.
In some ways it was idyllic, upon approaching the Okinawa Morris describes "the beautiful island of Shima, with Japanese farms laid out in terraces on the hills and villages of grass huts along the beach." When ship stopped in Agrihan the crew got leave and they went to the black sand beach where the local natives, who lived in grass huts, greeted the sailors and gave the sailors coconuts to eat and drink while they sat under the palm trees. After a swimming in the clear crystal blue water, they returned to their ship and the reality of war.
It was on Morris's watch the ship got their first attack alert and the ship went into blackout. Morris at this gun station that night did not see any planes but the next day they heard Japanese suicide bombers sank a LST at nearby Buckner Bay. Another night the sailors were watching a movie being shown on deck when they got an alert and had to go to general quarters and go dark. Morris's ran to his station on one of the 20mm guns while the fog generator started up which quickly enveloped the ship in a cloud of fog hiding it from the Japanese planes. The crew thought they heard planes coming their way when there was a big explosion and they thought they had been hit. The crew below all scrambled to the top deck in case the ship was sinking only to only find that the fog generator had exploded.
Morris did not have much respect for the captain and officers, all being as new as Morris who said "The officers don't know any more about running this ship than I do. Every time we go anywhere, we get lost or can't find our way into a harbor. The Captain is the most nervous man I ever saw. He gets to talking and starts to shaking so we have nicked named him Caption Shakey."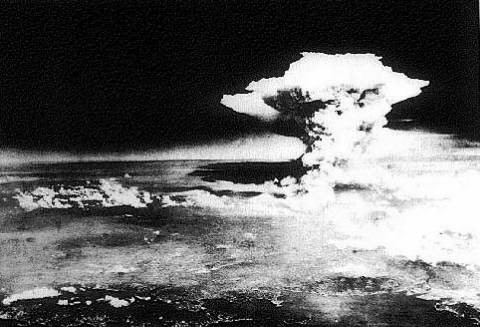 Morris writes in his navy journal on August 8th, "all excited about the new bomb" after the ship got the news about the first atomic bomb being dropped on Hiroshima and then on August 15th on the way from Agrihan to Siapan getting the word that the war had ended just before his 19th birthday
Thinking he would be returning home in a few months; from Okinawa he writes to his parents in September about returning home: "I don't know what I'm going to do there isn't much that I could do. I may just bum around a while and do what ever work there is. I'm thinking about going to South America to see what's down there. It would be an interesting trip to take and I may find some kind of work to do that I would like. If I had about $500 dollars I sure would go." But his more practical side says, "Boy, its sure a big puzzle as to what life brings for a boy that has know experience. I guess I'll be like old Dad and have a good life but never have anything until I'm and old man."
With the war over Morris thought he would be safe when on September 16th while anchored in Buckner Bay Okinawa a major typhoon hit with winds over 97 miles per hour, with the barometer still dropping, several smaller sub chasers had to abandoned ship and their men taken aboard larger ships. Ships in the harbor begin to break free of their anchors and drift. A nearby LCT broke anchor and was blown towards Morris' LST-1041 when the LCT anchor cable became entangled with their port propeller. With their propeller entangled they could not move, and the LCT, now connected to the 1041, begin swing closer then colliding with the 1041. The collision shook the entire ship, knocking a hole amidship on the starboard side. Morris, peacefully sleep at the time despite the storm, was rudely awaken at 10 PM when he was jarred by the collision, almost tumbling from his bunk. Orders were issued by the Captain to put on life preservers, to start the bilge pumps and for the engineering crew to report to the damaged area. With the howling winds, it was not safe to go up on deck so the men, except for engineering, gathered in the ship galley expecting to get abandon ship orders at any time. After what seemed like hours but was actually less than an hour, the Captain announced that they had everything under control, the gash in the side was above the water line and a plate had been welded over it. Only a small amount of water from the large waves got inside. The Captain kept the galley open all night serving coffee and soup and twenty hours later the storm had passed.
Having their propeller repaired after the storm, the LST-1041 sailed between Okinawa, Saipan, Tientsin China, sailing pass the Two Sister Islands and arriving on Thanksgiving Day in Taku where they had Thanksgiving dinner. Morris was so impressed with the Thanksgiving dinner he wrote the entire menu in his diary:
In December Morris writes his mother asking about his dad who had another bout of illness, "How is Dad, have you heard from him and have they found out what is wrong with him yet? Hope it isn't anything bad." On a lighter note in the same letter he asks his younger brother Arnold "How are the girls? Tell them hello for me. Have you seen my old pal Billy? I haven't heard from him since school was out, has he left for the Army?" And he adds a P.S. for Arnold, "Hold things down until Dad gets back."
Christmas came with Morris still in the Pacific at anchored in Guam awaiting orders. On Christmas eve all the ships at anchor shot off flares lighting the sky, but Christmas day was anticlimactic with Morris writing "Christmas was day almost like another Sunday." And then on New Year's Eve, "Last day of old 1945, had a pretty good time seen the old year out and new year in." When Rosalie and Wilbur got the letter, they were so happy that their boy would return home to them while they knew some sons in the area did not.
Read more about Morris in the War
Updated: 12-05-2021