Morris Mixson
Fishing as a Young Boy
As a young boy born in the early depression we lived off the land by hunting, fishing and what we could grow on the farm. We did not have a car to get things to market until got his World 1 bonus in 1936 or 37. So here is list of sorts that we fished or hunted I will start with Plantation pond which joined with the south west corner of our property this where I learned to swim and taught to hunt and fish. Due west of plantation was little rock then west of that was big rocky south and slightly east was button bush pond. East of button bush the was Staggs sink then north was three pond, these were all within walking of our home.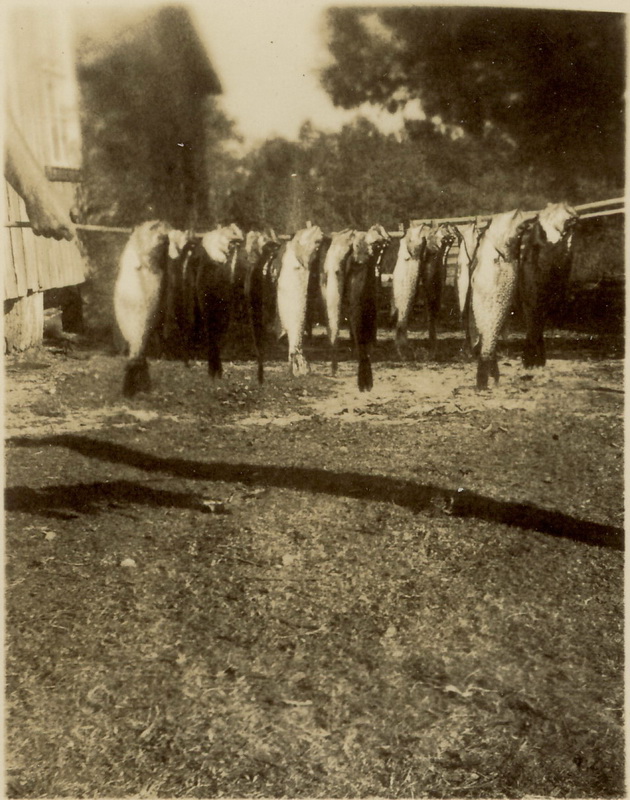 Fish caught at Salley's Pond by Arnold, Mom and Dad
We fished and hunted these the most. These ponds would all flood during heavy rains which would make for good duck as the ducks were out in the woods getting acorns .Kindy north west little rocky north west of the old Little place was old field pond. We fished most of these ponds from the bank. Dad made 2 small boats from cedar he had sawed and planed in Williston we carried on a trailer one on top of the other places we fished which were close to Duck pond and west of 320 Floating pond and Doe pond on the east side of 320 was Moores pond, Fish prairie, Mud pond and Smith landing on Ledwith Lake, also Gladney Landing Ledwith. There are several other ponds such as Stokes pond near the grade that went by our home. Just past the Lieghner was McGunnnis pond .Back of the Gladney's was a pond can t think of the name and a pond back of cousin Lilly Mixson farm. We also fished Johnson Lake and Mixson sink. Well can't say enough about these pond as they were a food line in my early boy hood days.
Hear Morris talk about the ponds, here.
Morris Mixson
Sep 23, 2014