Mom Goes To Work
Dad's stomach had been bothering him a lot so he went to the doctor who told him he had bleeding ulcers and told Dad he should give up his second job, working for Grandpa Junior, to help with the stress. The few dollars he got from working for Grandpa were missed so in September Mom got a job working full time as an administrative assistant in the Business Office of the Institute of Ford and Agricultural Sciences, or just IFAS, Department at the University of Florida. Mom and Dad would go to work together in the morning and come home together in the evening for the next twenty five years. It was strange to come home from school and not have Mom home. Because we were still young, Mom had a young college girl watch us from when we got home school until her and Dad got home from work. With Beth not yet in school, our next door neighbor Agnes Cannady took care of Beth until we got home from school. For Beth it meant that she didn't grow up like Brenda, David and I with Mom always home.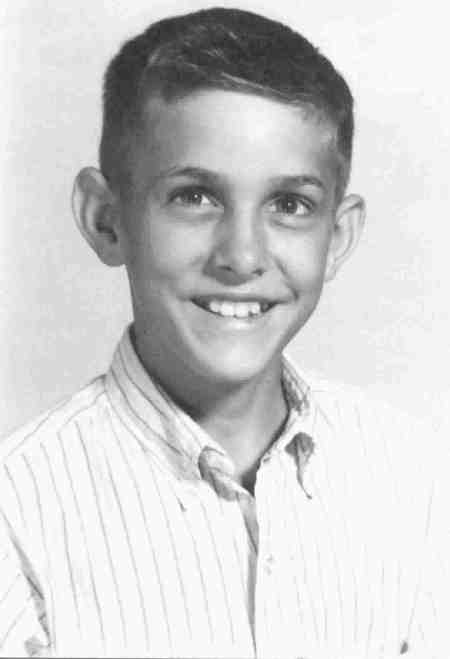 In September I started seventh grade going to Westwood Junior High School along with many of the kids I knew from Littlewood. Westwood is just a quarter mile down the road from Littlewood although it seemed a lot further to ride my bike in the morning, which upon arriving I would chain up to a fence along with a hundred other bikes and another bad dream of not being able to find my bike amongst them all after school. Seventh grade was a big change from elementary school starting with going from being the older kids in the school at Littlewood to being the youngest at Westwood. But the biggest changes was having multiple teachers for each subject, each in a different classroom. We started the day in a short 15 minute homeroom class which roll call was held and oddly enough my homeroom was in the same temporary building that I had been in first grade, so much for being temporary. In home room the teacher would take rollcall, and then a chosen student came over the loudspeaker over the blackboard at the front of the class and led the whole school in the Pledge of Allegiance and then there would be announcements.
Junior High School had a lot more, and bigger, books, a pile of them, so many that you couldn't carry them around all day, so we were assigned a locker with a combination lock to store you books in. It would be years later that students had backpacks and carried their books around with them all day. Lockers had advantages and disadvantages. On one hand you could store your books, coat or other things in the locker and not carry them around all day and they were a social gathering point for talking to other students whose lockers were near yours. On the other hand, with the short time between classes, you couldn't always get to your locker and make it to your next class on time. There also was the locker combination, I had dreams for many years about not being able to find my locker and when I did, I couldn't remember the combination.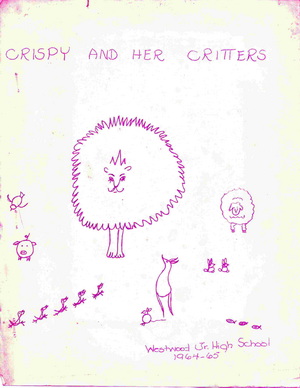 Click to Read
I struggled with my classes and studies, partly because of the drastic change from elementary school. Although I liked science, I did poorly in it ending the year with a C-. I had I had what I thought was the hardest teacher for English, Mrs. Perienian and managed to end up with a C. I did better in math, making a B's several semesters but also ending up with a C. Then there were the easy courses Corus and PE, making an A in Chorus even though I had no singing talent, but I stood up there with fifty other students and sang, and a B in PE. There was one class I really enjoyed Social Studies even after failing the final exam and ending with a C average, and that was because I really liked the teacher, Mrs. Ragans who was young and fresh out of college. The students loved the class and Mrs. Ragans so much we created a memoir titled "Crispy and Her Critters" (Mrs. Ragans middle name was Crisp). In the memoir was the following poem by one of the students.
Our Teacher
Remember all the days this year
The times we had in it
That Mrs. Ragans, our loving teacher
Our days she did fulfill With Songs and jokes
AND funny looks And tall, tall tales she told us
To make us laugh and wail
But, we don't wish to see her go
to teach another grade
But, be our loving teacher
Once again next year we pray.
Thalia Wiltbank
Forty some years later I got a friend request on Facebook from a Joanne Ragans, I wondered who she was for a bit and then realized it was my 7th grade teacher. She said she found my Mixsonian website where I had posted the memoir from our class and she said she remembered that particular class fondly.
Updated: 08-18-2022