1972
Spring Quarter
In February I decided to go back to school full time starting with the spring quarter beginning in March, and I registered for the following courses.
Spring Quarter Courses
CSS-113 American Institutions
CEH-133 Comprehensive English
CIS-311 Introduction to Computing
MS-303 Calculus 3
Introduction to Computing was my first official computer course at the University. The University of Florida's Department of Computer Information Sciences (CISE) was had just been created and was housed on the fifth floor of Weil Hall. Prior to the creation of CISE there was no computer science degree available at the University. The Undergraduate Catalog for the 1971-1972 did have a listing for Computer and Information Science in the college of Engineering for the first time, with only four computer courses that listed as "Engineering Courses" with the computer courses prefixed with Engineering College prefix "EGC".
1971-1972 Undergraduate Catalog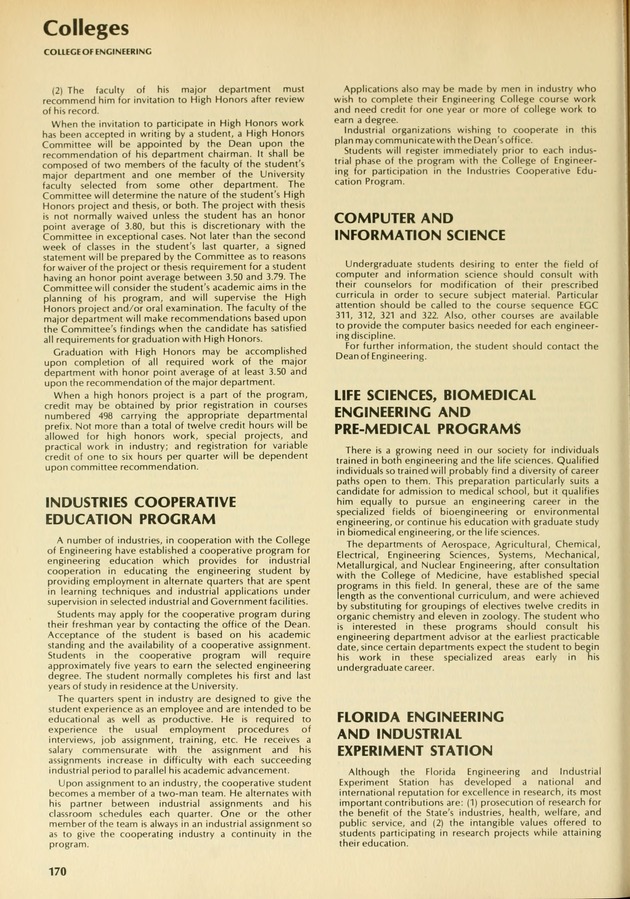 1971-1972 Catalog EGC-311 Listing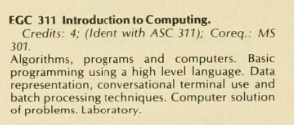 It wasn't until I went to register that I discovered that the EGC-311 Introduction to Computing course had been changed to CIS-311 and it under the newly formed CISE department. It didn't mean much to me at the time, but it would change my life.