1978
Scuba Diving
I had wanted to learn to scuba dive since I was young. I had watched Sea Hunt as a kid and the The Undersea World of Jacques Cousteau show for several years and thought it would be fun to scuba dive. After looking into it, I found there was a diving shop in Melbourne called Hatts Diving Headquarters so I went in and checked it out and found they had a beginning diving class starting in early June. The instructor was a young man named Jim Bobb, yes like Jim Bob on the Waltons, but this Jim's last name was Bobb. The class met several times in a classroom and then we had several practice dives in the pool at the dive shop. The class was reasonable at several hundred dollars and provided they Scuba gear, tank, regulator, wet suit, and buoyancy compensator (BC) but then you had to buy the basic equipment, mask, snorkel, boots, and fins. Then there was the "optional" equipment, depth gage, gloves, dive knife, underwater flashlight, and so on, and then a large heavy duty dive duffle bag to put it all in. I walked out of the store after spending close to a thousand dollars.
Jim Bobb was a great instructor, he was very knowledgeable and explained things well. The dives in the pool were short and simple and allow me to get use to breathing underwater. The hardest thing we did in the pool was take off our tank and mask at the bottom of the pool, swim to the surface, then go back down under the water, find you tank, put the regulator back in you mouth and mask on your face then clear the water from your mask. The pool was only eight feet deep, so it was no problem for me, after all I grew up swimming under water at Grandpa Junior's pool.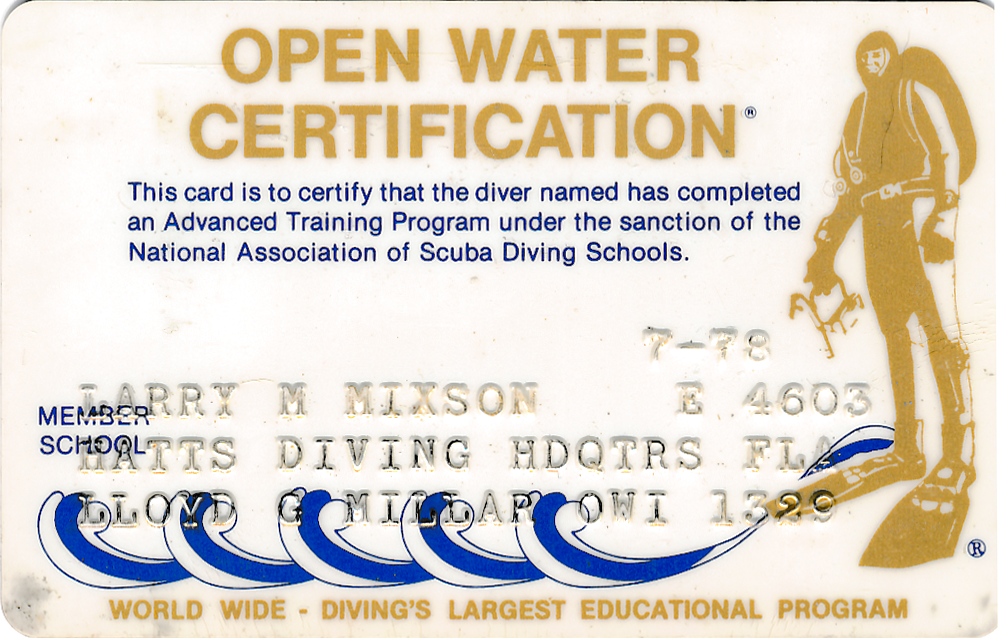 The final certification step for the class was an "open water" dive in the ocean. For this, the group traveled down to West Palm Beach and went out on a small dive charter boat. West Palm Beach is north of Miami where Florida has a bulge into the Atlantic which allows for the Gulf Stream, with its clear warm waters, to come very close to shore. We boarded the boat and went out of the port to a point a couple hundred yards offshore where the water was about 20 feet deep, had a good 30 foot visibility. For the checkout dive we, a dozen students, suited up and then got into the water and dove to the bottom where we gathered in a circle around Jim Bobb. Jim Bobb had explained the process before we got in, he would point to someone, they would come to the center of the circle next to him. My turn came, Jim Bobb points at me, I give him a thumbs up, then demonstrate a few things, one of which was taking off my mask, putting it back on, and then clearing the water from it. We were taught to dive with a dive buddy, so after both you and your buddy completed the test with Jim Bobb, we were allowed to explore around but had to stay in sight of Jim Bobb. There wasn't much to see, just a white sandy bottom but it was so cool to be underwater.
After we all completed the checkout dive, we re-boarded the boat and then went out to deeper water for a second dive. The second dive was in 35 feet of water which a good depth to dive for you can stay down as long as you want (and have air) without have to decompress and worry about getting the feared "bends". After suiting up with a fresh tank of air, we all get into the water, buddy up and go under. Visibility was good, probably 50 feet. As I went under, I could see mounds of coal scatted about on the white sandy sea bottom with fish swimming about them. My partner and I swim to the closest mound of coral and look it up close. It was amazing, the colors, the fish, the coral, just like I saw on the Jacques Cousteau show but here, a foot in front of me. One thing that I greatly enjoyed was the sense of weightlessness, being able to just float, suspended in the water and just looking around at everything.
I check my air supply, a third of tank left. Jim Bobb had explained about breathing, using air and how to make your air supply last, breath slow, breath steady, we were told. An experienced diver can get a good hour bottom time in 35 feet of water. We were told we could stay down 45 minutes or until you got down to a quarter of tank of air when you were to come to the surface. I look at my dive watch, another thing to buy, and see we have 5 minutes left. I was disappointed, I had enough air to stay down for another 15 minutes. I get the attention of my dive buddy, point at my watch, hold up five fingers for five more minutes, he gives me a thumbs up and we continue look around. With our last five minutes up, I look up and see the bottom of the boat not too far away and my buddy and I head back to the surface and the boat. As we break the surface, we are ten feet from the boat and had to wait our turn to get on as others were there ahead of us. Diving was amazing, I couldn't wait to go again.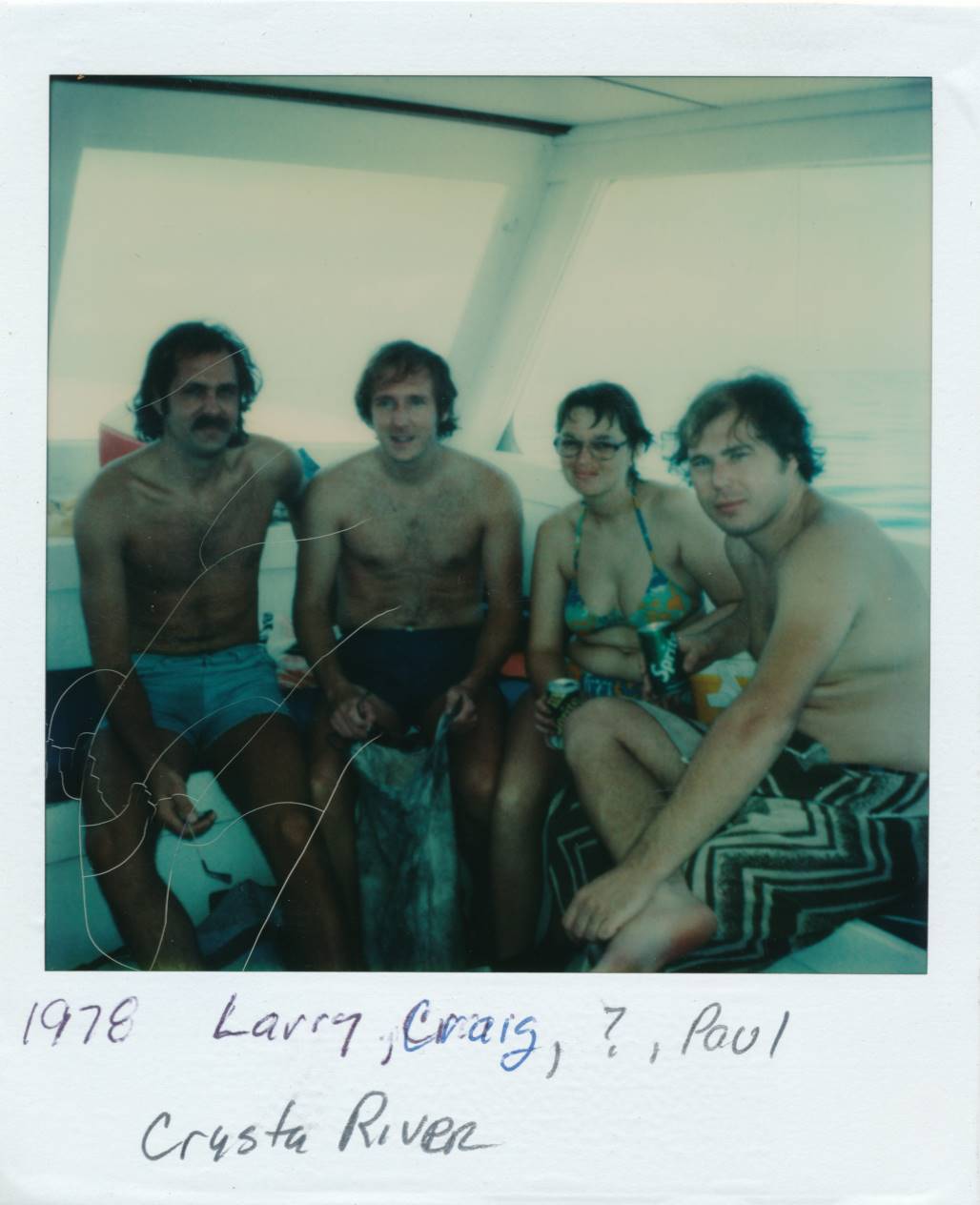 Actually it was Pennekamp and the ? is Sally, Paul's girlfriend
After telling Craig and Paul about diving, they decided to take the course and signed up. For their checkout dive, Jim Bobb took the group to John Pennekamp State Park in Key Largo Florida and I decided to go along even though was already certified, and while they were doing their certification, I just swam around looking at the coral. Included in the group was Paul's girlfriend who did her. Their check out dive was on Saturday and then we did two more dives in the park on Sunday. With 60+ foot visibility, the coral was amazing, unlike the few clumps of coral off of West Palm Beach, there was coral everywhere and all different types. Jim Bobb explained how to dive around the coral so that we didn't damage it, explaining how the coral needed protection. Even so you could see a fair amount of coal damaged and in some spots dead. I went back to the same area a few years later and 25% of the coral had died.
I had told Craig and Paul about the springs in North Florida that were near Gainesville where I grew up and in early November we decided to go up and dive some of them. We first went to Ichetucknee Springs and dove the Blue Hole and the river. I wrote in my dive log,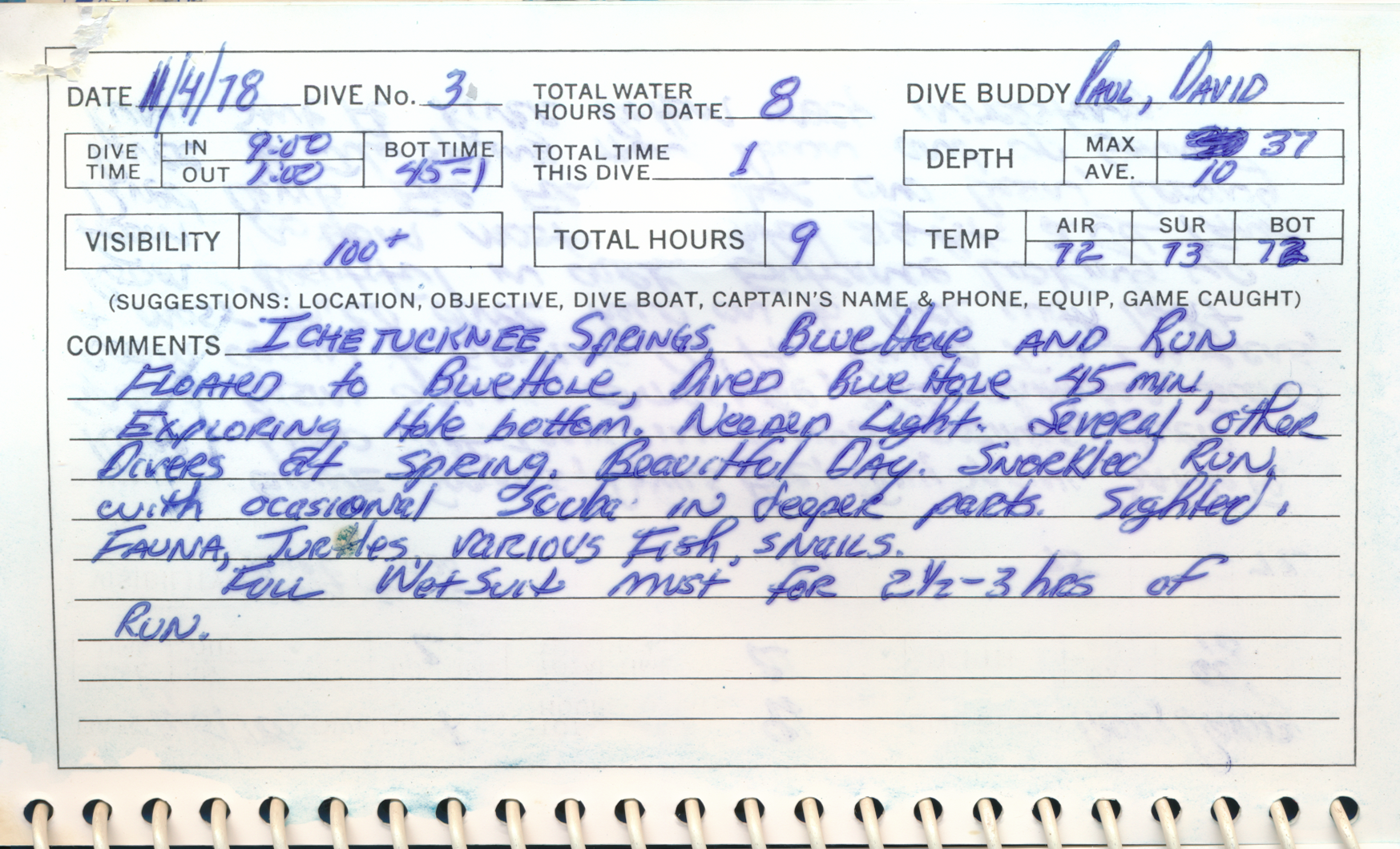 Ginnie Springs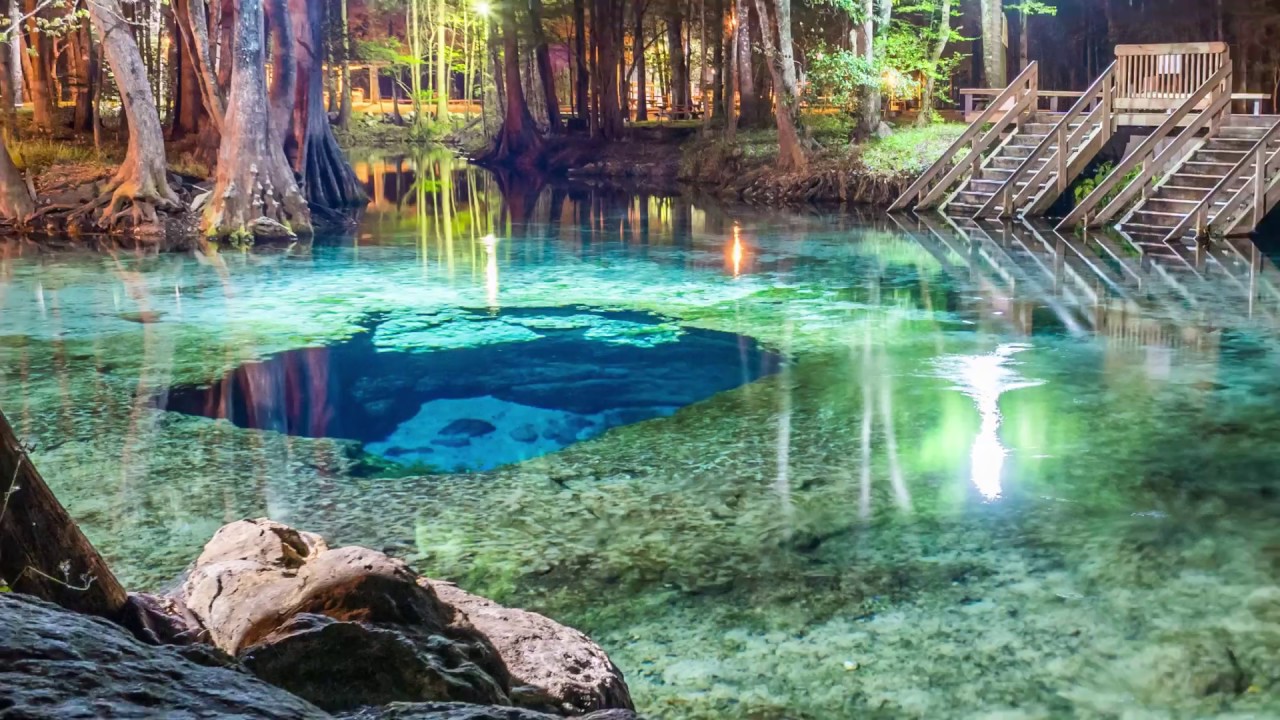 The next day we dove at Ginnie Springs which was amazing. On the surface the spring is about 150 feet across and quite beautiful, but under water it is amazing. In the center of the spring is a ten foot high ledge with a five foot opening in it from which the spring flows. After putting on our dive gear we dove into the spring and though the opening in the ledge where it opened up into a giant bottle shape cavern thirty feet across and going down thirty feet where it narrows then opens up into an even larger chamber called the "Ballroom" because it is so large, thirty feet across. The Ballroom goes down another thirty feet (sixty feet total) where there is a grate across the cave such that you can't go any further. Diving at Ginnie Springs is considered "cavern" diving and not "cave" diving, the difference being that in cavern diving you can do a free accent to the surface. Going past the grate at the bottom is considered cave diving and over the years two dozen divers had died going past the grate. Although there is not much to see, no coral, very few fish, just bare white limestone walls, it is still amazing. The reason it is called "Ginnie" spring is not after some girl, but rather the water is clear as gin. I could be suspended in the middle of the Ballroom chamber with six or eight other divers around me and you could not tell there was any water, it appeared like we all were suspended in air. I described the dive in my dive log,
Second tank dived Devils Eye chamber and basin, crossing river to July Spring then down river and up Ginnie Springs run. Sante Fe river bottom very interesting.
Ginnie Springs Cavern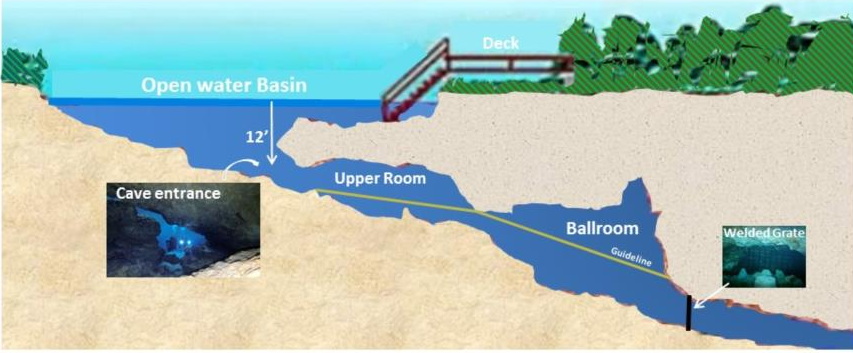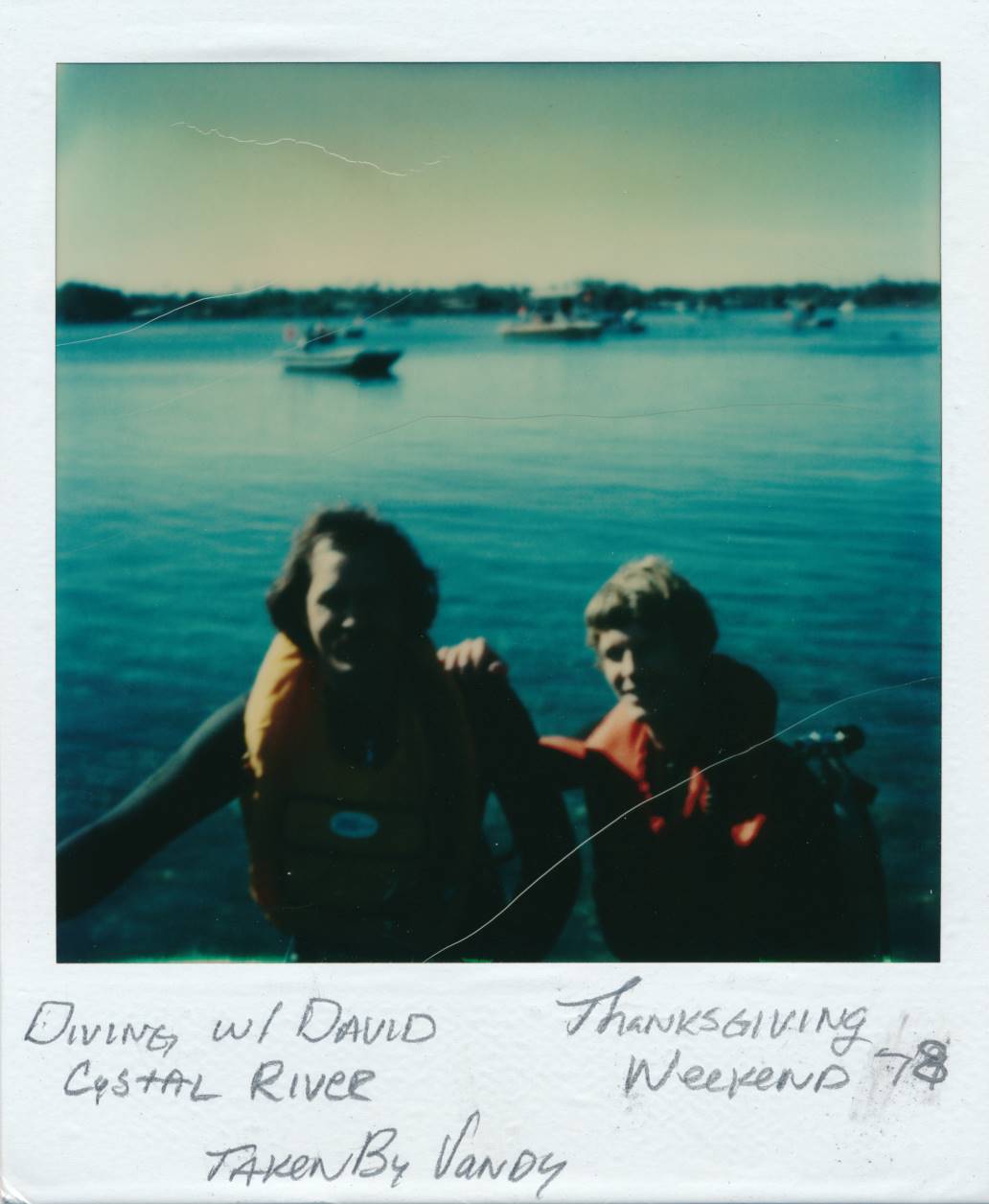 My final dive in '78 was at Thanksgiving when I went to Gainesville for a few days. An hour drive west of Gainesville on the Gulf coast is Crystal River which has several springs and is where a nuclear power plant is. The combination of the warm spring water and the even warmer water from the power plant cooling make the river an ideal place for the Florida manatees to gather in the winter so my brother and I decided to go diving there to see the manatees. Our cousin, Vandy, was in Gainesville for the holiday went with us. We did get to see some manatees. My dive log,
Crystal River and other springs. Cool day, Vandy came with us but didn't dive. Rented boat and went out to spring. Crowded with 20-25 divers from GA. Spring bottom stirred up, visibility poor in 1st chamber. Spring basin full of fish and fauna. Feeding fish ball of bread a must! Smaller other springs up river interesting but bottom stirred up easily!! Look out or you will ruin an interesting sight.
It was nice to visit with family for Thanksgiving.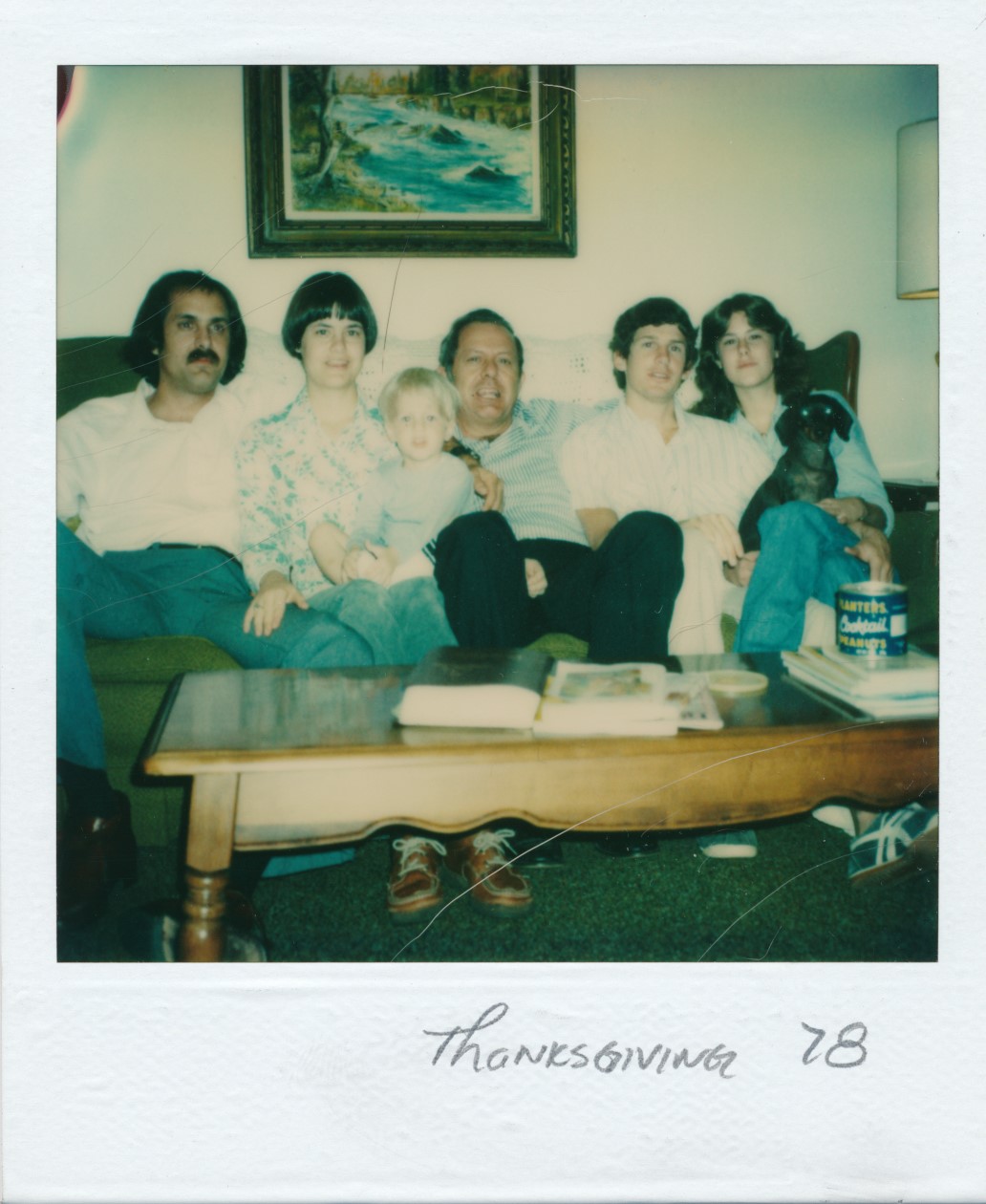 Larry, Brenda, Christopher, Dad, David, Beth and her dog Sheba