I am a Bench made from wood over two hundred years old
that came from a Floor Joist from the
foundation of Wilbur and Rosalie Mixson's home,
that came from a Timber from the Sistrunk's barn
that came from a Longleaf Pine Tree
that came from a Seed
that had fallen from the
Mother tree in the Old Forest.
They tore down my grandmother's house that had stood for almost a hundred years. Grandpa started the building the house in 1924 with Grandma writing, "Wilbur built our house with the help of Gilbert, his brother. It was made from an old barn. Wilbur and Gilbert hauled the lumber from the old Sistrunk place about 5 miles away with the horse and wagon." Their son Morris, my father, was born in the house two years later in 1926.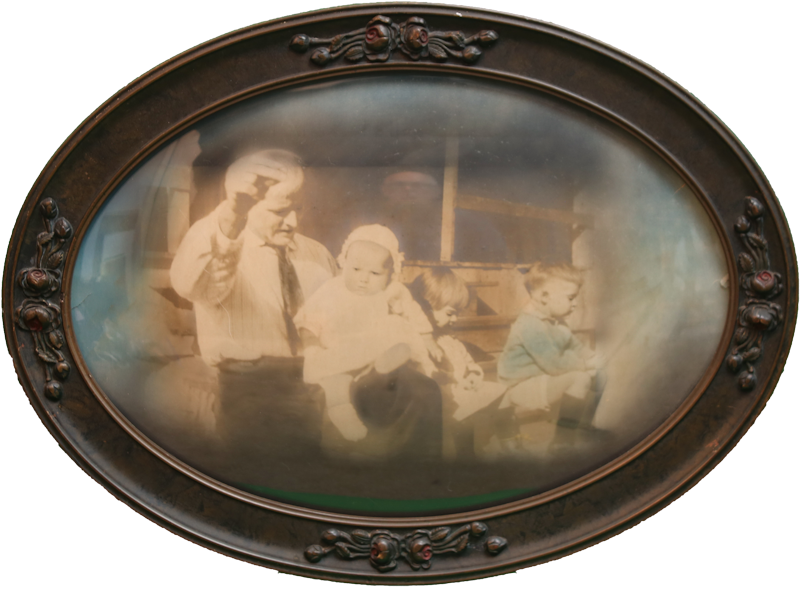 Wilbur on the steps of the house holding Morris
with sister Myrtice and brother Adrian, 1926
Gosper Sistrunk (1907-1869) and his family migrated in 1830 from Barnwell County, South Carolina to the Florida Territory to what was later to become Marion County. Gosper served in the Florida Seminole Indian Wars, enlisting on Jan 2, 1835, serving in McLemore's Mounted Company, though 1936. Coming from the same county, it could reasonably be assumed that the Mixson and Sistrunk families knew of each in South Carolina and when news of the Sistrunk's success in Florida was heard it likely influenced the Mixson brothers' decision to also move to Florida with the first of the three Mixson brothers, Charles Jones Mixson moving from Barnwell County to Marion County Florida in 1850 followed by his older brother James Joyce Mixson a few years later.
Over the pursing years the Mixson's and Sistrunk families in Florida became intertwined when in 1861, Gosper Sistrunk's, son Henry Jackson Sistrunk married Georgia Ann Mixson (#746), daughter of James Joyce Mixson (#711). Unfortunately, the Civil War began the following year and on May 3, 1862, Henry enlisted in Gainesville Florida joining the Confederacy. Henry survived the war and upon return had four children, two daughters, Sinie and Georgia, and two sons, Gosper, named after his grandfather, and Herbert. In 1885, Georgia's younger sister Rosa Lee Mixson, who at the age of 35 was thought to become and old maid, married Tobias Anderson. It was a short marriage for Rosa Lee died four years later and Tobias remarried to Fanny Belew having a daughter in 1901 who they named Rosalie after his first wife. Rosalie then married Wilbur Darlington Mixson who with his brother Gilbert used the wood from the old Sistrunk barn to build their house.
The 1900 census recorded Gosper age 27, married and living in Flemington Florida where the Mixson's had settled. It is likely that Georgia's father James Joyce Mixson, having considerable land holdings, had given Georgia and Henry Sistrunk a parcel of land some five miles from Wilbur and Rosalie's land which was given to them by Rosalie's own father Tobias. This story begins in Flemington.
Whew! Now that we got that all straight…back to the present, or the past, depending on where you stand in time.
AAfter mother died in 2013, I would a few times a year travel from my home in Virginia to Florida to visit my dad who was in his 80's. Almost without fail, on one of the Saturdays while I was there, he would want to take a drive out to the "old country" as he called it. The old country is a place called Flemington, some ten or so miles south of the closest town of Micanopy, is not much more than a crossroad and a church and is where Dad grew up as a boy. In the earlier years Dad would drive us out to the old country but one year as we walked out the door into the garage Dad handed me the keys and said, "Why don't you drive." This was a profound change I realized much later, Dad who had aways been the one who drove stepped back and passed the keys on to me.
On later trips I would drive while dad would sit in the passenger seat and as we traveled the country roads of Flemington Dad would point out things along the way that he remembered growing up, "That was Uncle Bill's house.", "Plantation Pond is down that road.", "The Feasters lived down there.". "Aunt Alice and Aunt Lois lived there.", "James Mixson lived there.", and so on. Each trip it would be the same, the same places, the same people, in the earlier days I thought he was telling me because he thought it something important that I should know, later when he was in his 90's perhaps he was telling me to show he still had his memory, but most of all, on the times his eyes got a little misty, I think he was telling me because he was remembering the wonderful times he had in his childhood growing up.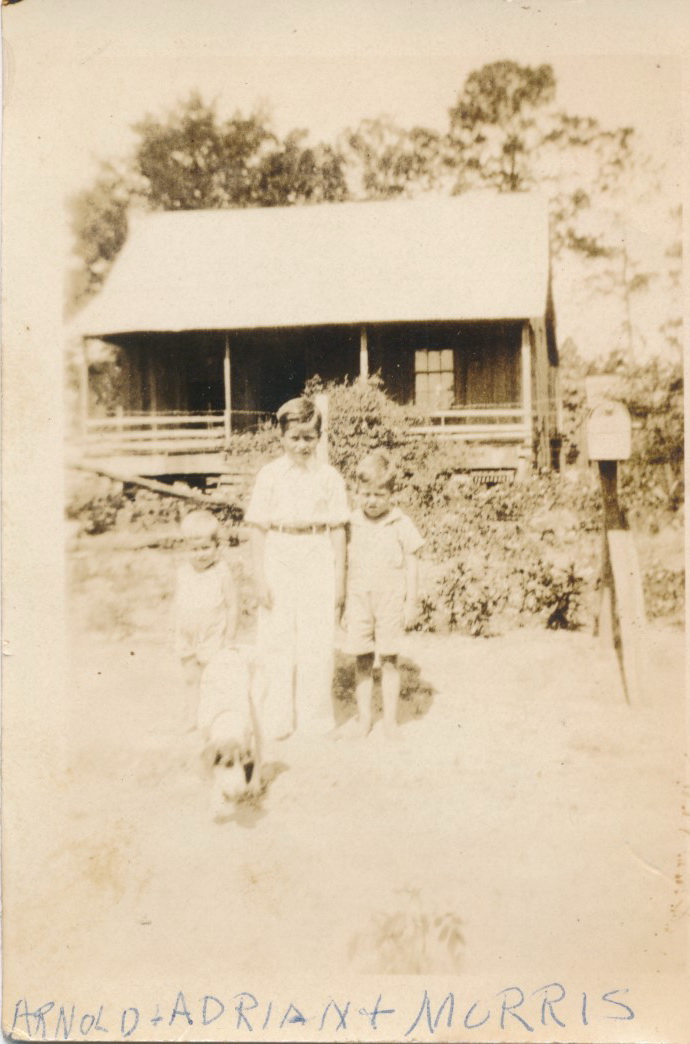 The Old House
Arnold, Adrian, Morris
All of our trips to the old country required going by the old house, the house dad was born in, the house I remembered as Grandma and Grandpa Mixson's house, Rosalie and Wilbur's house. As a child I have many fond memories of time spent there, fishing on plantation pond and Grandma frying the fish for dinner, catching lighting bugs and putting them in a jar on the nightstand when my brother and I went to bed, sitting on the front porch swing next to Grandma as the evening fell. As we approached the house I would slow down, and Dad would ask, "Should we stop?" and I always would say yes and pull into the driveway in front of the old gate, stop and we would get out of the car. When I was a boy and we went to visit Grandma and Grandpa Dad would stop the car and I would jump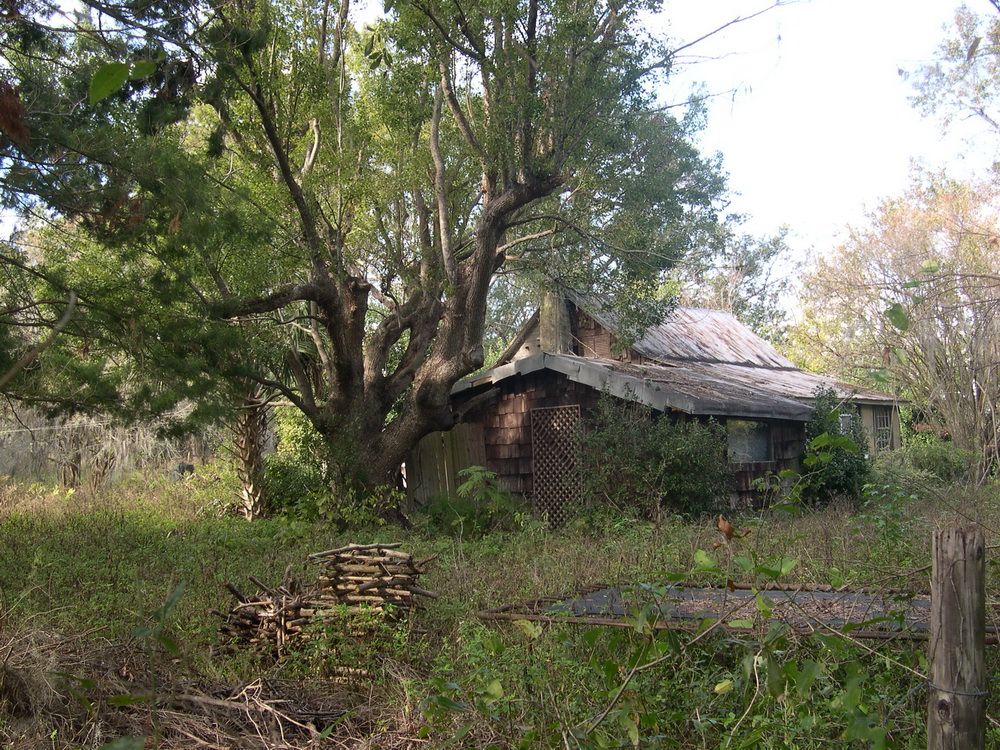 out, take the chain off the fence and open it, Dad would drive the car through and then I would close the fence and put the chain back. I could imagine Dad do ing the same when he was a boy, but his dad would have been driving a wagon. These days we would walk up to the gate and lean over it looking at the old house, and after a minute or two Dad would say, "It sure looks run down." With each passing year it becoming more and more so and it harder to see with all the brush growing up around it. We would get back in the car and proceed down the road and soon come to Uncle Jim's house which was dad's grandfather, James Darlington Mixson's house when dad w
as growing up if Uncle Jim and his wife Sue were home we might drop in and talk to them for a while. From there we would procced to the Flemington Baptist Church cemetery where his father and mother and other Mixson's are buried and the last stop the Shiloh Methodist Church cemetery where Mom is buried next to her parents after which we would return to Dad's home, avoiding the faster Interstate, taking the slower route though Micanopy and then highway 441 across Payne's Prairie as dad always did since I was a child.
Dad passed a way a few days short of his 94th birthday and we road together one last time out to the old country and laid him to rest in the Shiloh Methodist cemetery next to mother and it would be many months before I would again drive to out the old country. In spring the following year, I had to go out to see if they put Dad's veteran's maker on the grave and I drove out finding all was well. The cemetery is located next to the Shiloh Methodist Church in Shiloh which is right next to Flemington. I never really understood where Shiloh ended, and Flemington started other than it was somewhere between the Shiloh Methodist Church and the Flemington Baptist Church a few miles down the road both of which many Mixson's in the area had attend over the past hundred years.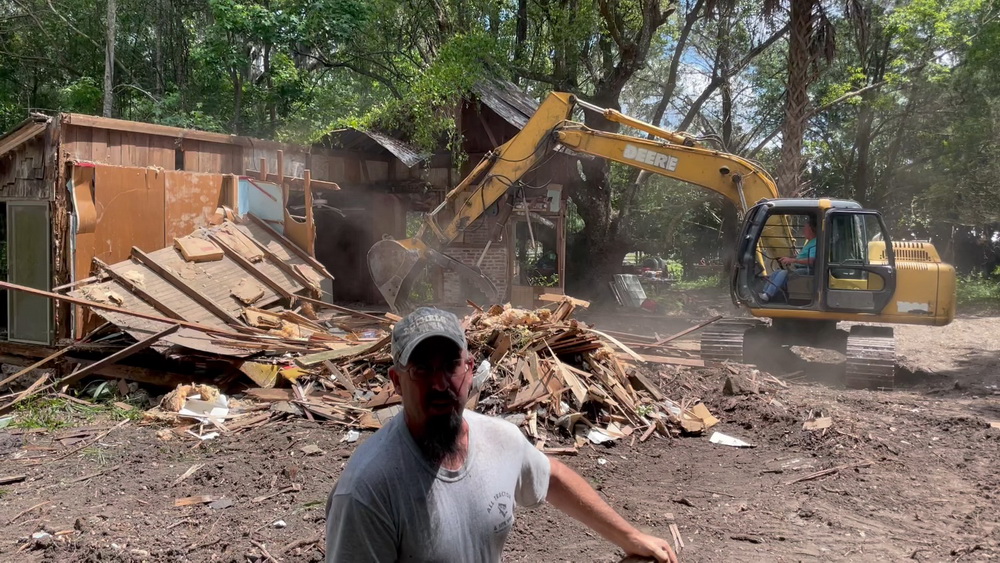 Man caring floor joist while house being torn down
After visiting the cemetery, I pulled out onto the road and automatically followed the route that my Dad and I would always take. It was as if Dad was sitting in the seat next to me and as we would pass an old house I would hear, "Otis lived there, he was a barber you know.", and then at the turn in the road, "That was Uncle Bill's house.", and I realize that it was not Dad speaking, but myself. I continued the short distance down the road in silence soon coming to the old house, Grandma and Grandpa's house, and as I came to the driveway and to my surprise the gate was open, much of the brush around the house was cleared and standing there towering over the old house was a giant yellow excavator, its arm with a claw on the end reaching out over the house like some prehistoric monster but all was still. I pulled into the driveway, parked my truck and got out for a closer look when another truck with some construction logo on the side of the door pulls in behind me and a couple of men get out, not looking to happy about me blocking the gate. I turn back and walk towards them and say in a nice friendly way, "Hey, how you guys doing?" And they say good and asked what I was doing in return. I then proceeded to explain to the man who appeared to be the boss that this was my grandparents house and where my dad was born and grew up. The man immediately softened up and said they were here to tear the house down and if drove my truck on though the gate so they can get their truck in, I could look around before they continued. After parking my truck, I got out and talked to the men a bit more explaining the house was built in 1924 by my grandfather and that I remembered when he dug the hole for the septic tank next to the house. They laughed and said they had discovered the tank and had to fill it in. They had already torn down part of the house and there laying on the ground was a twenty-foot-long log that was part of the foundation. They said the log appeared to be hand-hewed which surprised them for they didn't think the house was that old and I explained the first two rooms of the house were built from and old barn that was built years before. I asked if I could have the big log, but they said they were taking it for such old growth logs are worth quite a bit. When they saw I was disappointed one of the men said there was another one I could have and went over grabbing a smaller log that was one of the floor joists and said I could have it and one on the old rough-cut two-by-fours. Just then the excavator roared to life, it's giant arm with its claw reaching out and tore off a whole section of wall exposing the kitchen and memories came flooding back. My grandmother warming water on the woodstove to pour over my head as I sat in the washtub in the middle of the floor for a bath, the family sitting around the kitchen table eating fried chicken on perhaps fried squirl with biscuits and cane syrup for dessert, warm memories, fond memories, memories deeply rooted.
Dad passed a way a few days short of his 94th birthday and we road together one last time out to the old country and laid him to rest in the Shiloh Methodist cemetery next to mother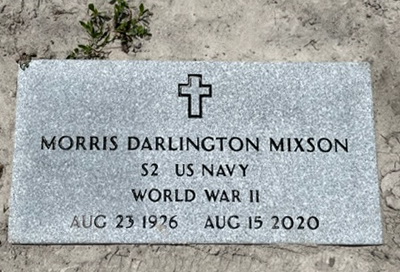 and it would be many months before I would again drive to out the old country. In spring the following year, I had to go out to see if they put Dad's veteran's maker on the grave and I drove out finding all was well. The cemetery is located next to the Shiloh Methodist Church in Shiloh which is right next to Flemington. I never really understood where Shiloh ended, and Flemington started other than it was somewhere between the Shiloh Methodist Church and the Flemington Baptist Church a few miles down the road both of which many Mixson's in the area had attend over the past hundred years.
I turned to the men and said I better get going and I picked up the two-by-four and the stronger of the two men said, "I'll get that for you.", as he picked up the larger floor joist with ease and we went over and put them in the back of the truck and after thanking the man I headed down the road. I continued down the road coming to the spot and heard, "That was where Aunt Alice and Aunt Lois's house stood.", it was torn down a few years earlier. I flash back, after leaving grandma and grandpa's when I was a child, dad was driving with mom and us kids in the car, we stopped to see Aunt Alice and Aunt Lois and dad honked the horn before letting us get out of the car he said because Aunt Alice can't hear, and she might shoot us thinking we were strangers so he honked the horn so that Aunt Lois, who could hear, would know we were here. We got out of the car, opened the gate and walked into their front yard that was completely barren of grass, just a smooth sandy yard with a few chickens scratching around in it. Aunt Lois opened the front door and greeted us fondly and invited us in where Aunt Alice was watching the TV with the sound turned off since she can't hear it and Aunt Lois said she didn't want to listen to it. We talked a bit and I ask why they didn't have any grass in the front yard and Aunt Alice, who read lips quite well, said, "That way no snakes could sneak up in the grass. Why just the other day I shot a snake right out of the tree in the front yard with the shotgun.", as she pointed to the shotgun standing by the door. Dad turning to us kids so that Aunt Alice couldn't see his lips and said, "That's why I honk the horn." As I drove by this day nothing is left of house and fresh green grass is growing where their barren yard used to be.
I continue down the road coming to the old farm of James Mixson which is still standing but looking more rundown than when I last saw it. The house was the farmstead of my grandfather's brother, James Gilbert Mixson, the Gilbert that helped him get the lumber to build his house. The house now is owned by his grandson also named James Gilbert Mixson who I last saw at dad's funeral when he told me that he and his brother just didn't have the time to keep the old place up anymore. It saddened me as I drove by thinking another part of the old country was fading away just as my aunts' house and now my grandparent's home had.
I continue on and after few bends in the road came to where Uncle Jim lives alone since his wife, my Aunt Sue, died a few months earlier. Uncle Jim's house was his fathers and his grandfather's before him. Uncle Jim is James Darlington Mixson having the same name as his grandfather who raised twelve children in the house. Uncle Jim's father Maxey being one with my grandfather Wilbur, James Gilbert, Aunt Alice and Aunt Lois some of the others. I was familiar with the old house having myself lived in it for two years in the 1970's when I rented it from Uncle Jim's mother Iva Mae. Since I was passing by the old house, I thought I would stop and see if Uncle Jim was home and if so tell him about grandma and grandpa's house being torn down. So, I pull into the driveway and push the button which opened the gate, Uncle Jim had gone modern, no more having to get out to remove the chain and open the gate by hand. I honk the horn as I drive through, the gate automatically closed behind me, I park my truck and see Uncle Jim standing in the back door and upon seeing me says, "Hey, Larry, come on in and sit a spell."
I go inside where Uncle Jim and I sit in a pair of comfortable reclining chairs and we talk about family for a bit when I tell him that I had just come from Grandma and Grandpa's old house which was being torn down and after a short pause as is custom for county folk for such news, Uncle Jim said in a shaky voice, "It's sad to see it go." After an appropriate short pause I reply, "Yes, I have many good memories with Grandma and Grandpa there." Then changing the subject I ask, "You were born in this house, weren't you?" and he replies, "Yes I was, in that room right over there and I expect I'll die here too.", as he nodded in the direction of the front room, the room his father and my grandfather were born in, the room that I had used as my bedroom when I lived there. After a moment of silence, he asked, "Do you still want some of that old barnwood?". The old barnwood he was referring to was something I had asked him about the previous year when I last saw him.
Surprised that he remembered, I said yes, and he then said, "Well let me show you where it is.", and I followed him out to his barn. Like any operational farm there were gates, sometimes several, around the property to keep the cows in, or sometimes to keep them out of where they should and shouldn't be. Arriving at the barn and Uncle Jim takes the chain off the gate, we walk though, he chains it up behind us and we proceed around the side of the barn to a second gate which he then then unchains, opens, we round the corner where on the backside of the barn stood a pile of wood some six feet tall and fifteen deep. Not just any wood but wood from the old that Uncle Jim had saved it when he built the new barn. In the old times, even up to when stayed in the old house in the 70's, a big old wooden barn stood to one side of the house but since then Uncle Jim had replaced it with a modern pole barn, but he saved a large pile of wood from the original barn, the one his father used, the one his grandfather and namesake used, wood from my great-grandfather's barn.
I had never seen such a glorious pile of barnwood, it was a dream come true, like some super find on American Pickers or some old car on Chasing Classic Cars, A BARN FIND, quite literally. I heard trumpets blare, no just kidding, but I do think my eyes got a size bigger. I suddenly realize that Uncle Jim is speaking, and he says, says, "I'm going go back to the house. You go ahead and take what you want, make sure you latch the gate up good so the cows don't get out." Then he turns, starts walking back to the house and after a few steps says over his shoulder, "Watch out for that bull, he gets a little ornery at times." Well, I knew that Uncle Jim still had many cows on the farm include two large bulls, I mean big like one of them was the size of a Volkswagen, so I am looked around but did not see them, so I turned my attention back to the wood pile.
At first, I thought it would be easy, I'll just pull a few boards out and put them in the back of the truck. I grab the end of what looked to be an amazing beam as big around as my thigh already thinking of what I could make out of it and I pulled, and pulled, and pulled. It wouldn't budge. Ok that was to be expected I thought, there were a few boards on top of it, like three feet of them. Turning to smaller boards higher up, and then again higher up, where I managed to pull out a foot wide six-foot-long plank and two rough cut four-by-fours. They were gorgeous with their hundred old patina like the Barnwood Builder's love. This wood wasn't going to come out easily I found upon further investigation that Uncle Jim had protected the wood really well covering it with a pile of the old tin roofing from the barn and then piling a number of old tires and cinder blocks on top of that. I just wasn't going to be able to get anymore without a lot of work, so I turned picking up the pieces I got and headed back latching the first gate behind me then walking to the second gate where I leaned the pieces of the wood against the fence so I could unchain the gate when I heard a noise behind me, and I turn to look. There stood that bull, the big one, did I tell you how big that bull was, well there it stood fifty feet away looking at me. Well fifty feet may seem like a long way but a bull that size can move pretty quick, and I didn't want to play the role of a Spanish matador, so I slowly turn back and unwrap the chain holding the gate tying to not make any noise. Doing this quietly would have been easy when I was a boy with the gate made of wood, but Uncle Jim had a metal gate and with metal chain, well let's say I made a little noise getting the chain loose and looking back over my shoulder I saw that bull was now twenty feet away. I slipped out of that gate faster than a gopher turtle going down a hole, pulling the gate close behind me as the bull casually walked over and stood there three feet away watching me as I wrapped the chain back around the gate while staring the bull in the eye.
When I returned to the house Uncle Jim was standing there calling for his two dogs to come in so I went over and thanked him for the wood telling him I would make something of it. We said our goodbyes and I returned home unloading the wood from the truck placing it long the side of the house where is sat for many months. I wanted to make something special out of the wood, but I wasn't sure what, I had to think about it for a while.
Over the following months I thought about the wood and what I could make out of it, lamps, stool, nightstand and so on but nothing seem to be the right thing. The larger piece was some five fee long and ten inches in diameter and I didn't want to cut it up into something smaller but I rather wanted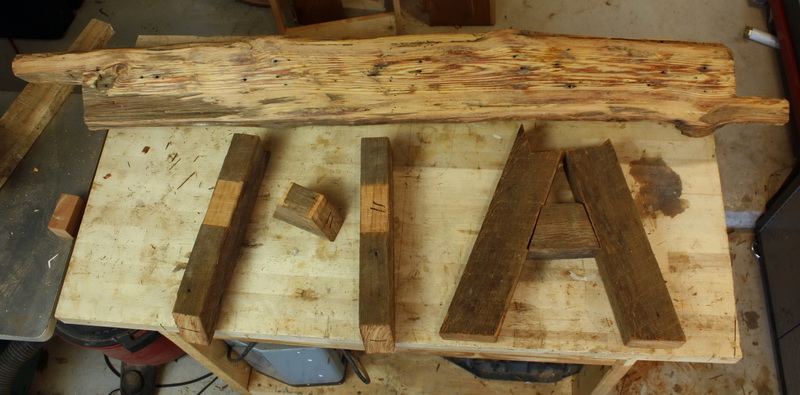 to keep it intact so I could see the originality of the piece. It finally came to me one day, it would become a bench with the log having one side hewed flat likely by my grandfather's own hands it made the perfect top for the bench while the remainder of the log could remain in it's natural round state. For the legs I would use the two-by-four from my grandmother's house leaving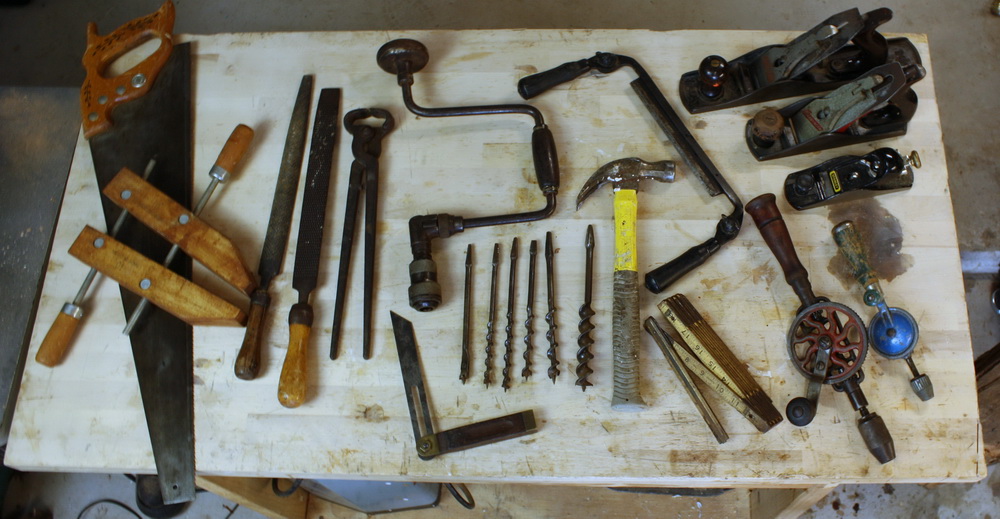 them in their natural rough state and the cross member I would use one of the two-by-fours from my great-grandfather's barn. The design was simple, a few cuts, a little chiseling here and there, the top smoothed smoother, a few holes drilled for bolts to hold it all together. I decided it would be appropriate to use only hand tools to make the bench as my grandfather would have done back in his day, so I built the bench using hand tools that I had collected over the years some of which belonged to my grandfather.
It all came together, the log from the tree that the Sistrunk's had felled for a barn over a hundred and fifty years before spending a hundred years in the foundation of my grandparent's home will now live on as a bench alongside my firepit where on some nights while friends and family sit on the bench around the fire, I'll tell will tell you a story, a Deeply Rooted story.
See related Deeply Rooted Stories:
The Call of the Whippoorwill
The Story of the Tree
Wilbur and Rosalie – The Early Years

Last update: 01-28-2020