Remembering by
Barbara Junior Mixson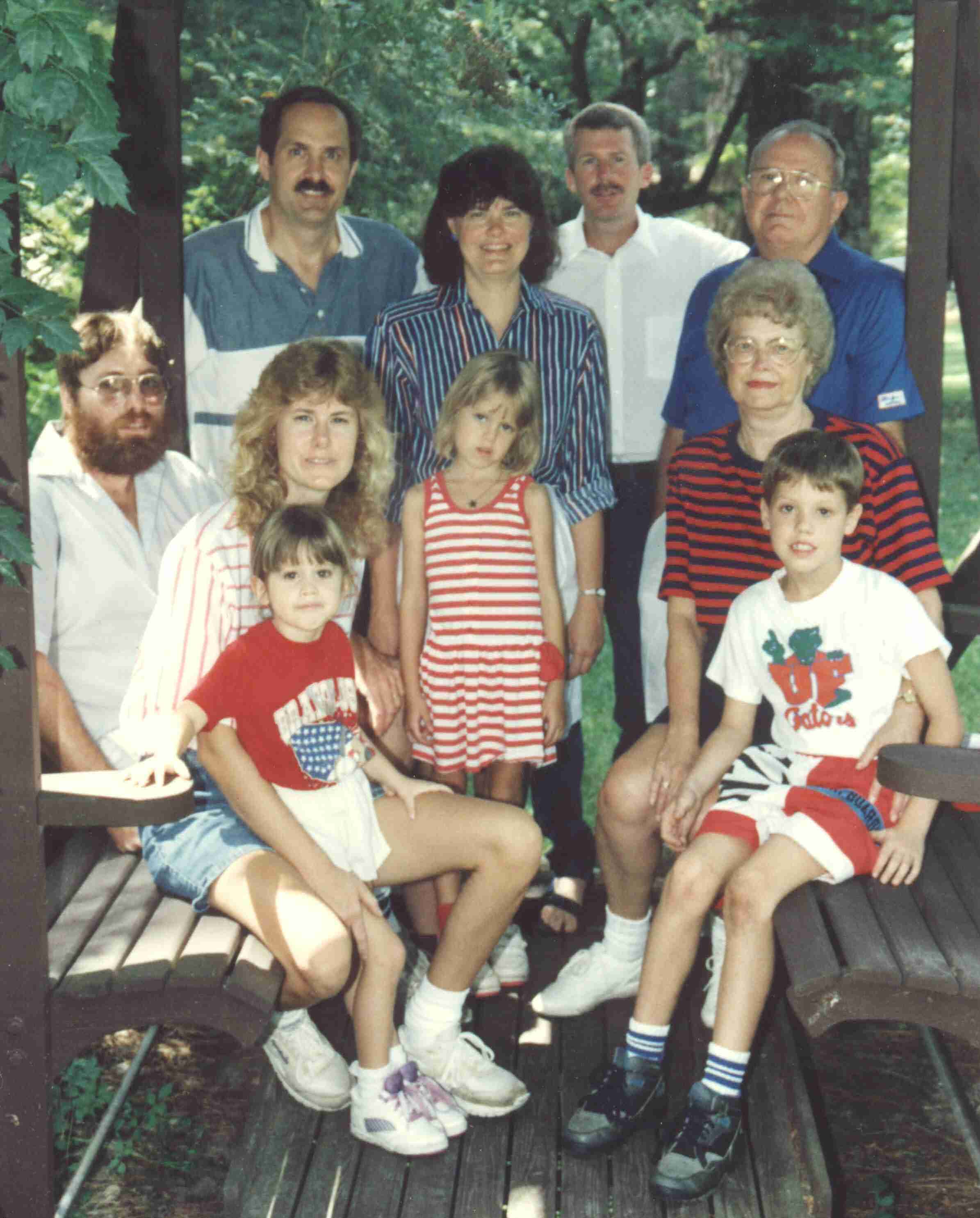 1992 Sue had a hip replacement. Jan.15 David and Beth took me out to the Red Lobster for my birthday, and the next day Dianne took me to the Heritage Club for lunch. February 16 David went to Austria to go skiing with Brenda and Tom and boys. In March Betty, Billy, Morris and I went to the condo for five days. March 19-25 we went to Macon, Georgia to see the cherry blossoms. We met Carolyn and Lamar there and spent one day with them. The blossoms were beautiful .

April 6-10, Bob, Ellie, Mom , Morris and I spent five days at Gary's condo in St. Augustine. April 17-18 we took Zack, Coral and Katie camping at Paynes Prairie for "A Walk Through Time" program. April 24-25 we went camping at Cedar Key for the Spring Arts Festival. At the end of April we went with Libby and Ernie to their time sharing condo at St. Augustine for a week.

May 21 we went with the senior citizens from our church to an all picnic at Poe Springs. May 24, Sue, Jim, Morris and I went to the Reddick High School reunion. May 28 Coral graduated from Preschool.

June 1--July 5 we were on vacation. We spent 6 days at Branson, MO. Then we went to Lawrence, KS, the Bad Lands National Park, Mt. Rushmore, Across Missouri and on to Sturgeon Bay, WI where we spent 3 days with my cousins, Marian and Bill Notz. They showed us around the area where daddy was born and raised. We visited Aunt Loretta (daddy's sister-in-law). It was very, very cold the entire time we were there.

Then we went on to Michigan. We spent June 21, Father's Day, with Dick and Shirley and their three boys and their families in Allegan, Michigan. We camped at Hungary Horse campground near Wayland and went out to see Bob and Ellie at Sandy Pines every day. We visited with Jack and Jerry and their children and Susie and Bill and their two boys. On the way home we stopped in Waynesville, N.C. and camped for a few days. (see my diary for the complete trip).

July 10 was a big day. Brenda, Tom and boys arrived back to the states for good. They had resigned from the Foreign Mission Board. Almost at once they flew to Lawrence, Kansas for an interview with the First Southern Baptist Church. I prayed for them to get a church here in Florida or at least Georgia or North Carolina, but I guess it wasn't meant to be. They were immediately called to the church and moved out by the end of August. Brenda was lucky and got a substitute teaching position right away and by January was on full-time at the high school. The boys adjusted real well from German speaking schools to English speaking schools.

That summer Mom moved into the newly renovated apartment next to Gary and Dianne's house. Her memory and Parkinson's was getting worse so it was better for her to be closer to family.

In August, David, Connie and Joshua went to California with the Florida Trail Association to hike up Mt. Whitney. David was one of the five to make it to the top. August 23 the hurricane of the century (called Andrew) hit Miami then it went up to Louisiana. Aug. 16 Hugh Andrew Smith was born to Kristi and Joe Frank. August 28 David went to Michigan to see his daughter, Laurel. He stayed with Jill Schwander.

Brenda and Larry both flew in for the family reunion. This was the year we had a photographer to take family pictures. It was great to have all four of my kids home again There were 51 present at this years reunion. September 16, Shelby was born to Danah and Christopher.

September 17 Betty, Billy, Morris and I went to Tennessee for the football game. We stayed in Pigeon Forge and took in Dollywood and the Dixie Stampede. We had beautiful cool weather and had a great time. September 25, Morris had some chest pains that wouldn't go away so he had a heart cauterization but it turned out OK, no blocked arteries. Sept. 30 twelve from our SS class went to Louise and Doug's home in Jax for a cook out.

October 19-25 Morris and I went camping at Ft. De Sota Park in St. Petersburg. Betty and Billy came down on Friday and stayed with us until Sunday afternoon. One day we drove over and spent the day exploring around Sarasota.

October 31, Betty, Billy, Evelyn, John, Morris and I went to the FL-GA game in Jax in our motor home. We got there early and had a great spot, wide enough to put the awning and enjoy our lunch outdoors. We won .

November 2 Mom got real sick and had to go to the hospital for five days, then to Shands for about five weeks for treatment. I went up almost every single day to see her. November 27, Betty, Billy, Morris and went to Tallahassee for the UF-FSU game.

Our Sunday School party this year was at Rosalie and O.D. Thomas's home. December 14 - January 7, l993 Morris and I went to Lawrence Kansas to visit Brenda, Tom and boys. We went through a beautiful snow storm near Springfield, MO the day after we left home. The weather was very cold most of the time we were there but we had a great Christmas with them. We came home through Dothan, AL and stopped and spent the night with Kristi and Joe Frank in their beautiful new home. We also got to know baby Hugh Andrew and Jordon better. (See my travel log for complete trip). We missed our New Year eve's party at Libby and Ernie's home. Another year had ended.