---
---
OUR MARRIAGE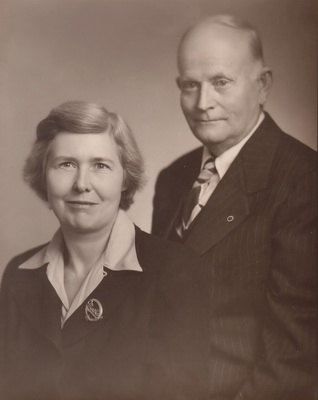 In 1919 Mr. Mixson gave a dinner for Wilbur and Charley White, a man that was a friend of Wilbur's in the army. Mr. Mixson had twelve children: Job, Gilbert, Lula, Vilola and Estelle were by his first wife. She was Lois Smith. She died when one of them was a baby. Then he married Mary Reeves. She was the mother of seven children. Alice, Henry, Wilbur, Bessie, Lois, Charley, and Maxie. I went to the dinner with Ella Mixson (dau. of Miles Benjamin Mixson, see #X1867) and her family. While the cousins were in the parlor kissing Wilbur, (I almost ran across the room and kissed him too) but we just looked at each other and I turned and went out of the room. He soon followed me out on the porch and asked me to eat dinner with him. I said yes, and from then on he called me his "sweetheart" and came over to see me once a week. He rode his horse named "Dink". In December, 23rd day, 1920 we were married.
I was writing one of my Deeply Rooted stories about Rosalie and Wilbur meeting at the party she talks about above and I came to realization that the photo of James Darlington and his tweleve children on my home page was taken at this party. It made so much since that they would be all dressed up for the celebration and the photo was taken on the front steps of the house. Larry Mixson August 2021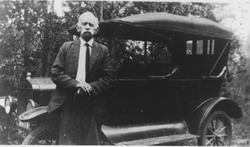 James D Mixson and Model T Ford
Papa was making cane sirup and didn't go with us to get married. Mr. Mixson had a new model T Ford and
Wilbur got Maxie, his brother, to take us to Ocala. I was just 19 and they thought Mama was all that had to sign for me. For my wedding mama made me a blue serge two piece dress. She bought me a long winter coat, a new pair of shoes and a hat. Everyone said I looked good. Mama and I had spent all our spare time sewing for me: two pair of pillow cases, two sheets, two quilts, and new underwear. She gave me an iron fry pan and an iron pot. Also she painted Grandmas old trunk for my things.

When we got to the judge in the courthouse, he said both parents had to sign. So Maxie said he'd go back for Papa, so they all signed except Papa. Mama said she would go back with Maxie because she knew Papa would be tired and probably cross, but after he had changed into clean clothes and rode back in the new Ford car he was in a good mood, and he said he really enjoyed the ride because it was probably the first one he ever took in a car.

We went to live at Mr. Mixson's--the girls, Alice, Bessie and Lois all treated me just fine and always we loved each other. I could hardly cook, but I soon learned from them. Mr. Mixson butchered hogs the next week after Christmas.