---
ROSALIE ANDERSON MIXSON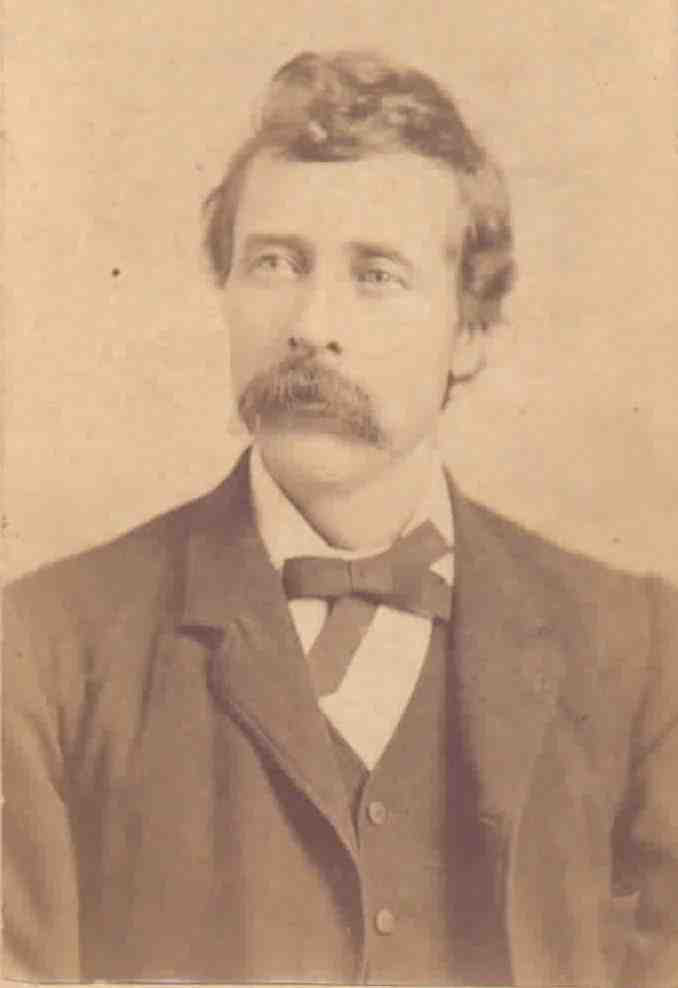 My Father Tobias Anderson was born at Gaarden Waseider MoSogn, Norway, March 28, 1848. He was one of ten children, seven boys and three girls. They were John, Martin, Andrew, Oleo, Thomas, Eli, Tobias, Dorthea, Ellen, and Bertha.

He told us the house that was their house was a two story building, with a large rock chimney running through from the first floor thru the second story and warmed both areas.

They grew barley, cabbage, rutabager and cattle, also goats. When they came to the U. S., they came to Minnesota for awhile. In 1906 John lived in DeMoines, Iowa. Papa went west during the gold rush. He said he worked in every kind of mine there was. When he was going out west, he said the antelope were so numerous they would stop the train for them to graze. He couldn't speak a word of English but taught himself English by using an English and a Norwegian Bible, He couldn't understand English very well and one story he told us, a peddler came thru the train and gave him some drinks and when the man wanted them back, he threw them out the window! (They put him off the train). He said everyone drank wisky those days but the only use he had for it was to pour in his boots to keep his feet from hurting as he walked every where he went.

While he was in California, his mother and father and two of his brothers came to Florida for their health — the brothers were Thomas and Eli. They lived at Bronson for awhile with their father and mother. They are buried at Bronson. Thomas was sheriff at Bronson once.

Papa took a ship from California to Florida. For a time he fished, then he worked in the Pencil Factory that was at Cedar Key. He met Rosa Lee Mixson, daughter of Charles Joyce Mixson (#711), and married her.

Mr. Mixson owned a large plantation and before the slaves were freed he planted cotton and corn. Miss Rosa had her own slave

. After the slaves were freed the fields went to nothing as there wasn't anyone to work them. Miss Rosa died in Jacksonville in 1889 and Papa married Mama the same year in December 1889. Rosa Mixson and Papa were married 12 years.

Papa was 20 years older than Mama. Mama was 34 when I was born. I was born (Oct. 26, 1901) in the house that he had built for him and his first wife. It was white had two main rooms and one had a fire place. It also had a front porch and a back porch that extended to a well. We got our water by standing on the porch where you could draw the water up in a bucket. There was a shelf running across the porch to the kitchen which joined the porch to keep the bucket of water. There were two magnolia trees in the yard. The yard had a white picket fence around it with a large cedar tree that stood in the corner of the yard. A large rose arbor was beside the house with a Marci Neil rose growing over it, also the yard was full of all kinds of roses. One was special because it was so sweet you could smell the odor far down the road. Our mail carrier said he could smell it before he got to our house.

When I was 6, Papa decided he was not making enough to take care of us like he would like. The cows were all dying also the hogs and his only horse fell in a stump hole and was burned so badly he had to shoot her.

Mama's brother was working at Indian River for a man farming and he told Papa that a man by the name of Sam Green had an orange grove and he needed someone to take care of it. Uncle Billy Belew (Mama's brother) his wife and Mama's mother were living on a farm near the orange grove. Mr. Green gave Papa $60.00 a month and a house to live in. Papa charted a box car and took our chickens and most of our furniture. We first moved into a four room house that was in the corner of the place. There was a Negro named Lawrence to help with the work. It was a wild strange place. Wild cats and all kinds of small animals around along with panthers. We could hear them screaming in the daytime. The mosquitoes were so bad everyone had a brush made of palmetto strips in pieces hanging at the door and when you went inside, you had to brush the mosquitoes away. There was a long dock out from the river bank and at the end was a house where the boat was kept. Also there was a small row boat tied to the lower dock. The water was so clear that you could see all kinds of fish, needle fish, mullet, drum, toad fish, pin­cushion fish, crabs ran on the beach at low tide, also horseshoe crabs, they were light tan and shaped like a horseshoe. On Sunday Papa would take us to the beach and we'd walk along looking at all the beautiful sights, it was 3 miles across to the Island, they called it Pelican Island because they told us that was where the birds nested. We stayed there several years. Andrew and I went to school there and the school was in the small house we first lived in. After we moved into the big house, it had seven rooms with upstairs, where Mr. Green and his niece lived. The school teacher boarded with us. She lived at Georagann on Merritt Island. We moved from Micco to Bonaventure in 1908

. Papa left Mr. Green because Green sold his grove and Papa got this job at Bonaventure working for the Mims, three women — they also had the Post Office. A Negro man carried the mail across the river once a day. He stayed and met the mail morning and afternoon before he carried it across the river to a little town Lotos, on Merritt Island. He rowed a small boat across, rain or shine.

We lived there three or four years. Then the Mims sold the grove or decided they could no longer pay Papa the $60.00 per month they had been paying him. He didn't like that and said he'd quit working or else buy an orange grove on Merritt Island. They had saved $500.00 enough to buy it but he asked Mama and Grandma and us children what would we like so we said come back home". It was decided then that we would move back to Micanopy or rather our home was 2 miles from Flemington. All our beautiful yard was gone, the people that rented our house tore up everything and planted cotton right in the front yard. By that time Papa was getting pretty old. They had to start all over again. Everything was gone. He spent all the money they had saved trying to get started again. He bought a horse, hogs, furniture and plows. We children walked three miles to Shiloh to school. I never had but two or three dresses for school. We were in the 2nd grade when we went to school at Bonaventure but we were put in the 3rd grade at Shiloh. I guess it was because we had been going to a private school there. Mr. Hall, a man and his family, lived near by on the next grove and they were Seventh Day Advents. Papa said he didn't believe all they taught but they were good people and so we went. It was nice and we learned a lot. There were just four children in school.

Papa worked hard, planted corn and had a large corn patch. He got a cane mill built with a furnace and vat to cook the cane juice to make surip. Mama had about sixty hens. (They had them at Bonaventure). She sold eggs to buy coffee, sugar, and rice. We had a coffee mill to grind the coffee. I can remember Grandma sitting by the stove browning the green coffee, just right color of brown. Grandma died the year I was ten, but I can remember her so well. She taught me how to cook cornbread and would let me help her make cookies. I thought every one had to keep the cookies in a pillow case because that is what she did. I remember how after scrubbing the floor she would put an inch of white sand on the floor to keep it clean longer. After a few days it was swept clean and there was the floor clean and white (the sand was white as sugar).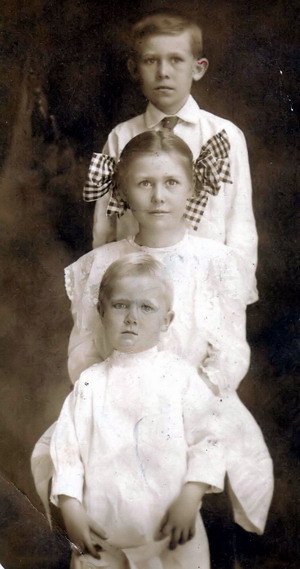 A few years later Papa traded the horse he had bought for $100. He was too fast for Papa and ran away once when he had started to McIntosh to sell eggs. He had several dozen eggs in cartons and although they were thrown out didn't break any. After that he decided to trade and one day while in McIntosh he traded off the old mule. He had already traded the first horse for a mule, a cow and calf and $25.00.

When I was 12, William (Bill) had pneumonia and almost died. The doctor drove his horse and buggy every day to see him. Dr. Davis lived at Irvine.

When I got old enough, I would drop the corn and peanuts by hand. When the corn got almost dry for the mill, to be made into meal, we would shell enough to make a bushel, by using a knife to start the rows, since the corn was quite damp, it would be hard to shell. Then we had an old door, which mama spread a clean sheet on and the corn was spread out in the sun to dry. We took it in every night and put it out again the next day until it dried. The meal sure was good made into bread and ate with fresh butter.