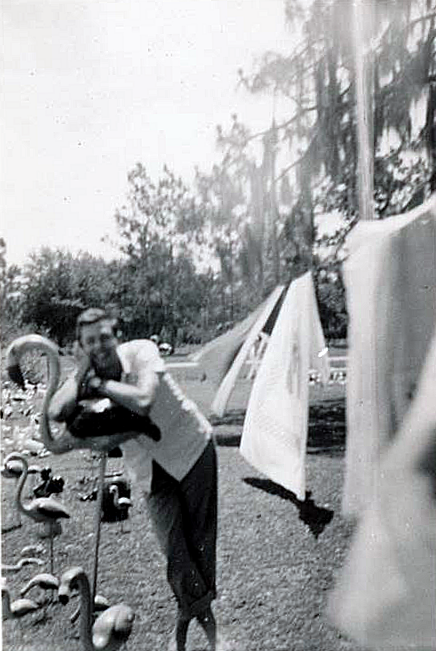 Morris at the Junior Roadside Stand
The summer after 11th grade was one of the longest ever for Barbara. She had a two week break after school let out which she helped out at her father's roadside stand before going to Girls State in Tallahassee. Barbara was quite happy to do this for sometimes Morris would stop by and see her. Her father trusted her with the business and would sometimes leave her alone to run it for an hour or two while he attended church work. It was on one of these times with her father away her younger brother Corky got into the pink paint for the flamingoes and got it all over himself. Covered in pink paint, Barbara took Corky to the hardware store which was just down the street and the kind old man at the counter helped Barbara clean Corky up.
Barbara was quite excited about leaving for Girls State, with her friend Anne Schmidt also was going, it sounded like fun, but it turned out to be a lot of work. At the end of the first day Barbara writes in a letter to Morris, "It's awful here – they never let you rest, I'm about dead now. Wish I was home." But it got better for her letter the next day she says "she likes it here lots" but is lonesome, missing Morris. She said she got scared about running for governor in the mock elections but did run for the county Supervisor of Registration and she got it and she enjoyed the reception at the college president's home. Oh, yes, did you know she didn't even have a picture of Morris? The next letter she says she is having a really good time, but they are working her to death! She lets Morris know that she would arrive at the bus stop in Ocala on Saturday at 3:15 and that she would wait for him.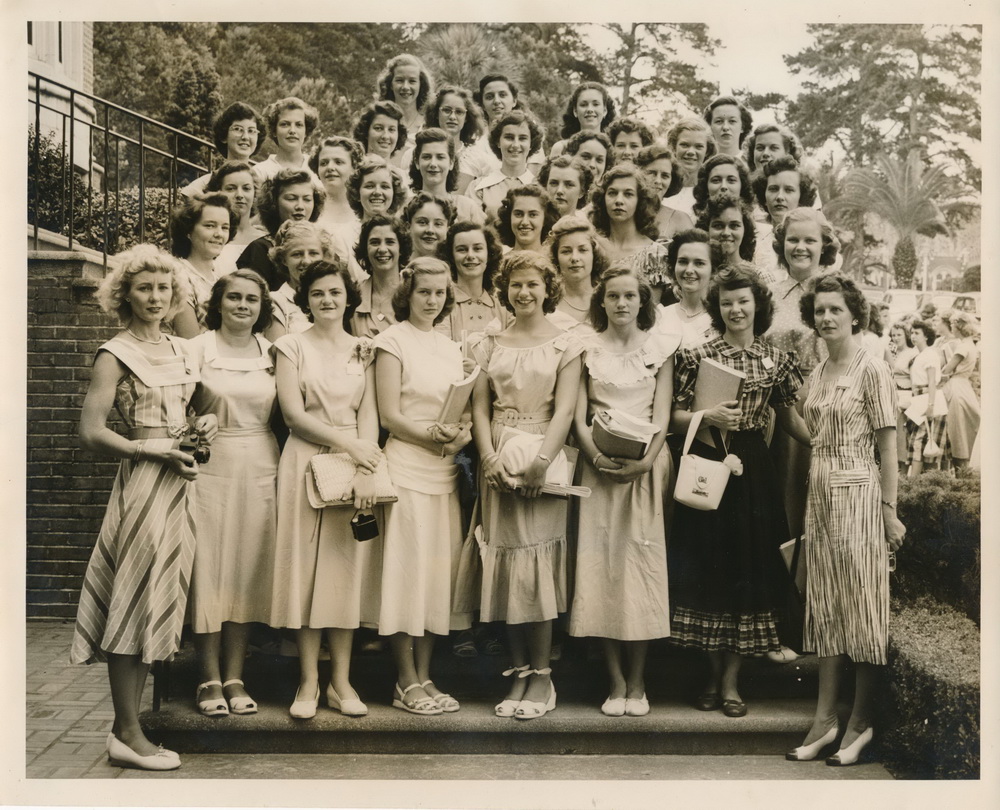 Barbara (top center with glasses) at Girls State in Tallahassee
Morris was there to pick her up and she was very happy to see him. Morris drove her home and stayed for dinner before going home but that evening, she got some terrible news, her parents decided they would be leaving in two days to go to Michigan and Wisconsin for four to five weeks to visit relatives and she was going with them. How terrible was that! She just got back and would only see Morris one day, Sunday after church before they would leave.
Her next letter on July 6, 1949, she wrote when they were on the way to Michigan. She writes saying they stopped in Atlanta to see friends in Mt. Eagle, Tennessee and ends with "Have you missed me? Now, you do write me so I have a letter, please honey." And she jokes with him writing "I hope that old girl in Williston isn't bothering you." The following day and letter they were in Westfield, Indiana, "Did he still love her?" and says to Morris that he should go to the Chicken Ranch for lunch but "no flirting!" She knows she's not supposed to be jealous, but she forgot. Oh, and it would be easier for her to write him once she gets a letter from him.
A week later she gets the first letter from Morris, in which he apologizes for getting it to her so late, but he's been very busy, oh, and he hasn't been with any girls either, p.s. "I love you." The next letter he talks about going to the beach. He teases her back saying, "don't flirt with all the boys." Barbara writes back, "Who is that "we" that went to the beach? You didn't even say that you missed sitting by in church."
And so it went, Barbara writing three or four letters for every one for Morris. She continues to complain about getting letters from Morris, once saying Sue got nine letters from Jimmy (Morris's cousin) and she only got three. After Jimmy gets a letter from Barbara's sister, he tells Morris's that Sue said Barbara was mad at him because she hadn't heard from him.
They continued writing letter though July until early August when they returned to Florida, with the Barbara's letters always ending with a P.S. of "I still love you" or "Do you still love me?" or both.
Updated: 12-26-2021