Barbara and Morris would often go on double dates with Joyce and Wyndall, they especially liked going to Crescent Beach which is an hour and half drive to the east coast of Florida. Barbara and Morris would also go on picnics at Silver Glen Springs with Sue and Jim taking Jim's Model A Ford until her mother found out she had to sit on Morris's lap and her mother told her she couldn't go if they were going in Jimmy's' car.
Most Friday's Morris would try to get off work a bit early which if he was lucky meant around four thirty which he would then make the hour drive to the Juniors arriving in time to eat supper with them. Some Fridays Morris would stay late and rather than making the long drive home he would spend the night sleeping on the couch in the living room. Barbara's mother didn't much like that, but she had to admit it didn't make much since for Morris to drive all the way to his house in Micanopy and then drive back again on Saturday afternoon for their date that night and with gas costing 25¢ a gallon, that was a big expense on Morris's meager salary. On Saturdays Barbara usually worked for her dad running the gift shop which he paid Barbara $10 a week. Barbara always the planner, bought a set of dishes and put an expensive set of Vita Craft pots and pans on layaway that summer knowing she would need them when her and Morris got married which they talked about being the coming September. Barbara, who was always cold, also bought flannel pajamas for her wedding night.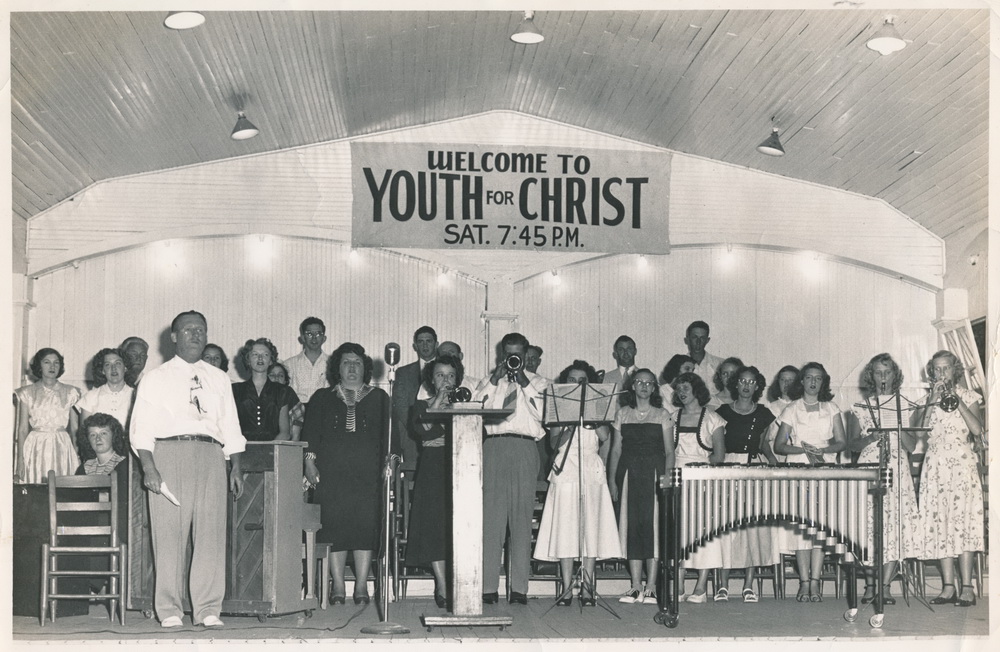 Rev. Fred Junior, front right, Barbara black blouse behind her marimba.
Also the Mayfield twins Joan and Jean (right) who graduated with Barbara.
Fred Junior, no longer preaching at Flemington, and for a few weeks had Youth For Christ meetings in Ocala Saturday nights. Her father expected Barbara to attend and didn't complain too much if Morris came with her. At the meetings, Barbara played the marimba in the band while Morris sat in the audience with Barbara's mother which he was not very happy about. After the Youth For Christ meetings ended Barbara and Morris started going to the Drive Inn Theater in Ocala which her parents didn't approve of but Barbara I told them she was 18 and was old enough to make my own decisions. After the movie they would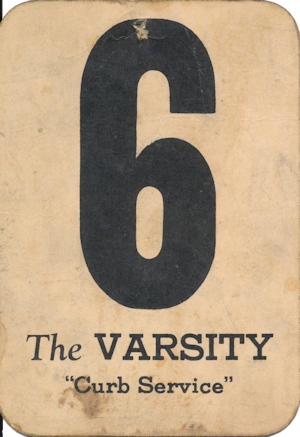 go to The Moreland Grill or The Varsity drive-in dinners that had curbside service and get something to eat. They would park the car and the waitress would come out and take their order and while waiting for the order they would visit their friends. The dinners were a popular hangout for the kids on Friday and Saturday nights, and they would often see Betty and Billy, Joyce and Wyndall and of course Jimmy and her sister Sue. Photos. Barbara, not one to stay up late, would usually fall asleep on the seat next to Morris on the way to her home in Oklawaha. Morris enjoyed having Barbara fall asleep next to him, driving with one hand, he would wrap his other arm around her as she snuggled up next to him as he drove into the night. It made him happy to have her so close.
Some days when Morris would arrive at her Barbara's house for a date, Barbara's baby brother Corky, who was three, would want to go on the date with them and would put up a fuss if they didn't take him. To make him happy they would take him down to the drugstore in Oklawaha where they sit at the soda fountain and let him drink a coke, then upon returning him home and tell him he went out on their date he'd be happy, then they would go on their real date. Morris wasn't always happy about Corky, writing to Barbara, "Were going to train our kids to mind better than Freddie. I guess he would be better if there wasn't so many telling him what to do."
The last Sunday of April Barbara's mother and father took her to Trinity Bible College in Clearwater to meet with the President, Dr. Watson and see about enrolling Barbara in the college. It seems that when she was 14 years old, she told her dad she wanted to be a missionary and her dad took it to heart and decided she should go to the Bible College. Fred and Waive were familiar with the college having made several trips their over the past couple of years resulting in Fred becoming friends with Dr. Watson the founder and president. That weekend they arrived at the college in time for church services and they Dr. Watson asked Fred to preach where, Barbara said, "He preached a real good sermon." But Barbara didn't like that she would have to wear hose all day, and the dormitories were so tiny. She tells Morris who was worried about her going to school there, "Darling, don't worry I don't especially like it there."
In May with the school year coming to an end, things got very busy for Barbara. Beginning with Senior Skip Day May 4th which the entire senior class (all twelve of them) and their dates went to Daytona Beach for the day. Barbara's mother was a chaperon which Barbara wasn't too happy about. Barbara, who was the class Salutatorian, begin working on her speech for the graduation ceremony which she titled "Our American Heritage".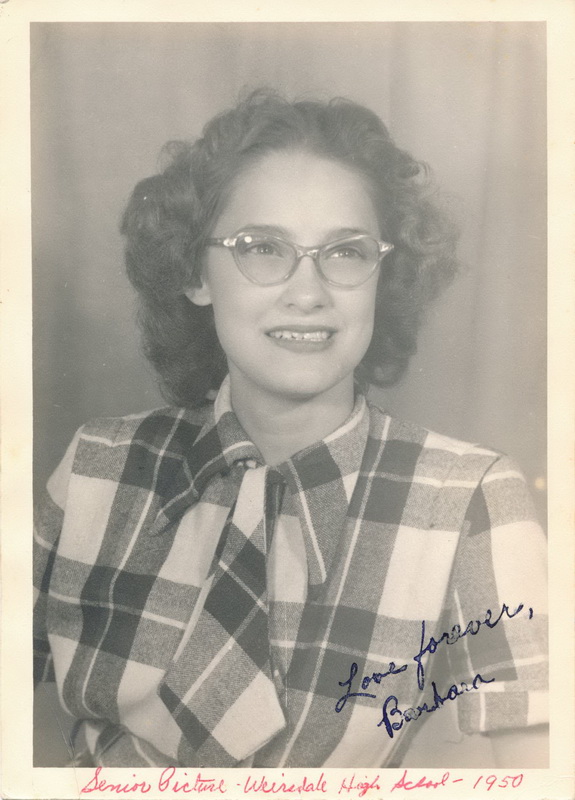 The second week of May the Weirsdale high school yearbook arrived from the printer and was distributed to the students. Barbara had worked on the yearbook staff throughout the school year as the class historian gathering information about the students to be put in the yearbook. In addition to the photos of the teachers and students, the yearbook had the humorous sections about the students.
In the sections:
Who's Who in the Senior class: Barbara was Most Joyful and Neatest while her friend Joyce Curl was the cutest girl but also the quickest temper, and Anne Scheck the most popular girl.
The Typical Senior (composed of body parts) Barbara was listed for "ankles" while the better parts of the body went to: Hair-Bonnie, Face-Anne Schneck, Eyes-Joyce Curl although they gave a man's nose from Herman, perhaps he had a feminine nose.
In the Class Prophecy they wrote about where they thought they would be five years later with Barbara writing "I went to Stetson for four years, graduated and now teach the sixth grade in Gainesville, where I live …and.. Morris and I were married last year.". We will see how that works out. Also, it was prophesied that Joyce would marry Wyndall.
And the Senior Class Will, "I Barbara Junior, do will my to cheer to any new cheerleader who needs it, and my ability to make A's and B's to Sue." Well, that last part didn't turn out the way she expected when she wrote it a few months earlier.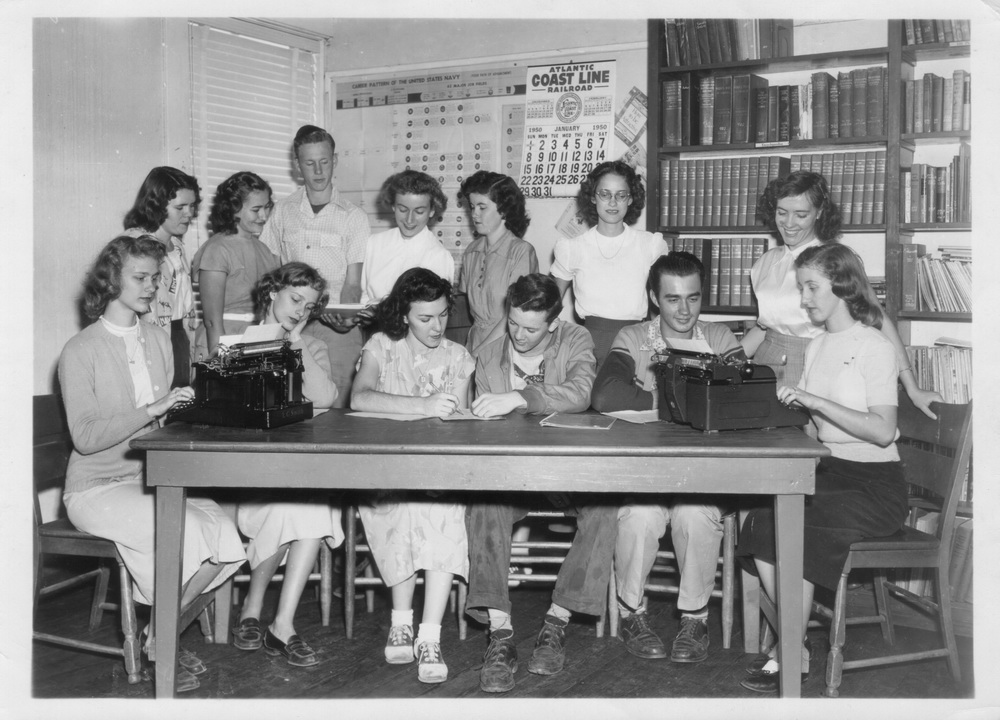 The Weirsdale Yearbook Staff hard at work
Barbara standing under calendar
Along with the yearbook the seniors received a second book "Log of Memories" which had pages for persons and events where teachers and other students could write their sign and write their memories. Barbara had the principal Leo H. Armstrong start out the page of signatures followed by her friend Joyce Curl who was the student government president and Anne Schneck the secretary. Another page had signatures and "Classmate ambition" with the girls' listing things like Secretary, Architect-Interior decorator, nurse, good housewife, commercial artist, veterinarian, a wife, housewife-mother and the two boys Barbara that signed one an engineer and the other teacher-forestry.
Morris had for a while been asking her what she wanted for graduation and she kept hinting for a ring and then a week before graduation ….. drum roll ….. Morris went to Barbara's house and gave Barbara a great big kiss and put a ring on her finger. When Barbara showed her mother, Waive said, "Well, you're not going to keep it, are you?" Well of course she was going to keep it. Morris having seen Jimmy and Sue the day before said, " I told Sue about the ring, and she didn't believe me but I proved it to her by showing her the sales receipt." What the receipt also showed was that Morris would be paying for the ring over the next two years.
Morris saw Jimmy and Sue regularly since Jimmy and Sue were staying with Jimmy's parents at the old Mixson farm. The old Mixson farm was where James Darlington Mixson lived with his twelve children one being Morris' father Wilbur and another other being Jimmy's father Maxie Miles who, being the youngest of the twelve children, had inherited the farm and living there with his wife Ida Mae. Jimmy, or his full name James Darlington Mixson, was named after his grandfather and was born in the same bedroom that his father Maxie and Morris's father Wilbur were born in. Morris' parents Wilbur and Rosalie's farm, where Morris was born, is about a mile down the road from the old Mixson farm and so living close by, Morris and Jimmy spent time together since childhood.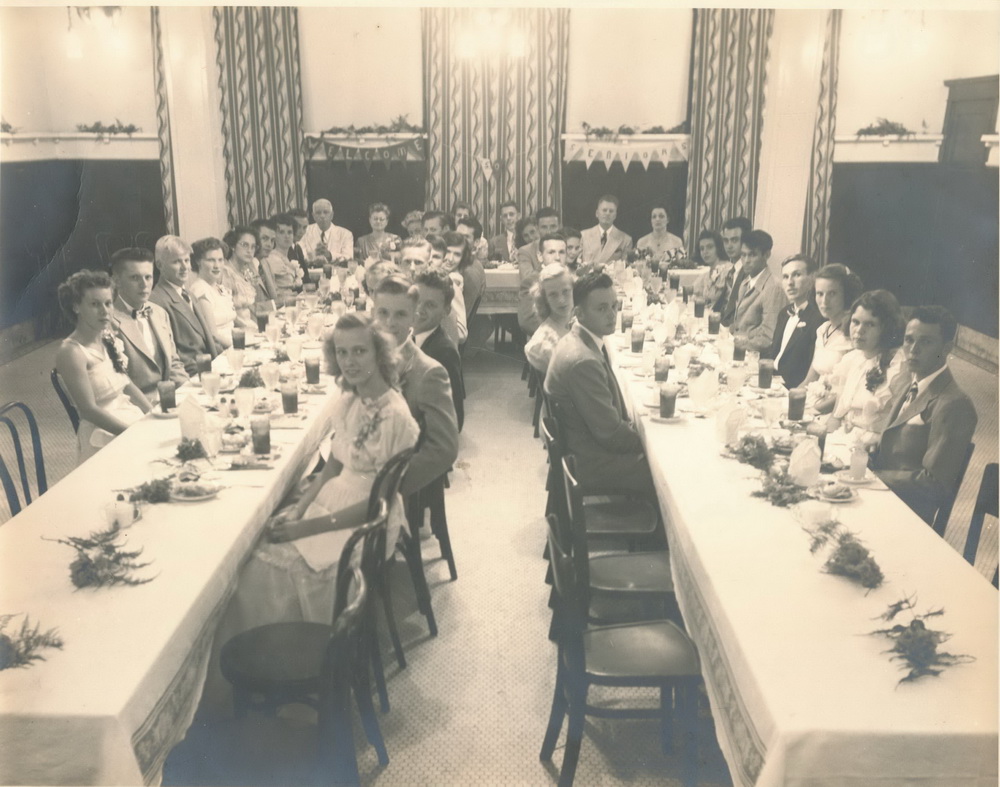 Junior-Senior Banquet
Barbara and Morris third couple on right
The Junior Senior banquet was held on Friday May 19th which was quite a formal affair. Morris showed up early to pick Barbara and when she answered the door in the prettiest dress he had ever seen, if he wasn't already in love, he fell in love that day. Morris himself was dressed in his best, and only, Sunday clothes all freshly ironed by his mother. Pulling out a small box from behind his back Morris gave Barbara a corsage which he picked up on Gainesville after work. Morris, not sure about pinning it on Barbara's shoulder himself, suggested Barbara have her mother pin it on. After saying a few words to Barbara's parents, and telling the disappointed Corky he couldn't go, they left in Morris's car to go to the banquet at the Harrington Hotel in Ocala. Mr. Armstrong the principle, all the teachers, Wyndall and Joyce, most all of the twelve seniors with their dates and several couples from the Junior class were all there. Sammy Marsolf, the Junior class president made short welcome speech and they then sang the school song after which Barbara, being the minister's daughter, said the blessing before the meal. It was a simple meal which Morris really liked, fried chicken, mashed potatoes with gravy, creamed English peas, peach salad, hot rolls and butter with red Jell-O with whipped cream for desert and of course southern sweet and plenty of iced tea to drink. The following week Wyndall gave Joyce a ring and the first thing Joyce did was tell Barbara. When Barbara told Morris he said, "Joyce must have gotten Wendall cornered and made him give her a ring."
Graduation day finally arrived and on Friday June 2nd the commencement ceremony was held in the Weirsdale School auditorium. Morris picked up Barbara early from her home that day and drove her to the school where Barbara joined her other class members putting on their robes and getting instructions on where to sit and what to do. While Barbara was busy with preparations, Morris hung out with his friends that were there. Barbara's parents, Fred and Waive arrived with all five of Barbara's brothers and sisters and took seats in the stands. Little Corky was a bit restless but when Morris sat down beside him, he quieted down. The ceremony began with a musical prelude then followed the Glee Club singing "A Night In June" and "Kentucky Babe" after which the graduating seniors marched and took their seats while "Pomp and Circumstance" played. The Invocation was giving by Reverend W. W. Lavender and then it came time for Barbara's Salutatory speech. Barbara had never been so nervous before, sure she had been in front of a crowd at church gatherings playing her marimba, but she had never made a speech in front of such a large crowd. She thought she was going to faint for a moment but regained her composure as she walked up to the podium where she took out and unfolded her speech that she had carefully typed up. "Friends and classmates" she began…
"Our American Heritage"
"As we close our school years, it is but natural that we should give a little thought to the traditions of our country which have permitted our public school system to be establish and to continue the progressive education system". Barbara then gives four things they should give thought to: their forefathers, traditions, freedoms and "this land of ideals." And then ending with, "So as we are graduated from high school, we want to express our gratitude for being children of Americans. Americans who have given us our public schools—our homes—our customs—our traditions—our ideals—our citizenship—and our hopes for the future."
Barbara was relieved that her speech was over and returned to her seat. After another song by the Glee Club, Holmes Melton, Jr., who was the Assistant Director of Alumni Affairs at the University of Florida gave a speech which then was followed by a speech by the Valedictorian who was Barbara's best friend Joyce Curl. Presentation of awards was giving by Leo Armstrong the school principal followed by the presentation of diplomas. When Barbara's name was called, she walked up and as she was handed her diploma, her whole family cheered. After all twelve seniors received their diplomas they formed a line across the stage moving the tassels upon their caps to the other side as the announcer said "I present to you the class of 1950" and everyone in the auditorium broke out in cheer.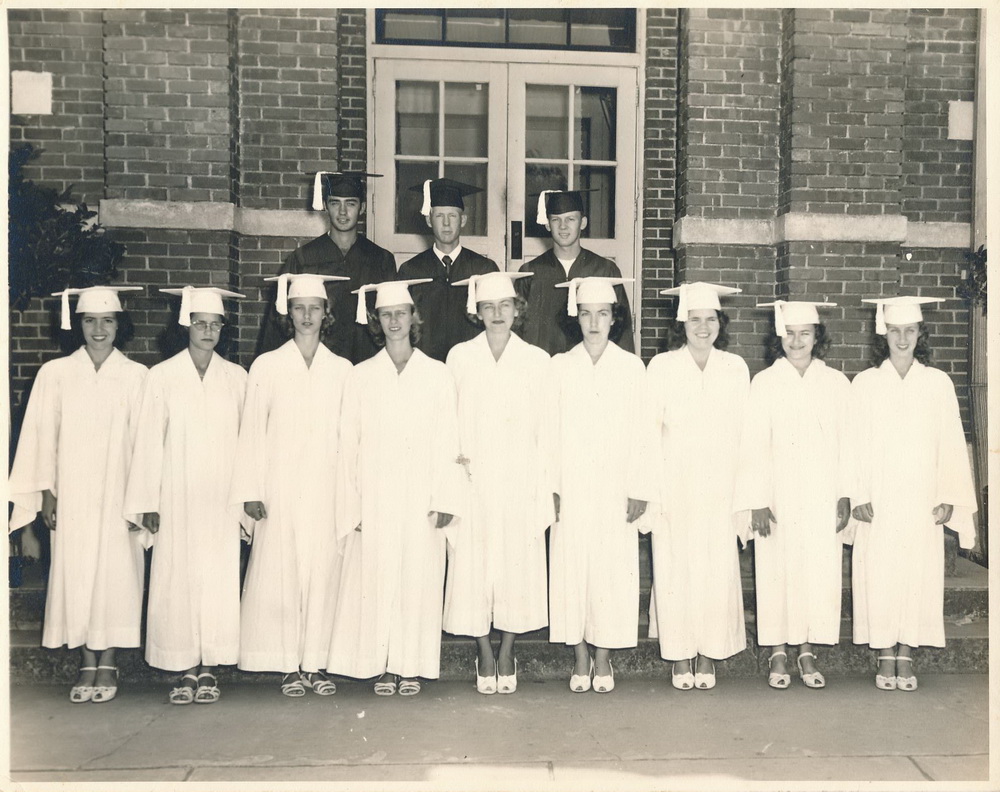 The 1950 Weirsdale Class
Anne Schneck, Barbara Junior, the twins Jean Mayfield, Joan Mayfield, Joyce Curl, Grace Douglas, Bonnie Gail, Mary Lankford, Mildred Gibson
Herman Rigdon, Tolliver Armstrong, Herbert Parris
Updated: 01-02-2022