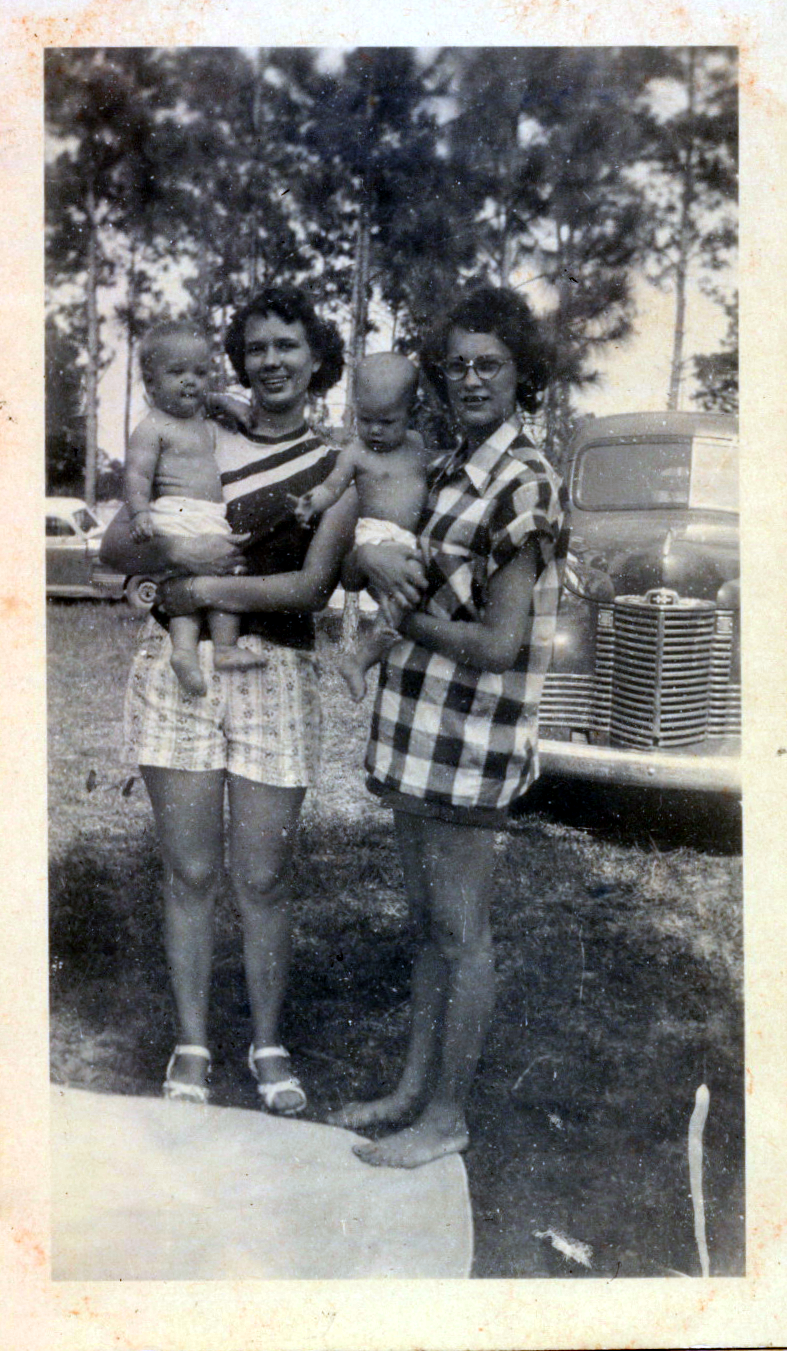 Betty & Jancie, Barbara & Brenda
The spring of 1952 was a wonderful time for Barbara who would spend most of her days with Betty who lived next door. Both having babies they would spend time at one or the other's houses taking care of them. It worked out well if one of them needed to run an errand the other would take care of both babies. Morris and Billy would get up early and deliver their paper routes then go to work while Barbara and Better would get up later with the babies and spend the day together. Working at the University was very punctual so Morris and Billy would be home by five fifteen and Morris would usually take a short nap on the couch while Barbara made dinner which would be ready at six. On many days the four of them with the two babies would have dinner together and then they would play cards afterwards. Barbara said, "It was like playing house. We did everything together." In May, after a visit to the doctor, Barbara told Morris she was pregnant.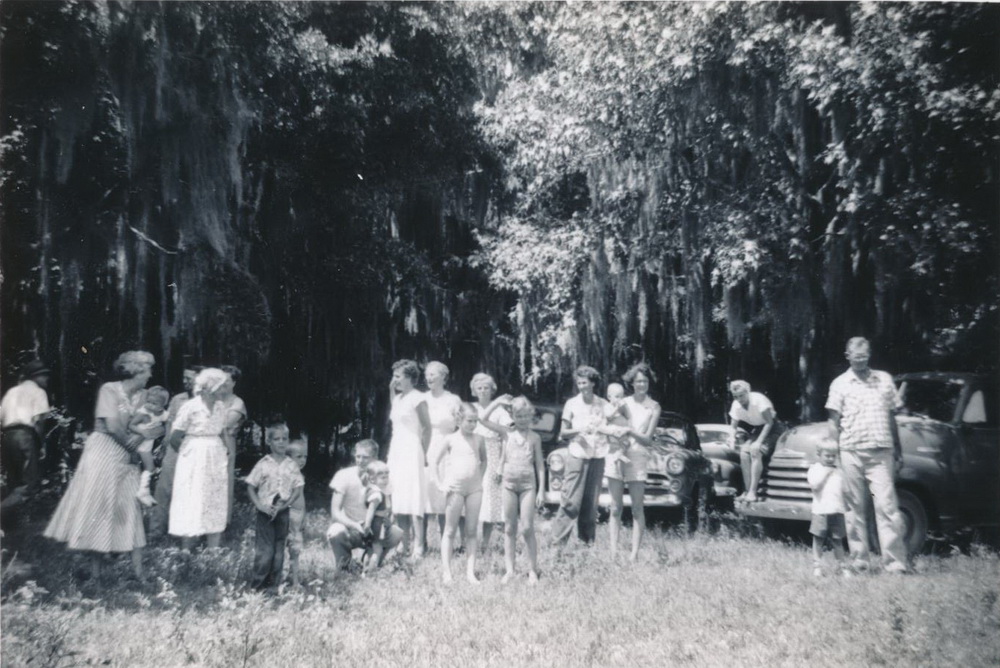 1952 Mixson-Feaster Family Reunion
Barbara holding Brenda right of center
That summer the Mixson-Feaster family reunion was held like the one back in 1937 when Morris a boy of eleven, the Feasters being relat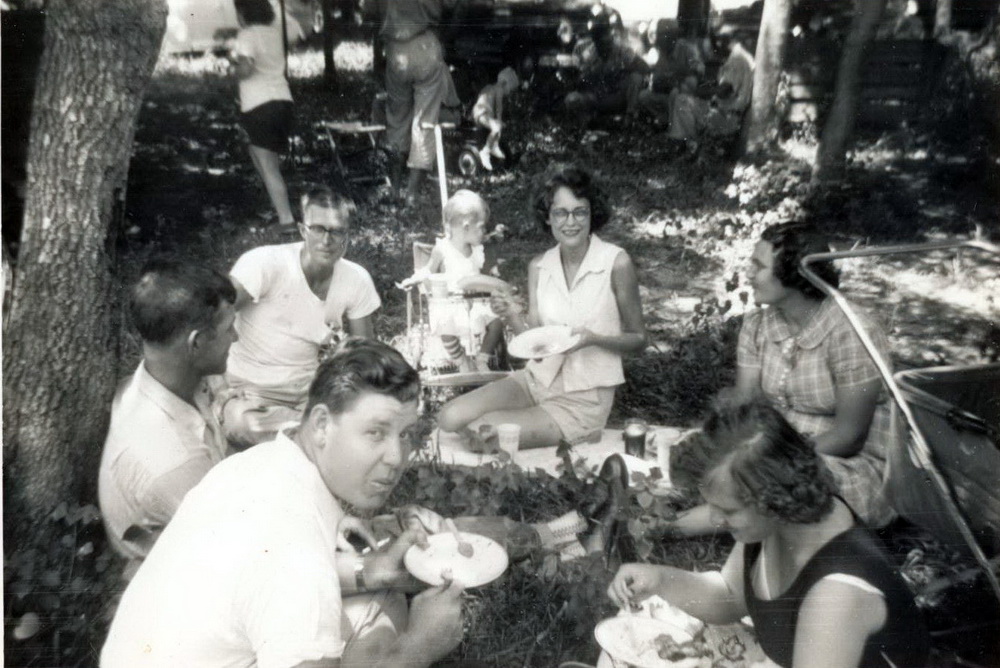 ed to the Mixson family when Mary Talula Mixson married Jacob Feaster. The families gathered at the old Feaster home under the old oak tree with each bringing one or more dishes of food and desert which were placed on a large table made of boards across sawhorses and covered with tablecloths. The families all were excited about new additions to the family with Barbara and Morris's daughter being just one of several. After the blessing was said, lines were formed on either side of the where the people then filled their plates and found places to sit under the trees to eat. Barbara, Morris and baby Brenda sat with Morris's brother Arnold and his wife Eunice and their cousin Wendell and his wife Betty.
There was the usual afternoon baseball game and many game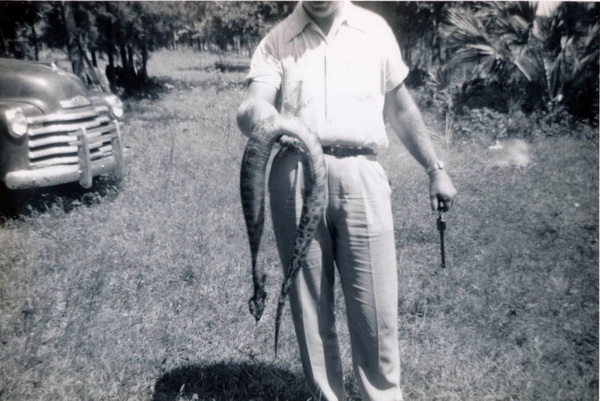 s of horseshoes played but the real excitement for the day was when one of the children ran up to their father saying there was a real big snake over at the edge of the field where they were playing ball. The boys father quickly ran over to his truck retrieving his revolver then went over and shot the snake several times rendering it dead. It was a six-foot rattlesnake as big around as a man's arm.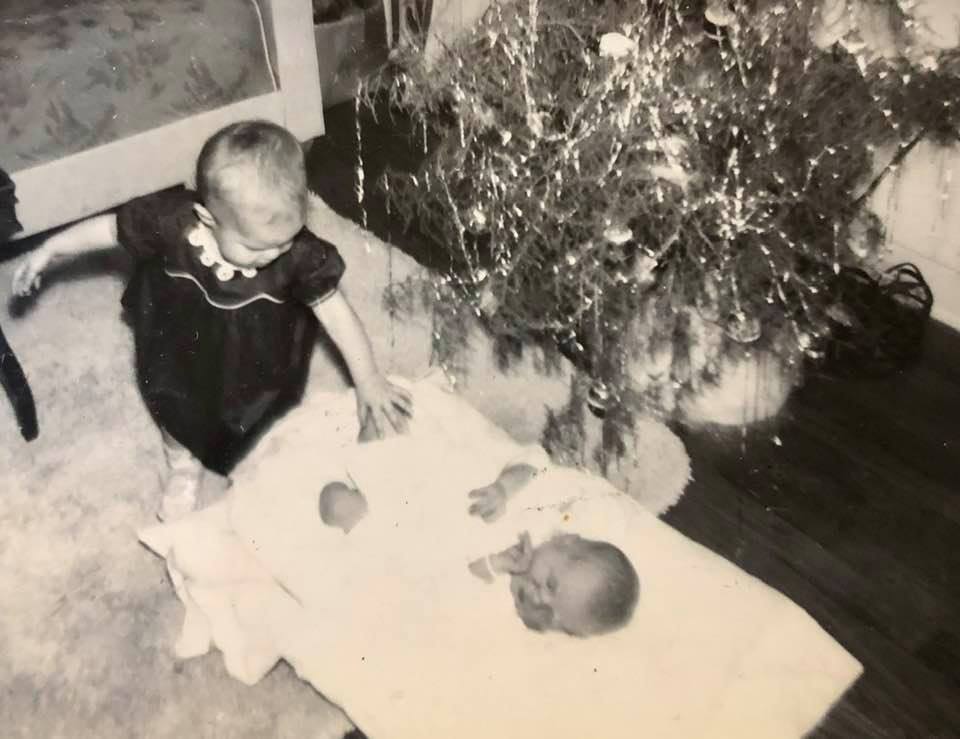 In December, three days before Christmas on shortest day of the year, Barbara told Morris the baby was coming and he drove her to Alachua General Hospital and their son was born who they named Larry Morris Mixson. At nine and a half pounds, Doctor Summerlin commented, "I didn't think he'd be that big!" Being her second child, the hospital kept her only for three days, and she was home on Christmas day putting baby Larry under the Christmas tree as a present for their daughter Brenda.
Knowing that Barbara would not have time nor feel like making Christmas dinner, earlier that morning, Morris's parents Wilbur and Rosalie came up from Micanopy and Rosalie fixed dinner cooking a duck, rice, turnip greens, black eyed peas, cornbread, and an apple pie for dessert. Barbara thanked Rosalie for making dinner, but she was disappointed with it not being the turkey, dressing and mashed potatoes they always had at her parents. With her parents in Atlanta, it was Barbara's first Christmas without them and not having her parents and her brothers and sisters around, it just wasn't the same. Barbara fell into what she described as "the blues" for a while. Fortunately, Morris's mother stayed with them for two weeks and Barbara said, "Grandma Mixson was so good to me. She took care of baby Larry, cooked, cleaned and got up with the baby during the night to give him his bottle just so I could get some rest." Barbara always called Morris's mother "Grandma Mixson" being some eleven years older than her own mother.
Updated: 01-08-2022