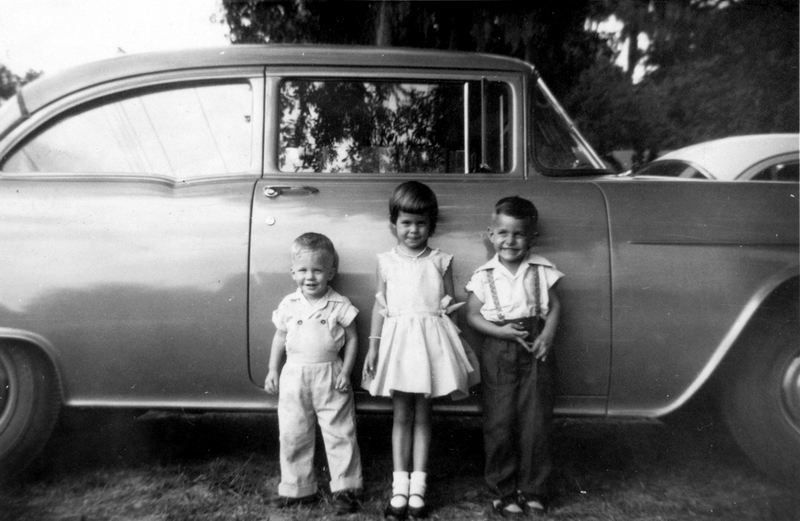 David, Brenda, Larry and the '55 Chevy
In 1955 Morris got his first raise since he started working at the University's Chemistry department full time getting fifty dollars more a month bringing his yearly salary to $3649 but even with that, they were barely getting by each month, so Barbara got a job as a waitress working behind the counter at the luncheonette in the Greyhound Bus on at 309 East Main Street. . Barbara enjoyed working at the bus station, getting to meet new people and giving her a chance to get away from the kids for a while. She worked several nights a week from 4 p.m. till midnight. She started off at $30 a week and because she was honest and followed directions, Mr. Page the boss gave her an extra bonus every month. Barbara was still so skinny that she barely weighed a hundred pounds, but while working she could eat anything she wanted for free, so she often had chocolate milk shakes, hamburgers, french-fries, and other food they served and she gained weight, weighing 135 pounds by the end of the year. The extra money she earned allowed them to buy their first brand new car, a 1955 Chevrolet, the most basic two door model although it did have the more powerful 136 horsepower six-cylinder engine. Barbara would fix supper before going to work and Irene took care of the kids until Morris got home at 5:20 p.m. which he would then feed the kids supper, do the dishes and put them to bed.
In March I got the chickenpox and had to stay home from school for several days and Mom put calamine lotion on all the "poxes". There was no vaccine for it at the time so my sister Brenda and brother David all got it at some time. The vaccine was introduced in 1995.
At the end of the year Barbara and Morris made $4,149.90 of which $500 was from Barbara working at the luncheonette and they paid $52.08 in federal taxes.
Fred and Waive move to Gainesville
By the summer of 1955 Fred was doing very well selling F&E Check Writers and was offered the job as the district manager for the territory of South Georgia and Florida which Fred accepted. To better cover the area, Fred decided he needed to live more centrally to his territory and thus decide that Gainesville Florida would be the best place and it had the added benefit that he would be closer to Barbara and Morris and his grandchildren. Carole, who was in her junior year of high school, put up a huge fuss when she was told they were moving and that she would miss her senior year there. After much discussion, Fred and Waive decided that Dixie, who had just graduated from high school and turned eighteen, and Carole could stay in Atlanta while Carole finished her senior year and that Fred and Waive knew a nice young couple from the church that would move in to keep watch on them. And so, Fred, Waive, Gary and Corky moved back to Gainesville that summer renting a house until they could have a new one built.
New House
By fall Fred and Waive and decided to have a new house built in a brand-new subdivision called Golf Club Manor just off west University Avenue in Gainesville. Golf Club Manor was typical post World War II baby boomer suburban neighborhood like you would have seen on TV in such shows as Leave it to Beaver or My Three Sons. The neighborhood consisted of typical 1950's ranch-style houses made with concrete blocks, low sloped roofs, jealousy windows, and driveways. Fred and Waive picked out a lot but the house would not be finished for another year. Fortunately, another new house already being built in the lot across the street would be finished soon so they worked out a deal with Barbara and Morris.
Barbara and Morris had been really wanting a house of their own but were not able to save up enough money for a down payment. Fred and Waive stepped in and said they would give Barbara and Morris $300 for a down payment on the house if Fred and Waive could live in it until their new house across the street was finished. This worked out for everyone and on their anniversary, December 1st, 1955, Barbara and Morris signed the papers on "their" new house at 27, NW 36th Drive. They financed $10,650 and with a twenty-five-year mortgage the payments would be $59.20 a month. They would pay it off in January of 1981. Fred and Waive with their boys Gary and Corky moved in before Christmas while Barbara and Morris continued living in the rental house on NE 8th Street.
In December I had my third birthday in the new house. Grandma and Grandpa Junior, Gary and Corky, Donald, Irene and their sons Sammy and Wayne came over and we had cake with ice cream. I got a pair of shorts from Sammy and Wayne and two shirts from Grandma Junior.
Flemington Baptist Church
In the fall of 1955, the Flemington Baptist Church was again looking for a pastor when they heard that Fred Junior was moving back to Gainesville and his name was considered. At the November 9th committee meeting, Brother Geiger gave a report discussing Brother Junior and his qualifications. There was a vigorous discussion afterwards with Brothers Johnson, Smith, Dantzler, Otis Yawn, Geiger, Hannah, Dow Whittington, Dixon, Miles Mixson and Jesse Yawn and Sisters Cora Mae Yawn, Iva Mae Mixson, Christine Collins, and Patricia Wyche voicing their opinions which then the committee "recommended that they would have a recommendation at a later date. "
Updated: 02-19-2022