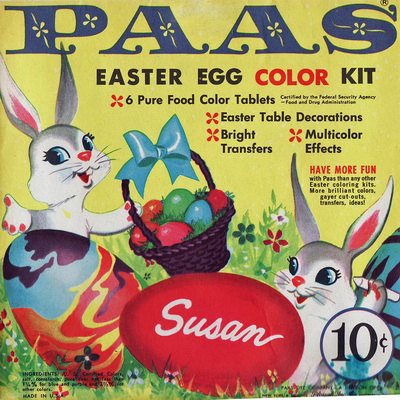 The week before Easter we dyed Easter eggs on day. Mom got a dye kit which had small tablets for each color which would be put in a cup of hot water mixed with vinegar. Mom and us kids sat around the kitchen table and took wire holder which held the egg while you dipped in the cup. There were red, green, blue, yellow , purple and orange. The kit also came with a wax crayon that you could draw designs with on the egg which then would not color. I liked to take an egg and using the wire holder only dip it partially in a color then, turning it, dip the uncolored part in another color.
For Easter Mom and Agnus from next door took her kids, us and the Weaver kids to the easter egg hunt at the shopping center and then to another one at Harris Field. Brenda found an egg with a $5.00 gift certificate at Fremac's downtown which she proudly gave to daddy to get a new pair of pants. A few days later daddy went to Freemac's and bought a new pair of shoes. On Easter morning all got Easter baskets that had brightly colored plastic straw in them and we hunted for eggs that we dyed which Dad had hid all around the living room. In the following years if the weather was good Dad would hid the eggs in our backyard. I remember one year finding a rotten egg that was hidden from the previous year and wasn't found.
One school day in April Mom volunteered to take care of the clinic at school and so she had lunch in the school cafeteria with me. Mom said, "It just thrills them so when I eat with them."
Tax Day
The first Sunday in April we all piled into the '55 Chevy and drove up to Middleburg near Jacksonville to have a tax man named Mr. Frisbee do Mom and Dad's taxes. We did this several years in a row and I remember on the drive there we would pass Camp Blanding where Dad sometimes went to get army surplus items for the Chemistry Department. This was the same Camp Blanding that the Flemington Baptist Church got their first church building from back in 1948. The tax man lived in a big old two story wooden house that had gray siding with white peeling paint that sat on the road with a big open field all around it. After getting out of the car we walked up the front stairs into the house and sat in the parlor that had several old chairs, dark curtains, a dark musty air about it and a beam of sunlight coming through the window lighting dust floating in the air and making a bright sunny spot on the dark red oriental rug on the floor. When the tax man called for Mom and Dad we were told go outside and play which we did so wandering around the house until Mom and Dad came out. The tax return showed Dad made $5521.46 overall with $1,071.50 from working for Grandpa Junior and had to paid $75.58 in taxes which was less than they expected so they were happy. You would think that their taxes would be so simple that that they would have done it themselves, especially since Mom was good as budgets and numbers, but it was well worth paying the $4.00 fee with the deductions he found. Of course, there was the money they gave to the church every week, the interest on the house, interest from Sears, Femacs and Campus Credit Union loans, car tags, 10¢ a gallon of gas tax for 800 gallons, taxes for 1040 packs of cigarettes (Dad smoked at the time), and so on. It was well worth the $4.00 they paid to have it done. On the way home we stopped at a farmstand and got the first strawberries of the season and when we got home Mom made fresh shortcake and we had strawberries and shortcake for dessert.
Doctor Again
One Saturday in mid-April we went out to Grandma and Grandpa Mixson's house and Dad and Grandpa went fishing at Plantation Lake. I was disappointed that I couldn't go with them, but Mom and Grandma took all of us kids into Williston to by Grandma's groceries where Mom bought us all a coke at the drug store and then we looked around the 10¢ store while Grandma bought her groceries. When we got back to Grandma's I somehow got a quarter inch long splinter right up the center of the fingernail on my middle finger. It hurt really bad and Mom and Dad both try to pull it out with tweezers but couldn't get it, so they took me to the hospital where Doctor Brasher put my finger to sleep with a shot and then made a cut in my fingernail to get out the splinter. Mom said, "Larry was so brave. He's the best thing when anything happens to him." The following Sunday, after our afternoon nap, we all got into the car and went and got a root beer at the A&W on north 13th Street which had drive-in service at the time. Dad would pull the car into a spot under the awning, rolled down the window and soon a waitress came up and took our order, a root beer for all. A few minutes later she returned with the root beers on a tray which she would hang in the rolled down window of the car. The root beers came in heavy glass mugs that were so cold they formed frost on the outside. Dad then passed one around to each of us and we would be happy.
On Wednesday, April 15th Brenda and I rode or bicycles to school for the first time. We were so excited we were ready go a half hour before our usual time. I was really happy about riding my bike to school for it was a lot faster and easier than walking.
Dad Away
The third week in April Dad went with Grandpa Junior to Chicago for a week of training on repairing check writers at the Headman company headquarters in Chicago. While they were gone, Mom and us kids stated with Grandma Junior. On Monday Mom cooked dinner making ham, baked beans, scalloped corn, potato salad, sliced tomatoes and bread pudding for dessert. Gary, who had been complaining about Mom's cooking said it was real good. Mom spanked Brenda and David for "cutting up and making so much noise." By Thursday things were getting a bit crazy in the house with Brenda, David and I all "fussing and arguing" with Corky from the time he gets home from school until we go to bed but daddy called and said they were on their way home.
Dad and Grandpa got home on Sunday just after lunch and we all were so happy to pack the car up and return to our house with Dad telling us about his trip the whole time. Mom said that "Morris had never talked to me so much." The Sunday afternoon nap that day must have been extra special for Mom said, "Are we ever lovey! He needs to go away more often!"
Sometime in my 30's at a family gathering, Mom and Dad's Sunday afternoon naps came up and my Aunt Dixie made some comment about their Sunday naps and the other aunts and uncles all laughed. When I asked what that was about, Aunt Dixie leans over and tells me they weren't really taking a nap. It took me a moment, but I figured it out.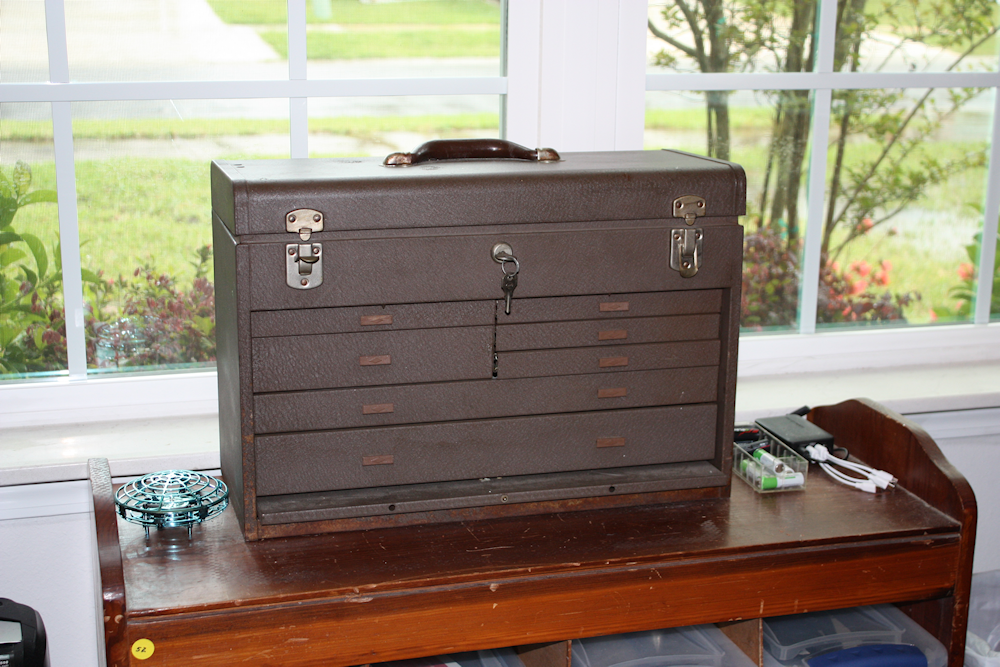 Dad's toolbox in my Study - 2022
One thing Dad got from the check protector training was a very nice multi-drawer machinist took box with specialized tools for repairing the check protectors. For most of the years while Dad worked for Grandpa Junior he kept the tool chest at grandpa's where he worked but sometimes he would take it with him when he fixed check protectors at a business. Years later when he stopped working for Grandpa he brought it home and put it in the utility room at the front of the carport where I sometimes would borrow a tool from it. After died at the age of 93 I inherited the tool chest and have it to this day.
Updated: 05-29-2023