On January 31st the United States made progress in the Space Race when Ham the chimpanzee was rocketed into space aboard Mercury-Redstone 2 rocket.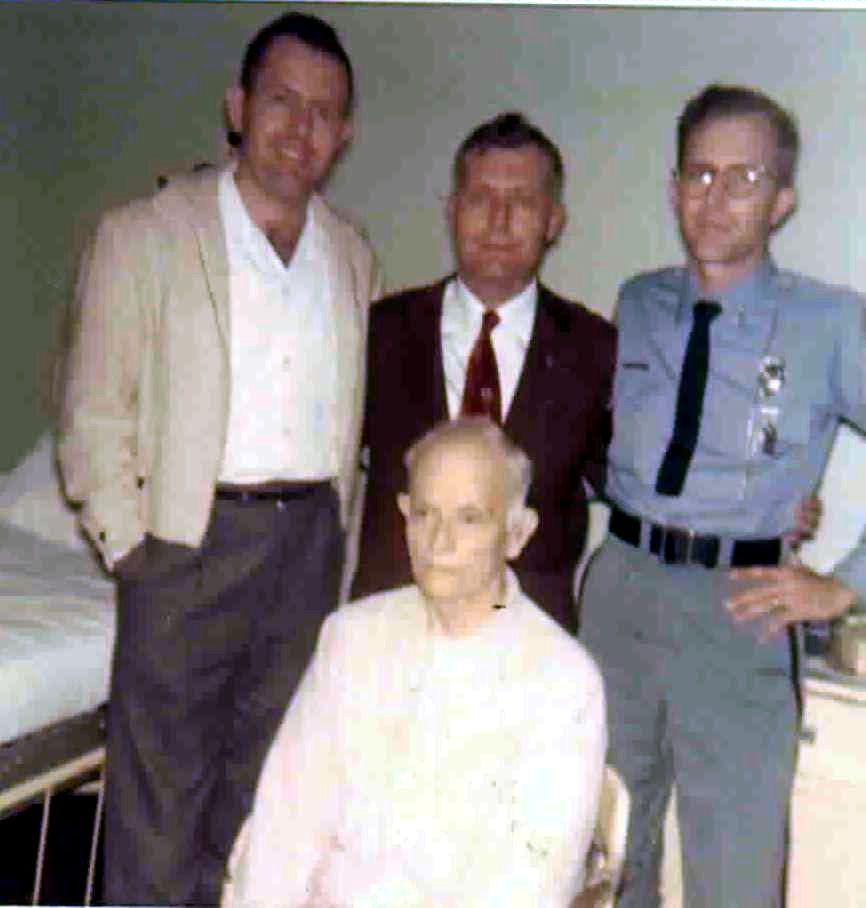 Grandpa with Dad and his brothers Adrian and Arnold at the hospital shortly before he died.
On February 6, 1961, after months in the hospital, Grandpa Mixson died and was put to rest in the Flemington Baptist Church Cemetery. It was the first time I went to a funeral. Dad drove the car in silence with the '55 Chevy having a bench seat, Mom sat in the middle and Grandma Mixson next to her and Brenda, David and I in the back seat with us all dressed in our Sunday clothes. We kids had been told that Grandpa had died, it wasn't unexpected for he had been in the hospital for some time I had heard Dad whispering to Mom that he didn't think he had long. I was never that close to Grandpa, he was always quiet and aloof, I was always closer to Grandma, so I didn't have much feeling about Grandpa being gone . We arrived cemetery and parked on the side of the road, got out and walked through the gate into the cemetery. I was a bit apprehensive about entering the cemetery, I had never been in one before but knew from movies and TV shows that they had dead people buried in them with tombstones marking their graves and that on Halloween night ghost would come out of their graves. As I followed behind Dad, Mom and Grandma I look around at the tombstones, some new but many old with lichen and moss growing on them, some taller than myself. It was an overcast and cold day but it seem to grow colder and darker as we walked deeper into the cemetery under the canopy huge, ancient oak trees dripping with Spanish moss and we arrived at the site of Grandpa grave where there was a small canopy setup and many people standing around talking in hushed voices. Many people I knew, there were uncles, aunts, cousins and friends of the family like Betty and Billy and their kids Janice and Karen but there were many I did not know. We soon were called for the service and to sit in chairs under the canopy. Mom, Dad and Dad's brothers Adrian and Arnold and their wives sat on the first row and then behind them sat the kids, Brenda, David, me, and our cousins, Adrian's, and Arnold's kids. The preacher and a few others said a few words, but Dad did not speak and when I looked at him he seem sad with misty eyes. The preacher said a final prayer and then we got up and Mom and Dad greeted and talked with a few people before we went to the car and drove away. This was my first time at the Flemington Cemetery but not the last. Over the following years I would return to Flemington and over time became at peace with it and to appreciate its beauty.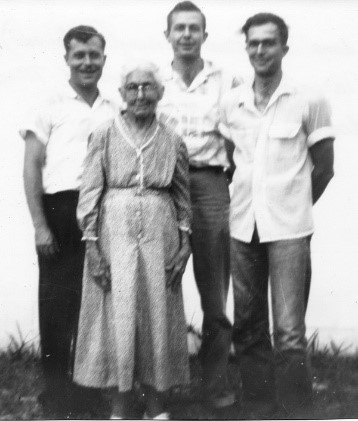 Fannie with three grandsons, Adrian, Morris and Arnold
Fannie with three grandsons, Adrian, Morris and Arnold After leaving the cemetery we went to Grandma's house where we all gathered on the front porch with the family sitting about in rocking chairs and the swing. I remember Grandma being really sad, repeatedly telling Dad that she didn't know what she was going to do with Grandpa gone, she would be all by herself. It got harder for Grandma when just a week later, on February 11, 1961, her mother died. Fannie Anderson was put to rest next to husband Tobias and my second visit to the Flemington Baptist Church Cemetery. We visited Grandma a bit more often in the following months and she always seemed sad, but our visits seem to cheer her up.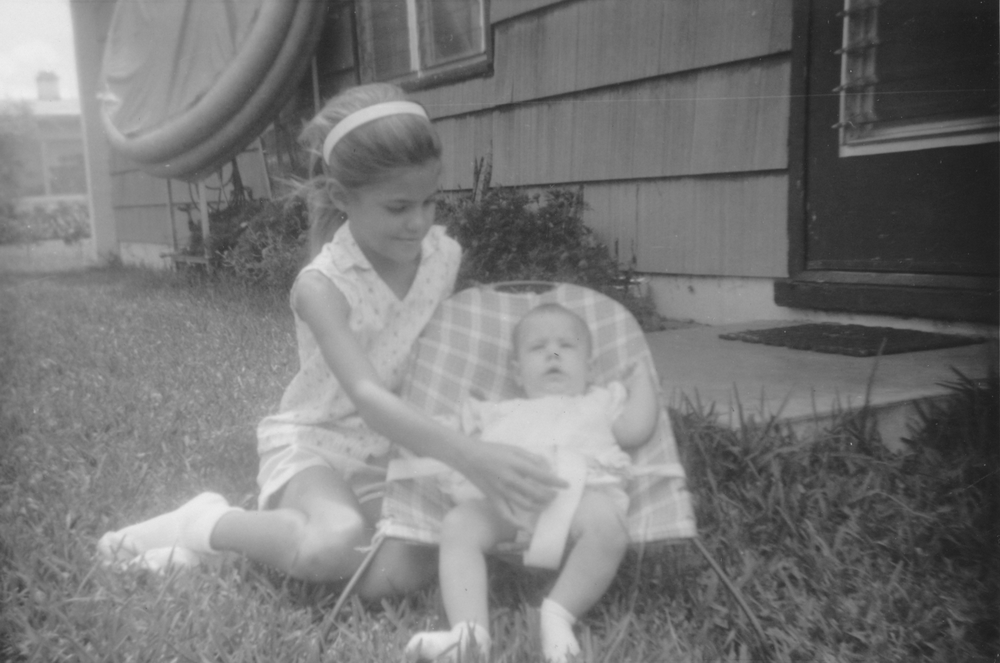 Brenda with Beth by back door of our house
Mom was really getting big and told us the new baby was supposed to be born about April 15th, but she came early. Mom said her back started to hurt real bad late one afternoon and she called her mother, and she came over and Mom went to bed and Grandma Junior fixed supper for us. Just after dinner Mom started hurting so bad Dad called Doctor Brashear and he said to bring Mom to the hospital. Doctor Brashear said the baby was premature so he wouldn't give Mom any shots to help the pain and she said she got very mad at him. The baby was born at 11:55 p.m. on March 21 at Alachua General and was named Beth Sue Mixson, with "Sue" after Mom's sister. Brenda was so happy to have a baby sister to take care of.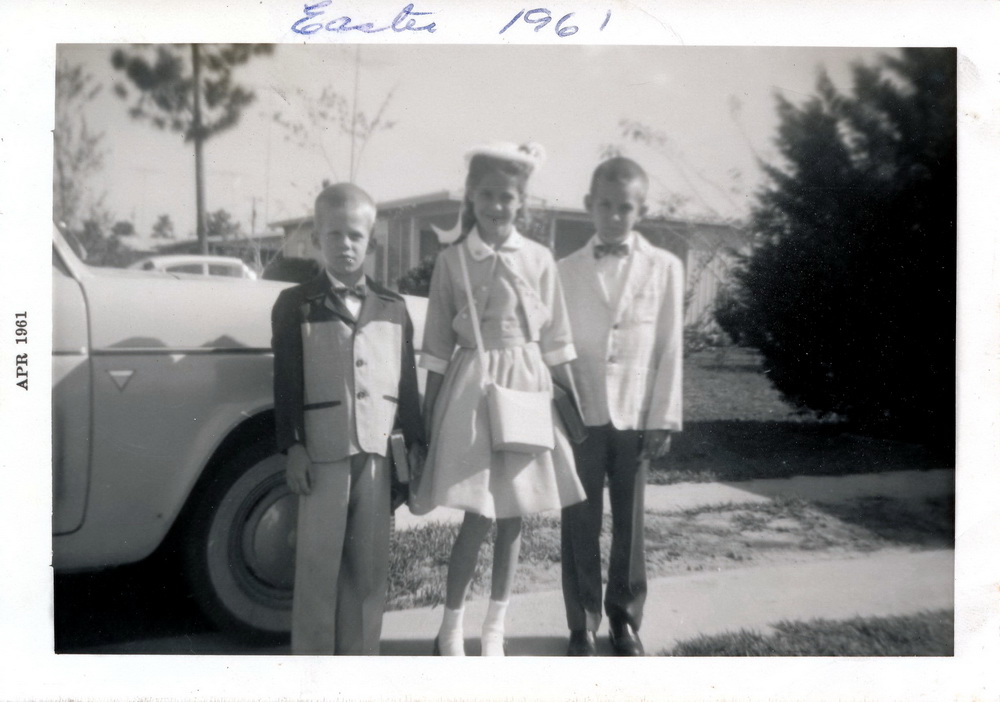 On Easter Sunday in April we dressed up in our new Sunday clothes to go to church and Mom took what would become our yearly Easter Sunday photo. We stood in the driveway of the house next to the English Ford.
On May 5th Alan Shepard became the first American in space aboard Mercury-Redstone 3 in a flight that lasted fifteen minutes. The main difference between the Redstone 2 and 3 was the addition of two small windows and manual controls in case the automatic controls failed, although neither was needed the astronauts insisted on them otherwise, they said they would just be "spam in a can". A few weeks later in April, Russia's Yuri Gagarin was launched into space and became the first man to orbit the earth. This put a real scare into Americans and on May 25th, 1961, President Kennedy made his famous space speech, "I believe that this nation should commit itself to achieving the goal, before this decade is out, of landing a man on the Moon and returning him safely to the Earth." We choose to go to the Moon in this decade and do the other things, not because they are easy, but because they are hard." But the US was behind, not putting a man in orbit until nine months later when John Glen was the first American to orbit the earth. I was inspired, it was like the boork I read, "Tom Swift in the Race to the Moon" written in 1958 was happing in real life.
Updated: 07-04-2022