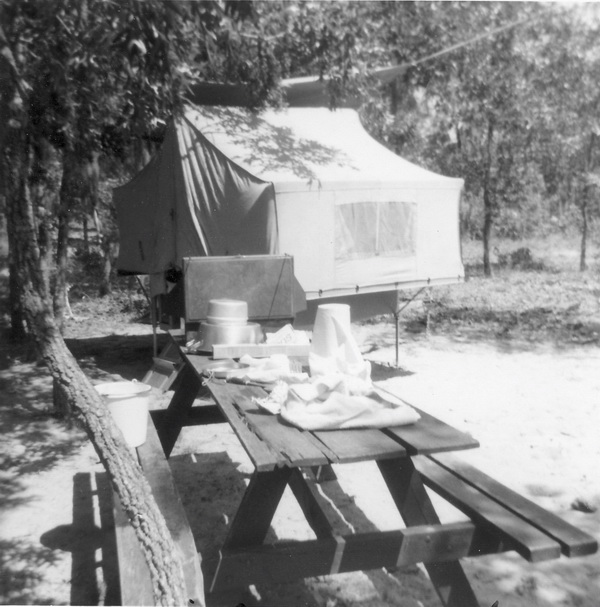 Our "Pop-up" Camper
Our Camper After we got back from North Carolina, Dad bought a pop-up camper which I always thought was ours but Mom in her diaries she said that Sue and Jim were part owners, but they hardly ever used it. It was a simple camper, the top folded flat for travel then at camp the two sides pulled out and a tent on top. Although it was called a "pop-up", it didn't just pop up, but rather took a lot of work which I would help Dad with. We would first position it in place on the camping spot, extend legs at each corner, take the cover off, pull out by hand slides that were the beds on each side, extend metal poles on top under the tent canopy then crawling inside and lift it all up. Not exactly "pop-up".
The only thing inside were two queen size beds one each side which each had a thick foam rubber pad for the mattress. Dad procced to get all the necessary camping gear, Coleman stove and lantern, a five gallon plastic water jug with a spicket at the bottom (which he "borrowed" from the Chemistry Department), ice chest, a set of aluminum pots that neatly fit inside of each other (army surplus from one of Dad's trips to Camp Blanding) and so on. Mom would plan all the meals and pack the food. With six of us there were a lot of clothes, pillows, towels and so on. Dad was very efficient at packing it all, managing to get it all stored away, some in the bottom of the camper and the rest in the back of the station wagon
On one camping trip that summer was at a campground on the Ichetucknee River which at that time was privately owned which years later became a state park. Our aunt Dixie and her baby Kristi (born March 15, 1963) came with us. With so many of us, David and I slept in a small tent while everyone else slept in the camper. Mom tells the story about that night, "Dixie and I took turns "peeing" all night long in a bucket, drinking water and keeping Morris awake. Well, Morris finally got to sleep good and Dixie handed me the thermos jug of water in the dark and she had taken the cap off and I didn't know it. So I tipped the jug up to drink out of the spigot and cold water went all over me and my side of the bed. I was so scared we'd wake up Morris that I took Kristi's baby blanket and put it on the sheet but I was still wet, so I tried to sleep the rest of the night in wet clothes. Morris said he'd never take her again."
Over the next few years, we would go camping at many of the nearby state parks, Anastasia, Juniper Springs, Alexander Springs, Manatee Springs, Fort Clinch and more. I remember on one trip I woke up in the middle of the night and there was some noise outside the camper. I peeked out and Dad was outside in his underwear hanging something on a tree, odd I thought and went back to sleep. The next morning when we all got up and saw the strangest thing, all sorts of things, pots, pans, sticks and more all wrapped in rope hanging from the tree about six feet off the ground. Dad explained he heard something, got up and there was a racoon getting into the ice chest, so he chased it up the tree and then tied all the stuff around it to keep it from coming down which didn't work as the racoon was gone although the food was safe.
Updated: 08-07-2022