1976
New Home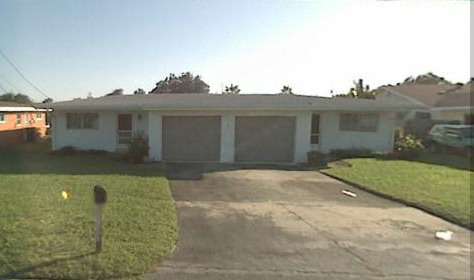 Duplex at 147 Washingtion Avenue Indilantic (left side)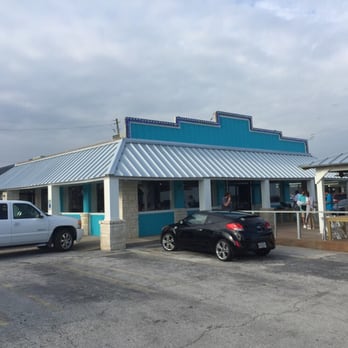 Pete's Ocean Grill
After a long thoughtful three hour drive, I crossed the causeway over the Indian River to Indialantic, going east on 5th Avenue which ends at A1A. I stop at the stoplight seeing the ocean across A1A in front of me with the blue topped, Pete's Ocean Grill on the right. The light turns, I head north on AIA. It is a pleasant drive, a few low one and two story office buildings on the left and a small hotel, a few houses on the ocean side but in a few blocks was sand dunes and tall Australian pines on the ocean side when I come to my new street.
I turn left onto to Washington Avenue, then about halfway down the block came to 147, the house I had rented. I had not seen the house, but Wendy's mother who had found it for me, described it as nice, unfurnished place, which accepted pets. I backed my van into the driveway, got out, fished the key out of the envelop that Wendy's mother had sent me, unlocked the door and entered the house. The house was a duplex, similar to the one I lived with Bill, but nicer. First thing, turn the air-conditioning on, it was 90° inside, only a bit cooler than the hot Florida summer afternoon. With that done I look around, it had a good size living room, nice kitchen, stove and refrigerator all not that old, two bedrooms, bathroom probably original but clean, terrazzo floors throughout. It had a unique feature, in the middle of the two halves of the duplex, was a small atrium open to the sky with a dividing wall between the two sides. Both the main bedroom and the kitchen had double glass sliding doors opening into the courtyard. One thing I really liked was that it also had a single car garage with a washer and dryer and the garage was big enough for my Chevy van.
After checking the place out, I went back out to my Chevy van and got Kathleen, no not some new girlfriend, Kathleen my cat, who then I put into the second bedroom with some water, litter box and bed. He would have to stay there until I got things moved in. He put up a fuss for a bit but soon settled down. After a couple hours of hard work, the trailer and van were unloaded and everything in the house or, more than I would I have liked, in the garage but it was done. I would take the U-Haul trailer back to the dealer the following day.
I went back into the house and looked around, lots of boxes, piles of boxes in every room and wonderful feeling, I had made it, I was here, the place was nice, it was really happening, I was excited, I was happy. Blizzastizzztz, my mind went, like hitting the reset button, I blink a few times, reality sets in, I look around, everything I own is in boxes, Kathleen was locked in the back room, my bed wasn't even set up so I could sleep, what was I thinking. Okay, I take a few deep breaths, prioritize, food from cooler into refrigerator, set up bed, bath and so on, then I went to work. With some order in place, I ate a sandwich from the food I brought with me, humm, have to find the nearest grocery store. I put down some food for Kathleen and let him out, he nervously came out, carefully looking around, and followed me back to the kitchen when he sniffed his food but continued looking about. It would take him a while to settle in.
My king-sized bed was simple enough to set up, a mattress on a low platform I built from two-by-fours with a couple sheets of plywood on top. I labeled the boxes well enough that I soon found the one with sheets and linens and had the bed made and towels in the bathroom. I was tired, my body ached so I stripped down and took a long hot shower. After toweling off I got went to bed, tired and exhausted, but with a good feeling knowing all I had accomplished in one day. I was now in a new home, a new city, I was excited. God, I had so much to do as I start making mental lists for tomorrow. Kathleen jumps on the bed and finds me, all purring as he snuggles next to me as I fall asleep.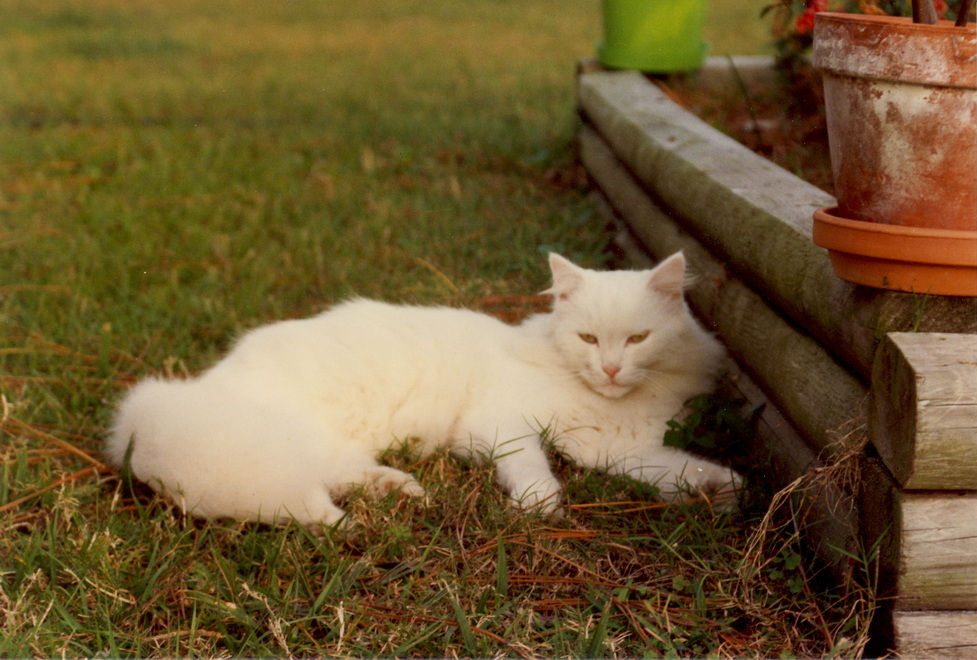 This is what Kathleen looked like although the photo is of Tute, my second white cat. I did not have any photos of Kathleen.