1977
A New Year
Dad liked the Mixon-Mixson Family genealogy book so much that Mom sent a letter to John Leslie Mixson in early December of last year to get the Mixon-Family Volume II but it was out of print so Mom received an autographed copy of Volume III instead which she gave to Dad the first of January. Enclosed with the volume was a letter from John Leslie Mixson stating that the Volume II was out of print at the time but would send one to Dad when he printed some more which Dad got later in the year.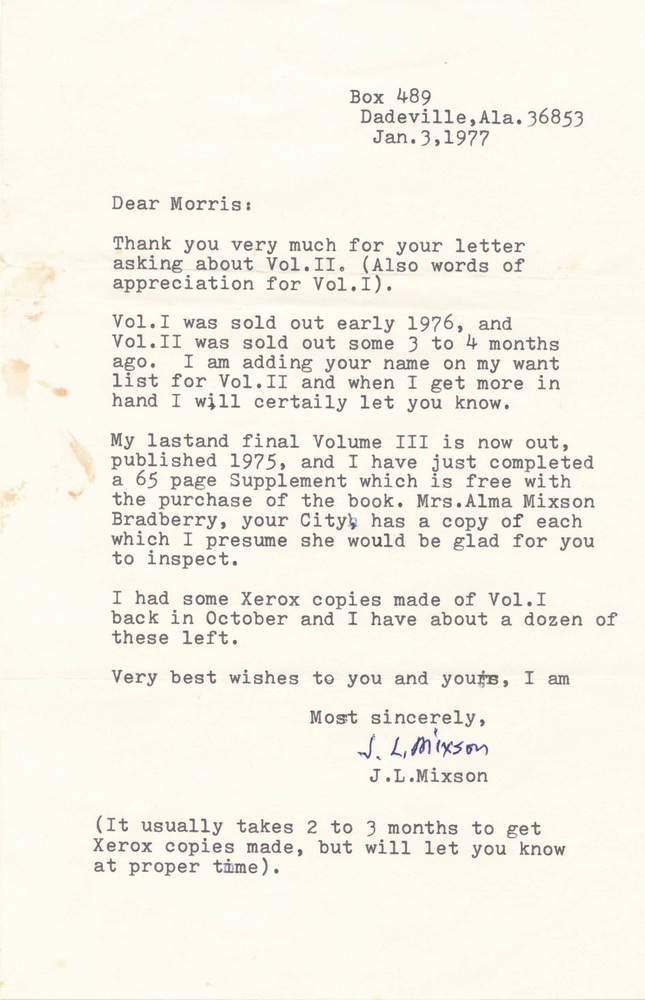 Mid-January I received a letter from Elizabeth in which she said she was still looking for a job. She had got fired from her job at Sands Hospital doing medical transcription. I'm not sure what happened but it was not the first nor would it be the last job she would get fired from a job or leave on a sour note. She said she did get $50 in food stamps, but was frustrated because she didn't need food, after all there were plenty of rabbits around. She thought she would get back $200 from her taxes but she didn't know when it would arrive. I felt like she was asking me for money but didn't come out and say it.
The last weekend in January I went back to Gainesville, leaving on Friday afternoon and returning Sunday afternoon. I didn't know it, but Mom and Dad were camping so they weren't home so I spent time with my brother David and my sister Beth who were at home. . Mom wrote me a letter the following week saying they were sorry they missed me and telling me that her and Dad went to visit Grandma Junior in Clearwater and said Grandma was doing ok since Grandpa had died a couple months ago. She gave an update on Brenda and Tom who she talked on to regularly on the phone (unlike me who she seldom called). She said, "By the way, I'm having a hysterectomy Monday morning February 28. I'll be at North Fla. Reginal Hospital. (in case you want to send flowers, ha ha!)." She so casual about it I didn't think much of it, and I forgot to send flowers, but Brenda came down from North Carolina to help take care of her after she got out of the hospital.
The day after Valentine's Day Mom wrote me a letter updating me about the family; Brenda and Tom were coming down later in February, and there would be a family potluck supper Saturday, February 26th at Cork and Connie's. (I should come) She made me feel guilty about Valentine's Day in a way mothers can only do saying,
"I thought sure you'd call me, it was Valentine's Day yesterday, or at least send me a card! Son, remember your obligations to your old mom! (You even forgot my birthday, Jan 16th.) Just because you're not at home I still want to know what you're doing."
I wrote back the next day,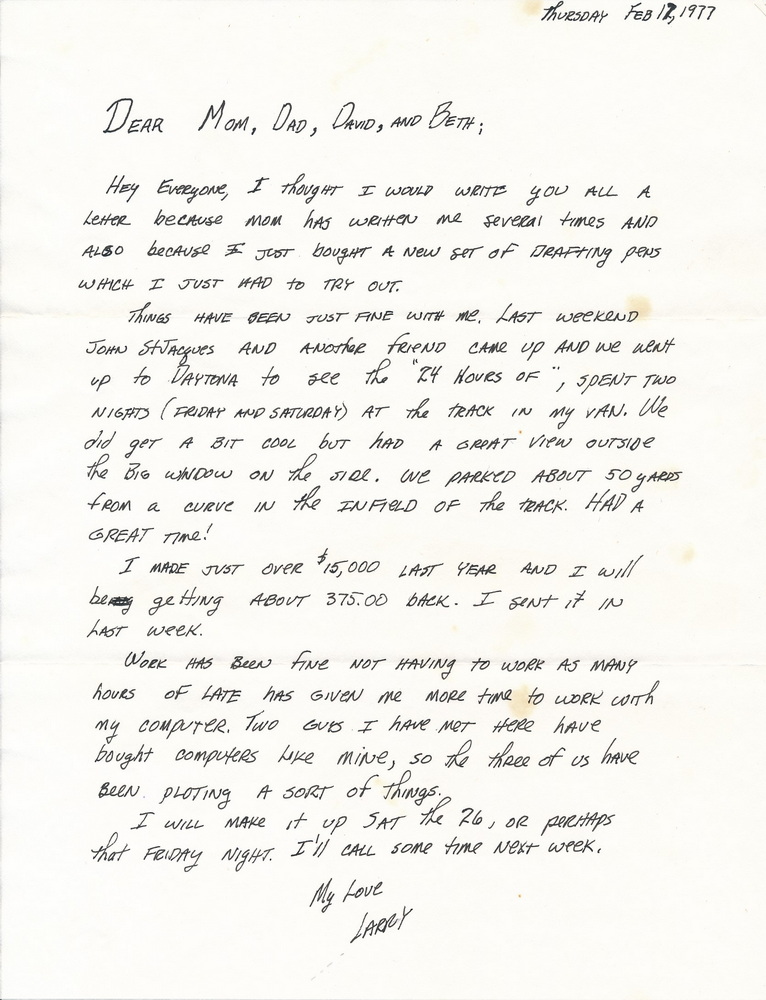 In the letter I wrote about my trip to the 24 hours of Daytona race. The race was a lot of fun, staying in the infield we would sit on top of my Chevy van and could see the cars most all the way around the racetrack. I did manage to get a few short naps in during the 24 hours but with the sound of the cars being so loud I didn't get much sleep. The actor Paul Newman was one of the three drivers on a team driving a Ferrari 365 GTB/4 car and the announcer would announce when the car pulled into the pit and Newman took over driving. Their Ferrari came in 5th place. Porsche dominated the race winning ten of the top 12 places. The other non-Porsche besides Newman's Ferrari was a Chevrolet Corvette. I had never been to such a race before and found it interesting that there were so many different types of cars racing at the same time. Chevrolet had a good showing with over a dozen Corvettes, several Chevy Camaro's, my favorite since I use to have one. There was an AMC Gremin and an AMC Javalin which I found amusing as I never thought of them as race cars. One car that caught my attention was a single Lous Europa. A few years later I would buy a Lotus Elan.