1977
Movies and Music
The Spy Who Loved Me with Roger Moore playing Bond who teams up with a Soviet agent played by Barbara Bach. A Lotus Esprit was used as the Bond car for the movie, which had a lot of cool things, including turning into a submarine, surface-to-air missiles, torpedoes, contact mines, and a dye slick. It became one of my favorite cars.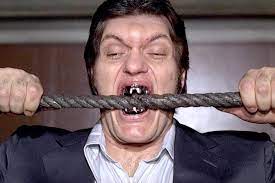 The movie also introduced the villain Jaws, played by seven foot Karl Stromberg, who had steel-capped teeth so strong he can bite though inch thick steel cables. Bond manages to drop Jaws into a shark tank only to have Jaws kill the shark by biting it. It was one of the better Bond movies except for the Jaws thing that was a little much. Carly Simon from Fleetwood Mac "Nobody Does It Better" was the theme song for the movie.
Disco dance movie Saturday Night Fever with John Travolta came out which I thought was terrible. Even worse, one of my favorite bands the Bee Gees had several songs on it including the well-known "Staying Alive". I never bought another Bee Gees album after they went disco.
In other music, Jimmy Buffet came out with one of my all-time favorite songs "Margaritaville" which was on the album Changes in Latitudes, Changes in Attitudes which I bought. Although coming out in December of '76, I didn't hear it until '77 when it started getting play time on the radio was the Eagles "Hotel California" song which also became one of my all-time favorite songs and albums.