1980
Fishing with Family
I suggested to Dad that we could do a day fishing trip out of Port Canaveral for his birthday this year and he was all for it. When Mom and Beth heard about it, they said they wanted to go to, then they told Grandma Mixson and even she said she wanted to go. It didn't work out to go on August 23rd, Dad's birthday, but Monday, September 1st was Labor Day and Mom and Dad had off work so they all drove down to Melbourne the day before and stayed the night with me as Port Canaveral was only a 45 minute drive from my house. We got up early the next morning and met the boat at the port at 8:30 AM. It was a perfect sunny September day, light seas and fishing was fair, we all had a good time. Grandma was very excited about it for, although she has fished in freshwater lakes and rivers since a little girl, she had never been out deep sea fishing boat before.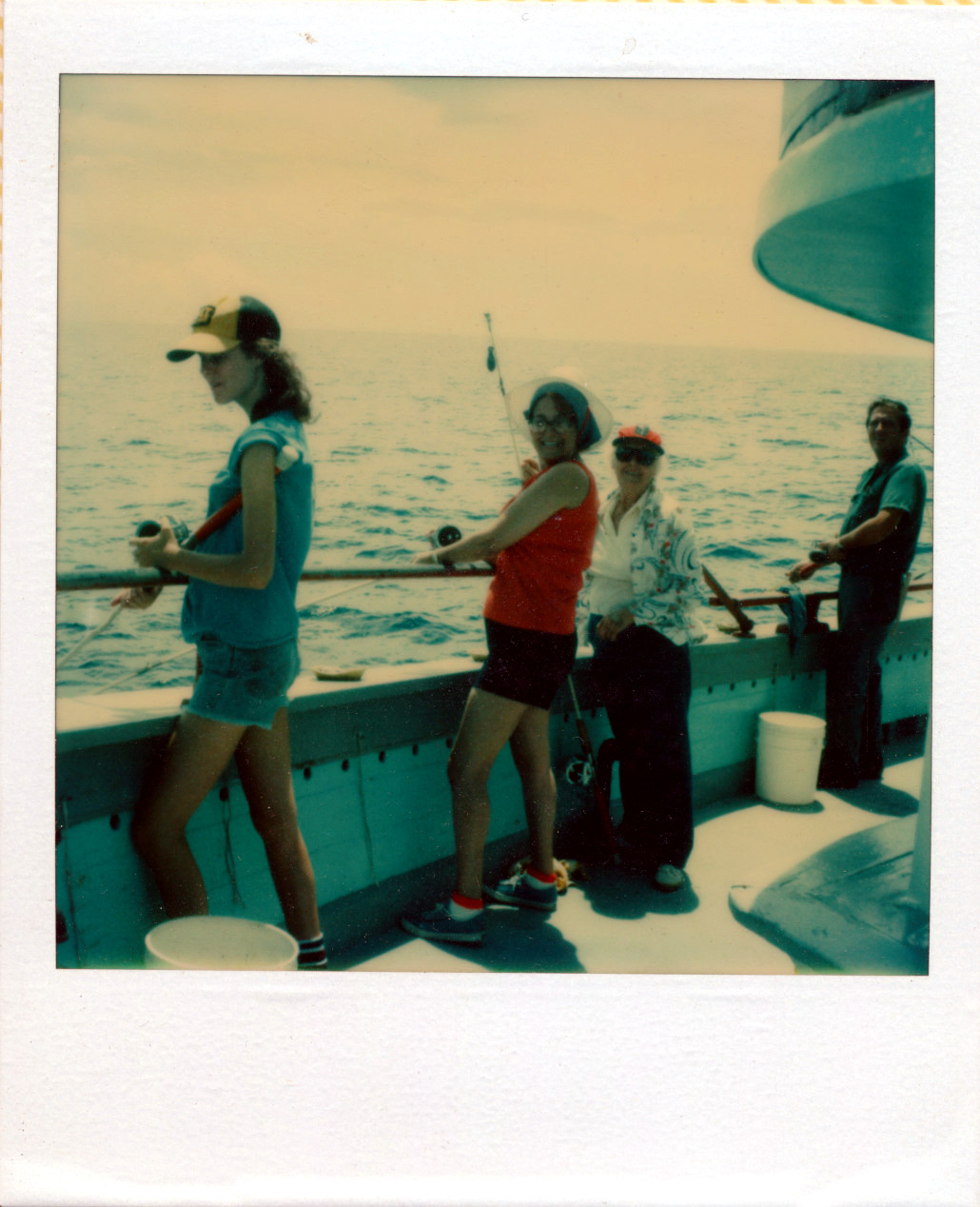 Beth, Mom, and Grandma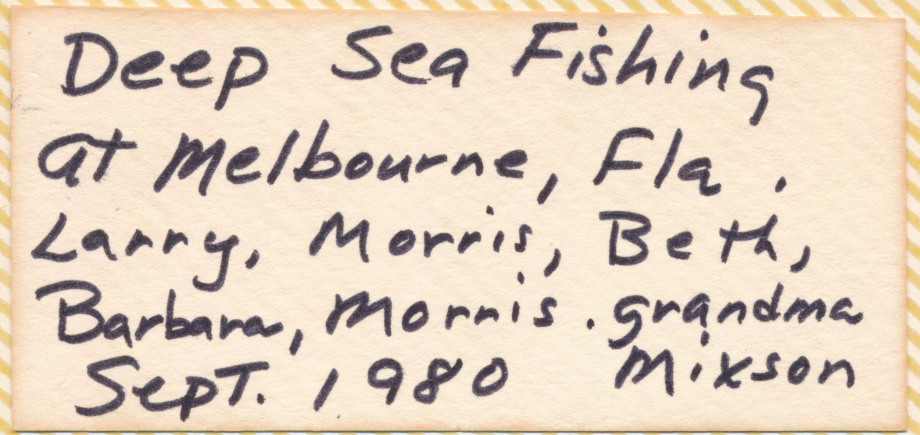 Caption from Mom's photo book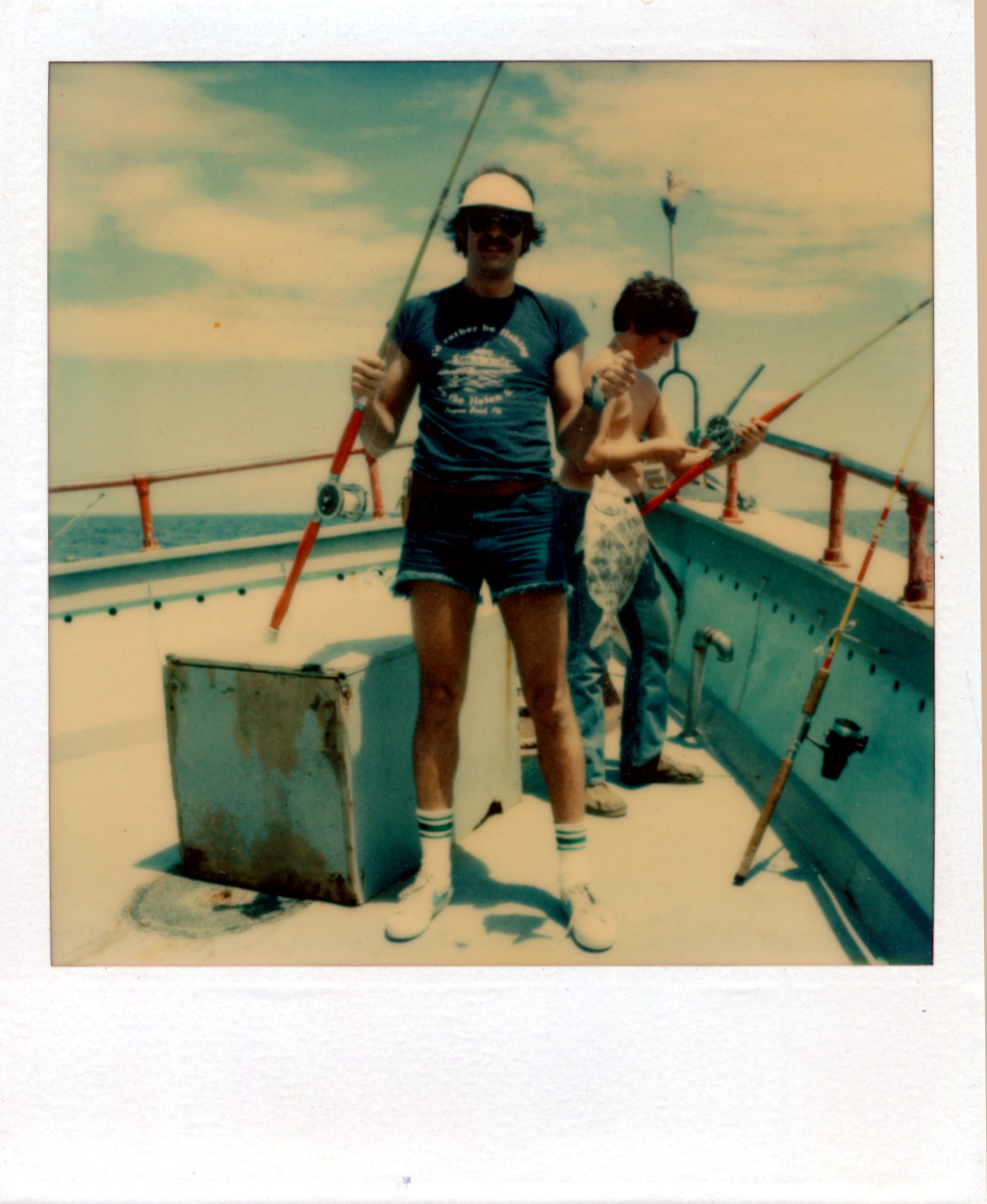 Me wearing my Helen S T-shirt
Caught a Big One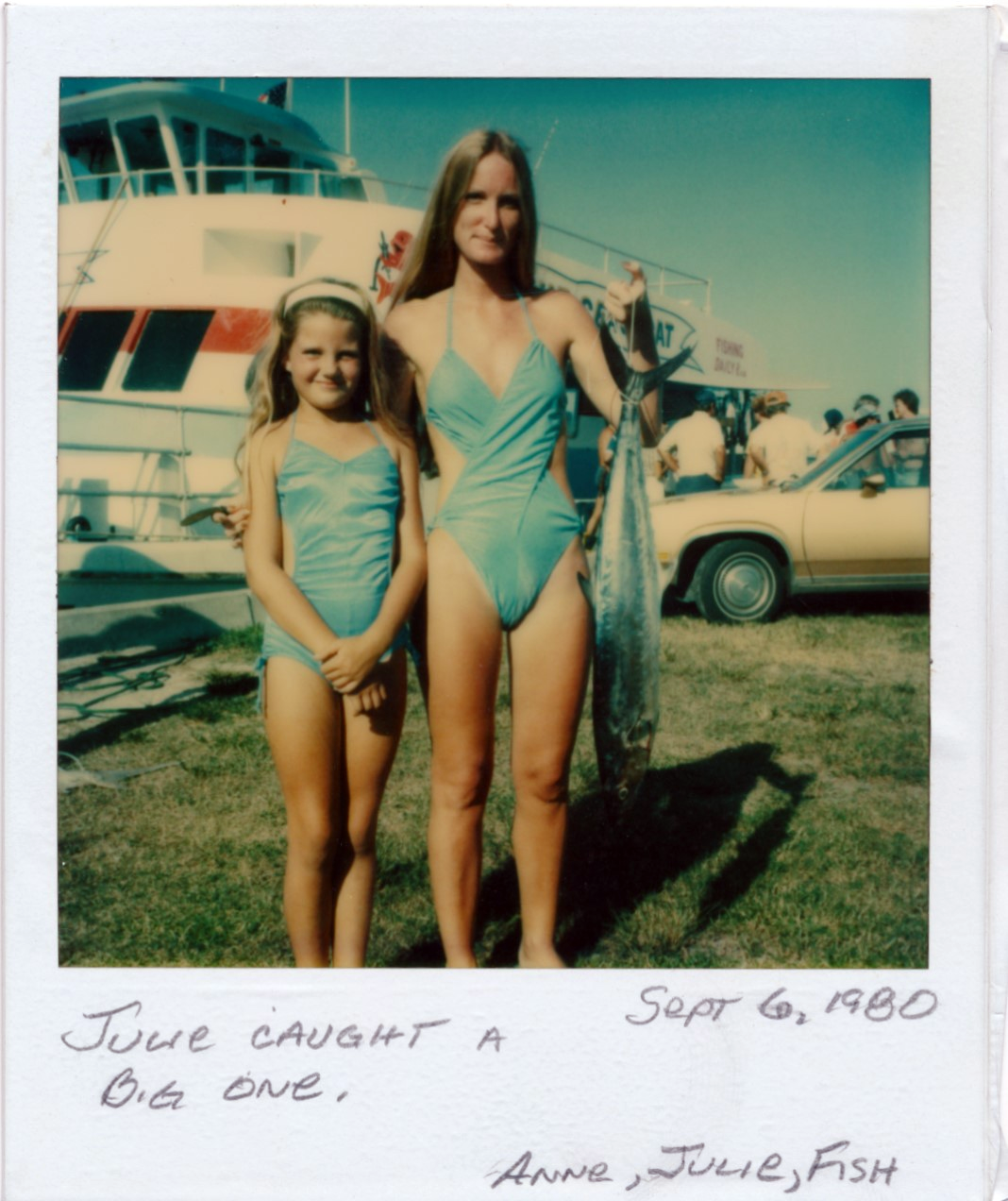 A couple of weeks later in September Harris where I worked charted a deep-sea fishing boat and took the entire division out deep-sea fishing. The boat left out of Port Canaveral at eight on Saturday morning so I got there early and checked out the boat. Much like the Helen S that I had been fishing on in the Bahamas, the boat had benches all along the sides for people to sit and fish from. Soon after everyone was on board and I managed to get a seat next to Julie and her six year old daughter Anne as the boat was leaving port. It was a perfect Florida day for fishing, warm, bright and sunny in the mid eighty's and calm seas as we headed out to the fishing grounds which upon arriving, I was able impress Julie with my fishing skills putting the bait on the hook for her and her daughter
The fishing was spotty, and I didn't catch anything worth keeping but that was fine, I enjoyed helping Julie and her daughter and was to spend some time talking to Julie. Near the end of the day Julie had a big strike and managed to catch a King Mackerel that was probably two feet long and weighed six or so pounds. She was one of the few people that caught anything that day. With the fishing done, the boat headed back to port and docked. As we were leaving the boat I asked Julie if she new how to clean the fish and she said she didn't so I offered to clean it for her and she said she would like that. There was a place at the dock that you could clean fish, so I cleaned and got two good sized fillets from it. Julie then asked me if I wanted to come to her place for dinner and she would cook the fish. Of course I accepted. So I followed her home and she cooked the fish and the evening became late and she asked I wanted to spend the night. I did so and we made love that night and so begin our relationship. We always joked that Julie caught two fish that day, the King fish and me.