I found the following piece of paper in Rosalie's (my grandmother, Rosalie Anderson Mixson) diary fifteen years after her death. Rosalie, born in 1901, would have been two years old when the story would have been written, so I'm sure she does not remember the poem from that time, but would have remembered it from being told the poem many times by her father's mother, her Grandma Anderson. Since the time she was born, Rosalie's grandma Anderson had either lived with them, or they with her, up until she passed away 1911 when Rosalie was ten. Her passing was a great loss for Rosalie who dearly loved her grandmother. Rosalie wrote in her memoirs "The Old Times",
Papa worked hard, planted corn and had a large corn patch. He got a cane mill built with a furnace and vat to cook the cane juice to make surip. Mama had about sixty hens. (They had them at Bonaventure). She sold eggs to buy coffee, sugar, and rice. We had a coffee mill to grind the coffee. I can remember Grandma sitting by the stove browning the green coffee, just right color of brown. Grandma died the year I was ten, but I can remember her so well. She taught me how to cook cornbread and would let me help her make cookies. I thought every one had to keep the cookies in a pillow case because that is what she did. I remember how after scrubbing the floor she would put an inch of white sand on the floor to keep it clean longer. After a few days it was swept clean and there was the floor clean and white (the sand was white as sugar).
In 1903, Tobias, his wife Fannie, their baby daughter Rosalie, and Tobias' mother were living in the Flemington area near several other Mixson families with some related, remembering that Tobias' first wife was Rosa Lee Mixson, who Rosalie was named after. The poem is said to be written on Christmas day, 1903, at the time the Anderson's were very poor, barely surviving. Rosalie wrote in her memoirs,
When I was 6, Papa decided he was not making enough to take care of us like he would like. The cows were all dying also the hogs and his only horse fell in a stump hole and was burned so badly he had to shoot her.
I could imagine them on a mild seventy-five degree Florida Christmas day, her mother, father and grandmother, gathered at their house decorated with swigs of holly with redberries cut from the local trees, the smell of fresh cut pine swaths on the fireplace mantel, Tobias put a piece of mistletoe over the door to get a kiss from his wife. He had the good fortune to shoot mistletoe down from a tree with his shotgun, although he missed the squirrel he was aiming at, he still managed to get a couple more which they had for dinner that night.
Christmas morning few gifts were exchanged, all handmade for they could not afford any store bought items. Grandma Anderson, as she was called since baby Rosalie was born, having no money of her own, gave what she could, crocheted dollies that she spent many hours making, handmade baby clothes for Rosalie she made from scraps of materials she had collected, (any leftover scraps would be made into a quilt) but the most the most cherished thing was a poem she wrote on a scrap piece of paper. In the following years, Rosalie loved when her mother would pull out that scrap piece of paper on Christmas day and read the poem her grandmother had written, her eyes filling with tears from the fond memories of her grandmother.
The following is in Rosalie's handwriting, probably written in the 1980's when she was writing her "The Old Times" memoirs. Her dating it as Christmas Day 1903 says it was likely a story she hand been told since she was a little girl.
Fishing With Grandma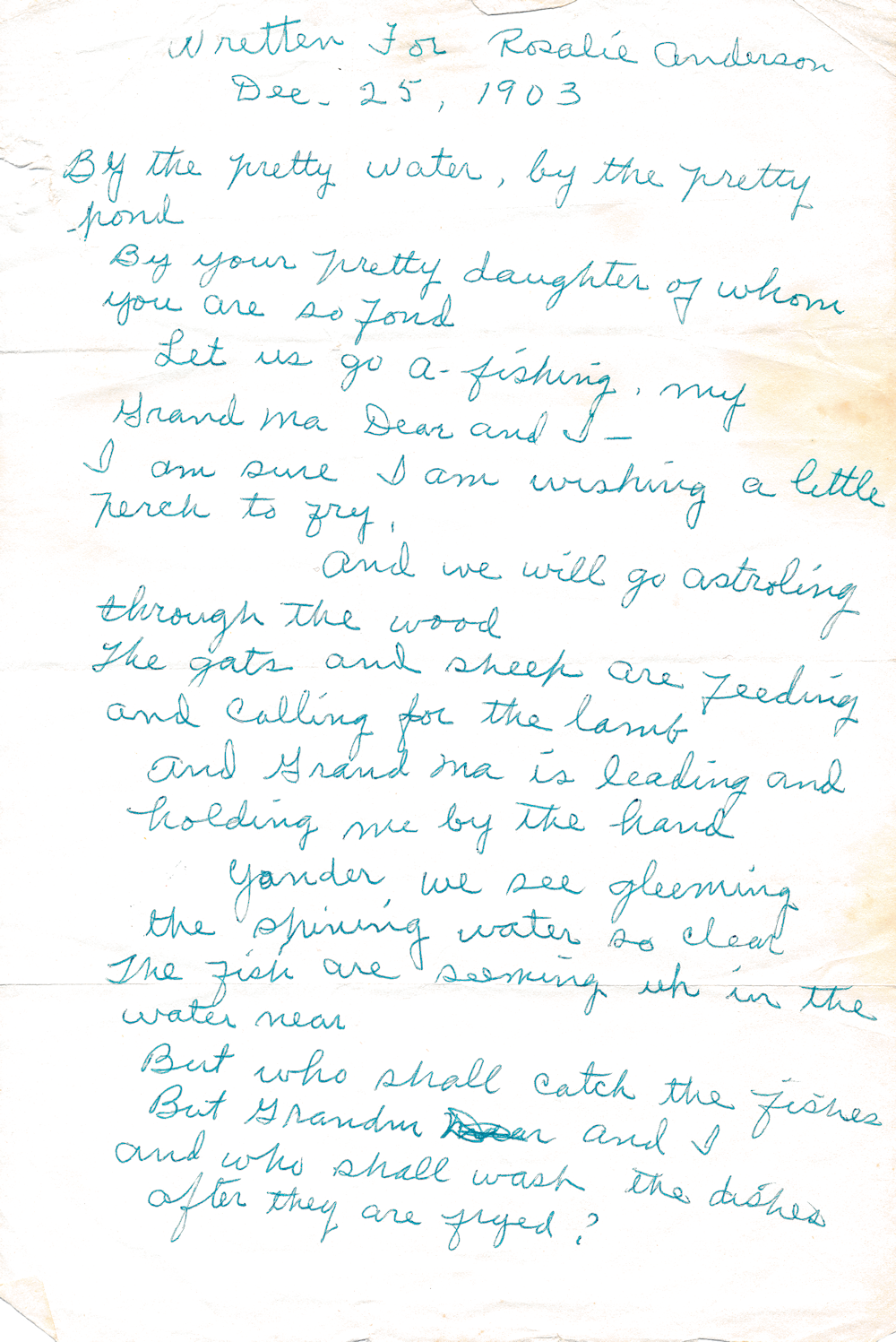 In the following years, Rosalie would go fishing many of times, with her husband and sons but what meant the most to her was when she took her grandchildren fishing and she would silently remember her grandmother's poem. I love you Grandma, those were most wonderful times.
Updated 04-13-2023