In the fall of 1948 after the program at the Massey Business school not working out, Morris checked with the Veteran's work program who found him a temporary job at the University of Florida in Gainesville as a stock clerk in the Chemistry Department. He started there in September 1948; it didn't pay much but it was better than working on the farm and he really liked it, often working overtime without being paid for it. The chemistry building, Leigh Hall, was a year older than Morris, being built in 1927, and was considered a "newer" building at the time, being only 21 years old being built the year before Morris was born. Morris, having grown up in a small cracker house, was impressed by the building's grandeur with its hallowed halls, masterly crafted stone staircases and vaulted ceilings. His job was to do what the boss asked him to, a gofer they called it in the Navy, go-fer this go-fer that. He would receive and unpack equipment and supplies when they arrived, put it away on the shelves, deliver chemicals and equipment to the various professor and student labs or handle the desk where professors and the grad students would come to put in requests for chemicals and glassware. He was well liked, a hard worker, and it wasn't long before they put him on full time. What was supposed to be a short time job, Morris would work at the Chemistry Department until he retired 42 years later.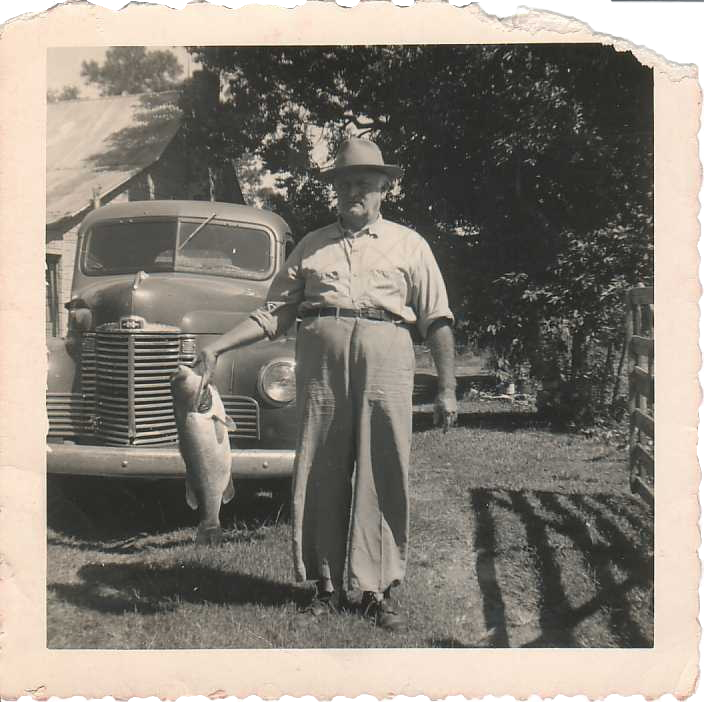 Wilbur and his '47 International Truck
The University in Gainesville was thirty miles from Morris's home in Flemington so Morris bought his first car, a '38 Ford which he got for eighty-five dollars. It wasn't that in all that good of shape with the passenger side being banged up by the previous owner, but it ran and got Morris to and from work, well most of the time, somedays it wouldn't start, and Morris had to drive his father's truck. Earlier in 1948 Morris's father Wilbur received an Adjusted Service Credit of $1500 from the U.S. Veterans Bureau for his service in World War I, which was quite a sum for him at the time, and Wilbur used it to buy a 1947 International KB-2 pickup truck.
Barbara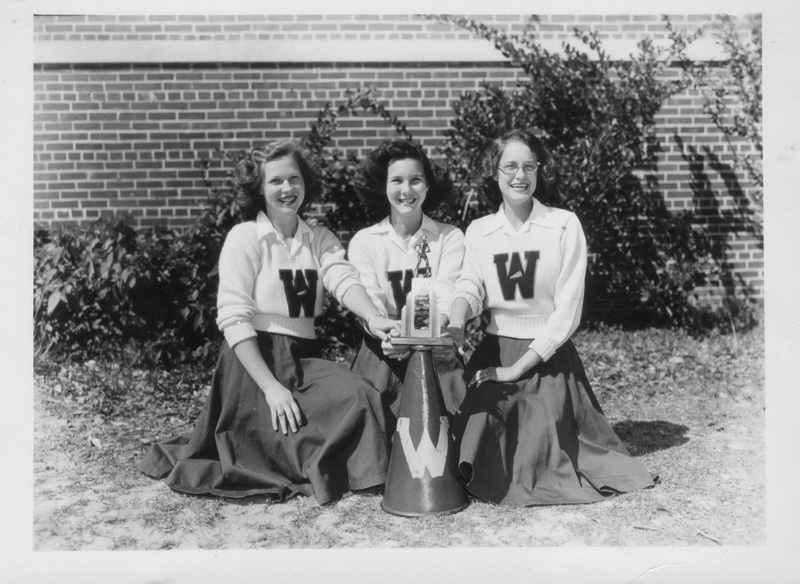 Barbara on Right
In September Barbara started as a junior at Weirsdale High, and more than once someone commented her being a junior, Junior. The new school was a big change for Barbara, coming from a large school in Atlanta where she had many friends to a very small school and no friends. At first, she found it difficult to make friends, with her being an outsider while the others at the school had known each other all their lives. Before the start of basketball season, Barbara tried out for cheerleader and was selected, and she begin going to the basketball games which helped her to meet and make friends. It was on the bus to the basketball games where she met Georgie who gave her first kiss. She says in her writings, "I didn't like it , it was so wet."
Barbara wanted to join the kids from school who would often go to the local hangout called "The Beach" on Lake Weir where they danced, listened to the jukebox and played pool, but Barbara was not allowed to go for those activities were considered "sinful" by her father, being a Baptist preacher. Interesting since her mother wrote in her memoirs about when she first married Fred, "Dancing was our biggest thing. We would go to a couple of dances a week. There was always live music so this was a big event for us. There were plenty of parties at our friend's homes too. "
Although Fred did not allow Barbara to go to local dance hall, but he would often have parties and cookouts at their house for church members and on several occasions for the basketball team and cheerleaders, which made him a big hit with the kids.
Morris
Morris would on occasion go to the church at Flemington with his parents, but they did not attend regularly, although several his aunts, uncles and cousins did. When Morris heard that the church had a new preacher and the preacher had four daughters, he decided he should start going to church again. The next Sunday he told his mom he was going to church, much to her surprise, but she approved. Upon arriving he had a few minutes before church started to talk to a few friends, something you can't avoid at a Baptist Church unless you slipped in after church had started and sat on the back row. While talking to friends, he kept an eye out for the preacher's daughters. Being a small community, where everyone knew everyone, he thought the girls should be easy to spot.
Not seeing them outside, he proceeded to enter the church, shaking the hand of Mr. Pardee who was greeting people at the door that Sunday. As Mr. Pardee held his hand a bit longer and said, "Good to see you back Morris, tell your folks I said hello and I hope to see them here next week." Morris says he would be sure to tell them, entered the church, and saw the new Junior family sitting at the front of the church. He walked slowly up the aisle finding a pew closer to the front than he normally would sit so he would have a good view of the sisters.
Morris was impressed and a little frightened with the new preacher who pounded on the podium, waved the bible, and preached so vehemently that he turned red in the face and had to take out his handkerchief to mop his brow, but he was only half listening as he was more interested in the two older daughters sitting on the end of pew alongside their mother. As the offering bowl was passed down the pew came to him, he took out and put fifty cents in the bowl, something he could afford now that he had a paying job, the woman sitting next to him smiled in approval. The sermon came to a close with the final prayer and amens and the preacher, his wife and all six children lined up at the exit to shake hands as people exited. Morris shook the preacher's hand and gave his name when asked and moved down the line, pausing at the older daughters, he introduced himself and got their names. He thought the skinny one was the cutest, she said her name was Barbara.
Morris was happy at close of 1948, both with his job and the new girl he met named Barbara.
Updated: 12-12-2021