The first of September I started 4th grade again at Littlewood with Joan Stephens as my teacher and with many of the same classmates. I did better in my studies and made mostly B's with a couple of A's in arithmetic. The only eventful thing I remember about the 4th grade was I got into my first and only fight, well if you could call it a fight. Our class was on recess and the boys and I were playing with a basket ball on the ball court when a larger boy, the bully in class got mad at me for something which I never really under stood. He started roughly bumping into me and taking the ball from me every time I got the ball until the last time when he said something angrily to me and shoved me to the ground telling me to get up and fight him. I was shocked, I wasn't mad at him, I didn't understand why he was mad at me. After a few moments I got up and walked away with him pushing me and telling me to meet him after school to fight him. I continued to walk away, and he gave up and left me alone. At that time when there was a fight between two boys it happened just after school let out and the boys would meet at the back of the playground just outside the school fence. Word of a fight would spread around all the classrooms at lunch time or during recess which several classes would have at the same time. When school let out a dozen or more boys and a few girls would gather at the fight spot to watch the action which generally was uneventful, a few words exchanged, a bit of shoving, maybe a fist or two but never much of a fight.
On September 23 the Florida Gators beat Clemson 21-17, Dad and Billy went to the game together and they were so happy when they got home they talked about how good the Gators were going to be this year. But it went downhill from there when on September 30th Florida tied Florida State and then lost the next two games to LSU and Miami. Dad and Billy decided the Gators got a lot of good experience this year and would be better next year.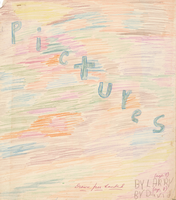 Click to view
One cold and rainy day my brother and got the crayons and sheets of paper and made a picture book in which we drew pictures of animals and other things that we copied from magazines or books. I would make and outline drawing of the animal or object and then David would help color it. Mom was so proud of the drawings that she wrote "Drawn fee handed." on the cover and saved it.
Family Dinner
Dinner was always a family affair, Mom made dinner each weekday night which she would have ready at six o'clock. She put to good use the pots that she had bought back in 1959 when she and Dad were engaged. The weekend dinner's were a little more casual with Dad often grilling hamburgers or steaks on the grill. While Mom was busy fixing dinner Brenda would mostly take care of baby Beth, which I would sometimes help but I didn't have much patience for it, so David and I usually played until just before dinner time when David and I would help set the table. At dinner time Mom would call us to the table, and we would where we would sit in our usual chairs with Mom sitting at the end of the table by the kitchen door, Dad at the opposite end with me then David on his left, Brenda on the right then Beth in the highchair. Mom would say the blessing, pass the food around filling our plates then eat. There would usually be some conversation around the table about how our day at school was or about other family and friends. Mom was a good cook, with Dad always claiming he taught her how to cook since she came from the North. Meals always consisted of meat, potatoes, a vegetable and almost always a small toss salad. The meat would be beef or chicken occasionally fish if Dad had been fishing. Occasionally Mom would make something other than meat and potatoes like spaghetti or a casserole with noodles and a can of Campbells Cream of Mushroom soup. The toss salad was always iceberg lettuce, carrots, radishes, celery and fresh tomatoes from plants dad grew in the back yard. I would sometimes help make the salad, cutting up the items with a small paring knife. One of my favorite meals was meatloaf with ketchup, baked beans and potato salad. I was like Mikey on the TV commercials and would eat anything, but Brenda was very picky and would often have to remain at the table to finish her food while we all left. I sometimes helped her out when Mom wasn't looking and would eat something for her, other times she would slip the food into her napkin and hid it under the table. After dinner we kids would clean the table and wash the dishes taking take turns, one would clear the table, one washed the dishes and the other rinsed and David or I would take out the trash.
Television
Television, or just TV as we called it became a central part of our family life. Dad turned the TV first thing when he got home from work, and he then would usually lay on the sofa and take a nap while the news was on. He always claimed he wasn't sleeping but just resting his eyes and was listening to the news. He did always seem to know what was on the news but when he started snoring I would know that he was really sleeping. At six o'clock mom would call us to dinner and on occasion one of us would have to go tell Dad it was dinner time, but he wasn't sleeping. The TV would often be left on during dinner with the news playing. The TV would be turned off after dinner if we had homework to do but as turned back on after we were done and the whole family would watch the shows together. There were four channels, one for each network NBC, CBS and ABC that everyone in the country watched the same thing. In addition, Gainesville was one of the few cities in the US that had a fourth channel, the educational channel WUFT, aired by department of broadcasting at the University of Florida whose department chairman Kenneth A. Christiansen helped establish the Public Broadcasting Service (PBS) in 1969 with the WUFT then becoming one of the first PBS channels in the US. On nights with school the next day we only were allowed to watch TV until eight thirty or nine and on other nights and during the summer until nine or nine thirty and if it was something special perhaps until ten PM. With only one TV we all watched the same thing and with each of us having our favorite shows and when two person's shows were on the same time there would be negotiated settlements where one watched their show on week and the other their show the following week. There were many westerners; Wagon Train, Gunsmoke, Rawhide, Have Gun Will Travel and the always popular Bonanza. We watched family shows like My Three Sons, Andy Griffith and would never miss Lassie. Walt Disney's Wonderful World on Sunday night was a must. Sometimes we watched more serious shows like Perry Mason and Dr. Kildare and laughed at the pranks played on people on the Candid Camera show. The Red Skelton and Ed Sullivan shows we watched on occasion but generally as a kid did not find them all that interesting. And then there were Saturday morning cartoons. David and I would get up and first thing turn the TV on and watch cartoons for an hour or two. There was Mighty Mouse, Popeye the Sailor, Mister Magoo, Bugs Bunny, Yogi Bear, Alvin the chipmunk, and the Flintstones among others.
I'm Saved
On December 4th, Mom gathered Brenda, David and I together in the living room telling us there is something she wat to talk to us about, something that didn't happen very often so I wasn't sure what it was about. With us all together she asked if we believed Jesus was our Lord and Savior and we all said yes. After hearing Grandpa Junior preach about going to hell, of course we said yes. A couple of weeks later Brenda, David and I were all baptized by Grandpa Junior during the evening service at Grandpa's church The Baptist Tabernacle and I got to experience being baptized just has Grandpa had baptized mom at Flemington Baptist Church back in 1949. Brenda, David and I and a couple of others gathered in a room behind the pulpit where took off our cloths and put on white robes and then led one at a time up a couple of steps to the baptismal. My turn came I stepped down into the pool of water where Grandpa was waiting and looked out. I was surprised, what I thought was a painting of a river scene on high up the wall behind the choir and the pulpit was actually a window with the pool behind it as I looked out over the congregation seated in their pews. It was just a quick sight when Grandpa then asked if me if accepted the Lord as my Savior, and after saying "I do.", Grandpa said, "In the name of the father, son and holy ghost, I baptize thee so help me God.", and placing his hand under the back of my neck, whispering to me, "hold your nose" as he lowered me backwards, submersing me under the water and I looked up though the ripples in the water seeing Grandpa looking down at me with the light overhead making a halo around his head. As quickly as I went under the water I was brought back up and walked up the steps on the opposite side and out of the water. We quickly dried off with waiting towels and changed back into our clothes. I was saved and would go to heaven when I died which seemed to be a long time off but a little closer since Grandpa Mixson died earlier in the year.
December 11th the United States entered into the Vietnam War with the first American helicopters arriving in Saigon along with 400 U.S. personnel. It was mentioned on the nightly news that Dad aways watched when he got home from work which I would sometimes watch with him. It didn't mean much to me at the time but would become more important ten years later when I turned 18.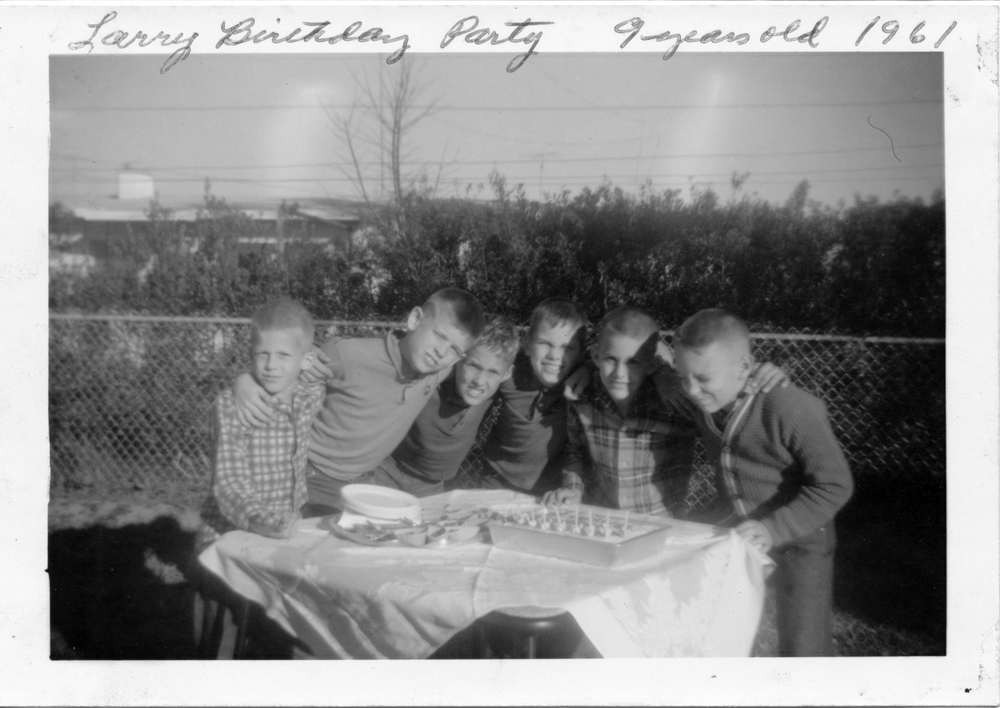 David, Hank, Douglas, Mike Kelly, Larry, unknown
The Saturday before my birthday I had a birthday party and Douglas, Hank, Mike Kelly who lived behind us and another of the neighborhood boys came along with my brother David made five. It wasn't much be we had fun playing games and having cake with ice cream. Birthday picture
Christmas came with the usual going out to get a Christmas tree, buying and wrapping of gifts and opening them on Christmas morning. Once again David and I got socks from Grandma Junior.
Updated: 05-28-2023