1974
Smitten
The more I talked to Elizabeth the more I like her writing in my journal….
March 10, 1974
I'm freaked out over Elizabeth. If dreams come true, then…. Couldn't sleep last night, thinking about Elizabeth. She's ideal, a dream come true? Ah, I hope all the other girls I've liked I knew in the back of my mind they weren't the one. But Elizabeth, seems to be exactly what I've always ever looked for in a girl, seems too good to be true. Almost everything I say, or she says fits almost perfectly with the other's personality. My idea of buying land, building a dome to live in, she's tried before with another guy but things didn't work out between them but it's something she wants to try again. Interests, many of the same, same music (classical), into science, read, liked many of the same books, movies, food, cooking, eating. I just can't believe it. She's coming for dinner today. I'm going to try to get her to spend the night. That would be a first. Never even kissed a girl before and I'm going to try to get her to spend the night and have sex. That just might blow my mind if things worked out. Here I am, can't get her off my mind and I need to study something bad for finals. She does get high, she's even gave me some magic mushrooms. What else can I say, I have just about made up my mind that she's the one. Now only to convince her. Like I said, I'm freaked out over her.
Be gentle
Be soft
Be strong
Be weak
Be
With my interest in Elizabeth growing, I gave up on Genia. After writing the above about Elizabeth I wrote, "I gave up on Genia, decide she and I would never make it together. Still see her and like her though. She's one of the more interesting people I met as of late."
There was one issue with Elizabeth, she had been in a relationship with a man which she said was over. I wrote in my journal…
She lived with a guy for a while, he bought some land and half a house (really) and she lived with him while they fixed it up. She likes the country and wants to buy land in the country to live on. When I started talking about buying land and building a dome to is when I believe she got her first click.
I drew the lightbulb next to the entry emphasizing the "click".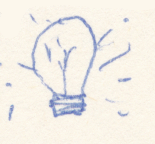 I have to give her credit that she did tell me about her ex, but I would find out later that she wasn't fully honest about the relationship being over. A couple days later I wrote…
Elizabeth didn't come for supper tonight. She was up late with her roommate who had problems. It came as a bad disappointment to me, but let things slide. Income tax check came today. (Elizabeth Is coming Thursday night instead)
But Thursday came and she canceled again. This would become a pattern with Elizabeth, she would often cancel at the last minute or give me a "maybe, she wasn't sure" answer. I didn't know where Elizabeth lived, she never told me, and I never met her roommate. I suspect that she was still seeing her "ex". A few days later she asked if I wanted to spend Saturday and Sunday at a cabin out in the country, and, of course, I said yes. The cabin was in the country near Micanopy a couple of miles from Grandma and Grandpa Mixson's old house. I wrote…
Elizabeth loved it there. It seemed to be her natural environment. To sit with her on the cabin's porch as the evening became dim and still. The short lull of sound at dusk between the day creatures sounds and the night creatures sound was when she was the most beautiful. The dim light and shadows enhancing her movements as she moved. I would smile with a warm feeling inside know she was happy. I loved her.
But not all was as it seemed. The cabin belonged to Fred, her "ex", who happen to be away for a few weeks. She explained that Fred was a professor at the University who she met when she took a class he taught. It made me a little uncomfortable staying in his cabin, but I was in love. I wrote…
April 23, 1974
Yes it could be true, It is. Elizabeth and I have become very close. No so completely that I am completely confident that things will last but almost so. Sex. Yes. She seem to enjoy it, I sure did. I need a lot more practice, but she's a good teacher. I love her. We are beautiful together, we mesh.
Yes, she was the first woman I made love to. I had told her I had never done it before and she was patient with me. After we finished making love she said that it didn't seem that it was my first time. I wasn't sure what to say, I sure wasn't going to tell her that I had practiced.