1975
More Cars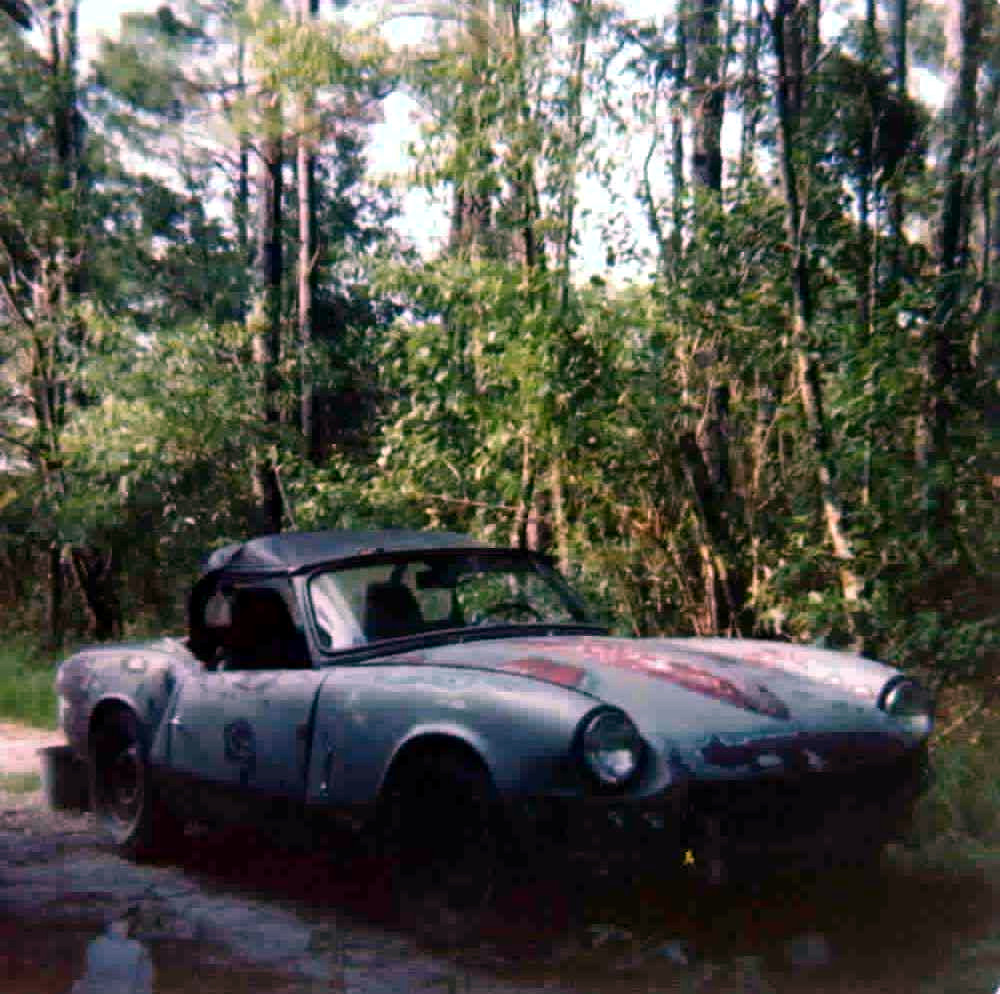 The Triumph Spitfire GT6 in the driveway of my home on Old Archer Road
A GT6 With my own place I saw less of my old roommate Bill but I still saw him occasionally when one day I was at his place and he showed me the car he had just bought. A Triumph Spitfire GT6. Wait a minute you might say if you know about cars, was it a Spitfire or GT6?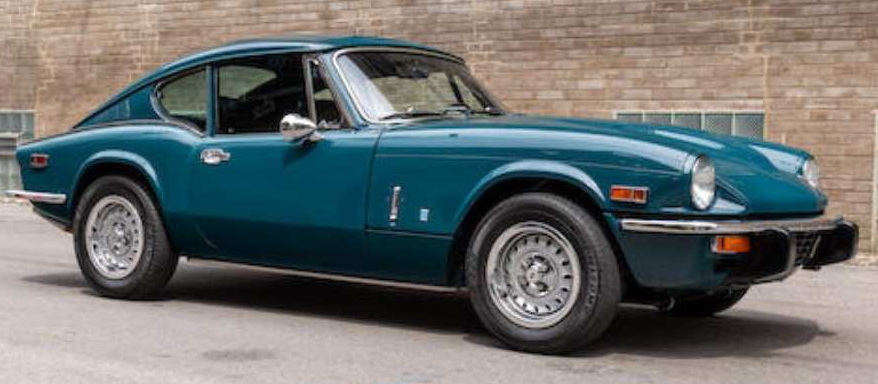 A Triumph GT6
Well it was both. The Spitfire came as a convertible but only had a four cylinder engine while the GT6 had the larger six cylinder engine but only came in a coupé (hard top). A local car shop in town that specialized in import cars put a Spitfire body on a GT6 frame and front end making a convertible GT6. The car looked pretty bad on the outside but it was mechanically sound. Whoever built the car had stripped the paint and painted it primer gray. While it was a fun car to drive, I didn't intend to keep it but rather sell it for a profit. I sanded the car down, resprayed it with primer gray using a half dozen cans of spray paint then rented a paint sprayer and painted the car white. I listed the car in the paper and within a few days sold the car making several hundred dollars on it.
With the extra cash and having a good paying job, I decided it was time to replace my old Econoline van which was have issues so I went to the Chevrolet deal in town and ordered a brand new Chevy van. They had a few on the lot but were not quite what I wanted. Most vans were the long body used for business while I wanted a short body one. I gave my specifications to the salesman, short body, white, V8 engine, standard shift, tall back seat option, large window in the sliding door and two in the rear. The salesman took my order and a deposit and said it would be a month or more before it would be built and delivered. Total price $2,000.
It took longer than expected to be delivered, when about two months later the salesman called me and said my van had arrived so I went down to pick it up. Upon arriving I met the salesman and we go out and look at it, it was so nice, brand new, shinny, clean, smelled new but there was a problem. It was missing the windows in the side door and the back doors and didn't have a passenger seat that I had ordered. We went back inside and the salesman agreed the windows were supposed to be included but the passenger seat was not on the order. I wasn't happy about it, but he agreed to have the windows installed if I would pay an additional $200 for the passenger seat and I agreed and returned home. A week later he called me and said the windows had been installed and the seat arrived, and I could come pick it up. I traded in my old Econoline van, they gave me $200 for it, I'm not sure it was worth even that much but trading it in was much easier than trying to sell the old thing.
Like my old van, I built a bed across the back but this time it would fold up into a seat the width of the ban. I put in wall to wall to ceiling carpet (no it was not shag carpet) and then made curtains just behind the front seats. One of the best things was it had air-conditioning. I loved my Chevy van.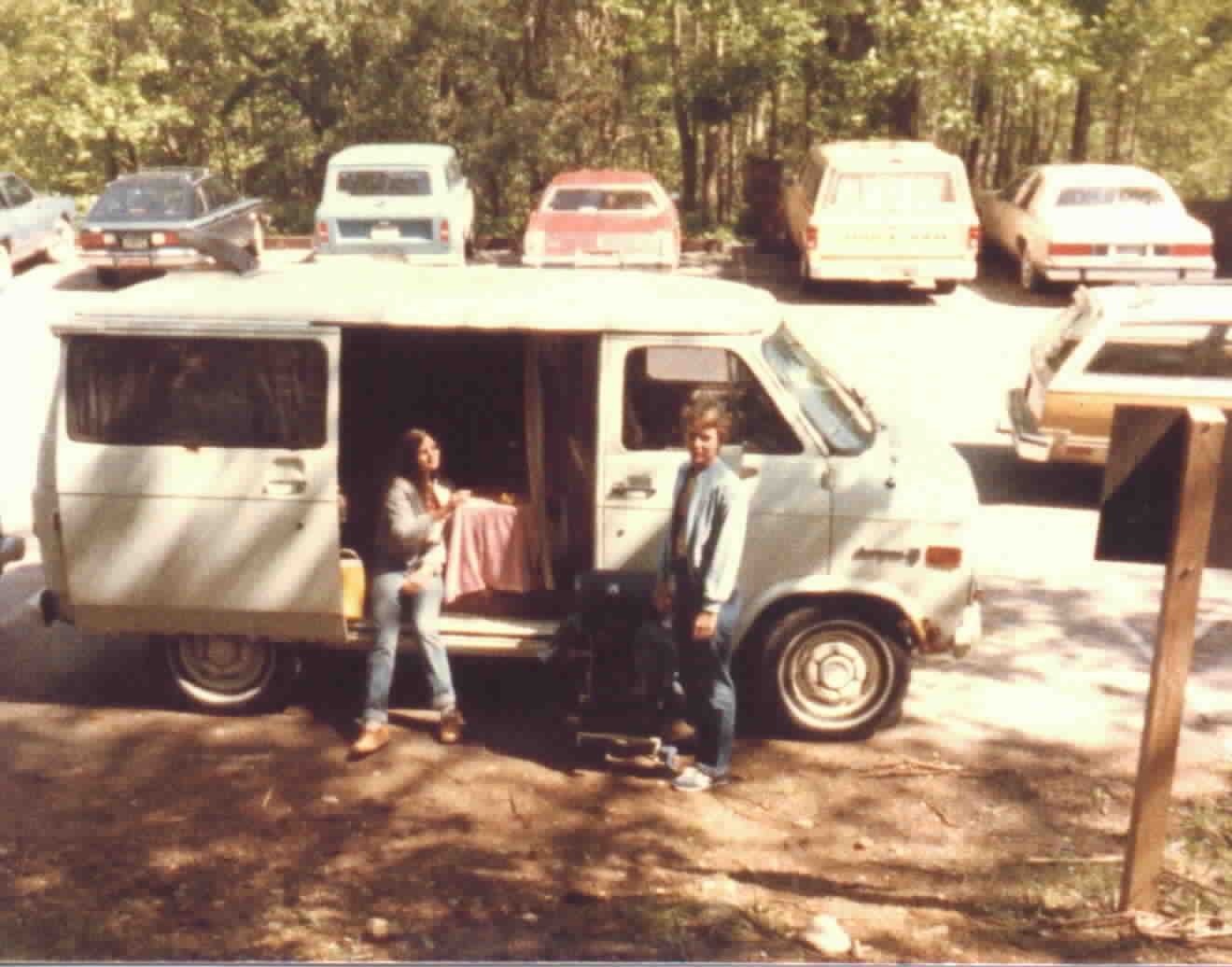 1976 Chevy Van At Beginning of Mt. LeConte Hike