Scene 3
The Preacher
Now let's get back to my story. Now it's important that you know all of this was going on during the summer and who was involved and to understand why to make the story to make sense you got to understand how Mr. Gary almost lost the springs. Besides these traveling folks passing though, most weekends there were the locals who came with their picnic baskets to swim and socialize.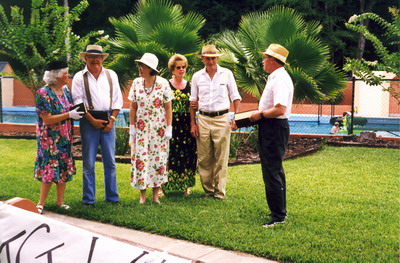 Bobby Rose and husband, Preacher's wife, Susie Joe and husband, Preacher Tommy Bob
Now one group who came to the springs most Saturdays was the preacher Tommy Bob

and his wife Brenda Joe and his followers from the Pine Grove Pentecostal Church. Well the good preacher and his wife didn't come to swim because they didn't believe in mixed swimming. They also didn't take to drinking, top smoking, to card playing, to picture shows, to dancing, to fortune telling, and most of all fornicating. Now it's surprising to the things you see and hear when you're a kid. People just don't seem to take notice to your being around. I knew that not only did several of Tommy Bob congregation play cards and take a little nip and smoke cigarettes but I also knew about the sisters Bobby Rose and Susie Joe. Well they might be real saintly now, always pointing the finger at others but there was a time when they were the talk of Pine Grove. Seems both of these ladies had their eye on the same bachelor

. There was rumors of parking in orange groves to one sister and drive in movies in Ocala with the other. While he was leading both the ladies on, founded sitting between both of them at church meetings. Well during one of preachers Tommy Bob's thirty minute prayers Bobby Rose happen to take a little a little peak to admire the bachelor and seen that not only was he holding her hand but was he was also holding Susie Joe's hand too. Well she got so mad she decided to give her life to the lord and go to Bible College in far off St. Petersburg and become a missionary in darkest Africa. Now Susie Joe was happy to see her sister go thinking that left the bachelor all to her but after two weeks of Susie Joe chasing him the bachelor decided Bobby Rose was the one he loved. Well he borrowed his pa's pickup truck and took off to bring Bobby Rose back and married her. Now this didn't sit too well with Susie Joe but in time she married the bachelor's rich first cousin. So Susie Joe had the big house, cars and traveled as far as North Carolina on vacation. But Bobby Rose never let her forget it was her who was the college woman. Now I can tell you many a story about preacher Tommy Bob and his followers but I need to get back to my story now.