1974
New Place
After the coke glass incident and with a fulltime job, I could afford my own place. After a week or two of reading the classified ads in the newspaper I found a house for rent described as two bedroom cottage on Archer Road for $100 a month, almost twice what I was paying living with Bill. I called the number that was listed and set a time to look at it. I arrived at the address, a block off northwest 34th street on Old Archer Road finding an old house. I pull into the dirt driveway, get out, and go to the front door and knock. An elderly lady answers the door and I explain I came to see the rental and she says to come in. I entered her living room, she invites me to sit down in a chair, her in another, and she asks me a few questions which I answered apparently satisfactorily. She explains she has three cottages that her deceased husband had built and the one that is available is the last one down her driveway. She hands me a key and tells me I can go look at it and come back and let her know if I want it.
I exited her house and started walking down the driveway that ran down the left side of her house. Her property and the lot next to hers were covered in pine trees shading the driveway which was a carpet of pine needles, very peaceful I thought. A hundred feet behind her house I came to the first cottage which was so small and cute it looked like something out of a children's story book. It looked like it might have once been a tool shed that was converted to a cottage with mismatched windows, doors and siding, nothing quite straight. The baby bear cottage.
Fifty feet further down the driveway was the second cottage, the momma bear cottage. It was a little bigger than the baby bear cottage and little better built. Passing the momma bear cottage was a small grassy yard and then at the very end of the driveway was the cottage for rent, the poppa bear cottage. I walk up a couple of stairs and entered a small screened in porch, unlocked the door and enter the living room with the kitchen at the far end. First impression, I liked it. The refrigerator was ancient, so old that it wasn't frost free and the freezer was mostly froze up, but it worked. Small three burner gas stove, needed matches to light. Off the living room was a short hall, nice size bedroom on the left, old kerosene heater in the hallway, no problem, it was like the one I grew up with at Mom and Dad's so I knew how to work it. Small bathroom at the end of the short hall and then another door to what was supposed to be the second bedroom but it was so small that a single bed would have filled it up. There was another room off the back of the small bedroom which was like a sunroom having windows that went all the way around on three walls from knee height to the ceiling.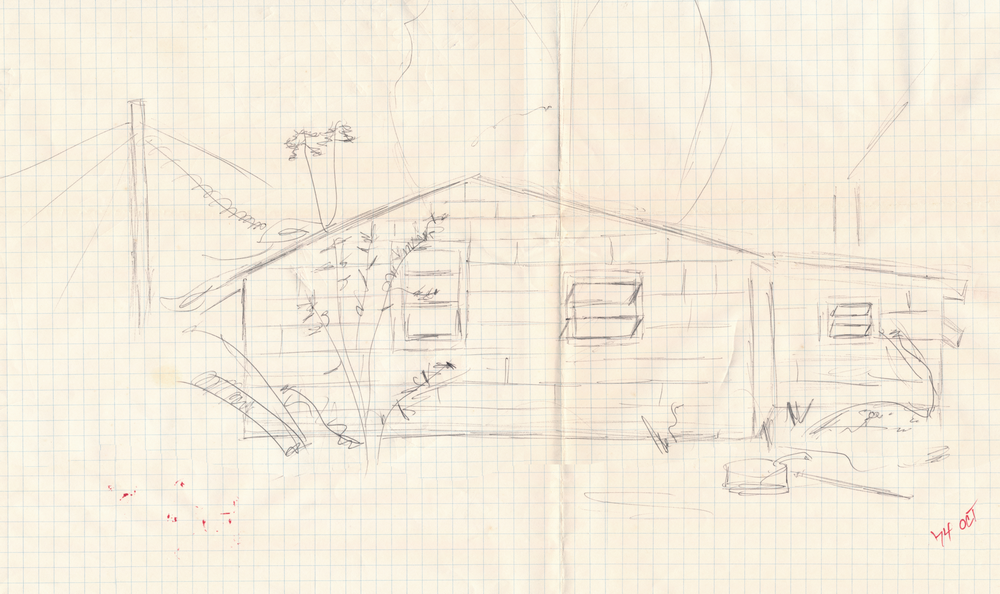 Drawing of the side of the cottage
I liked it and went back to the lady's house and gave her the deposit. She didn't even require me to sign a lease. I went home and when Bill got home from work I told him I got a place of my own and was moving out the first of July. He didn't say much about it, I think he might have already been thinking it was time we part ways. I knew he made enough money to afford the full rent, so I wasn't leaving him in a bind.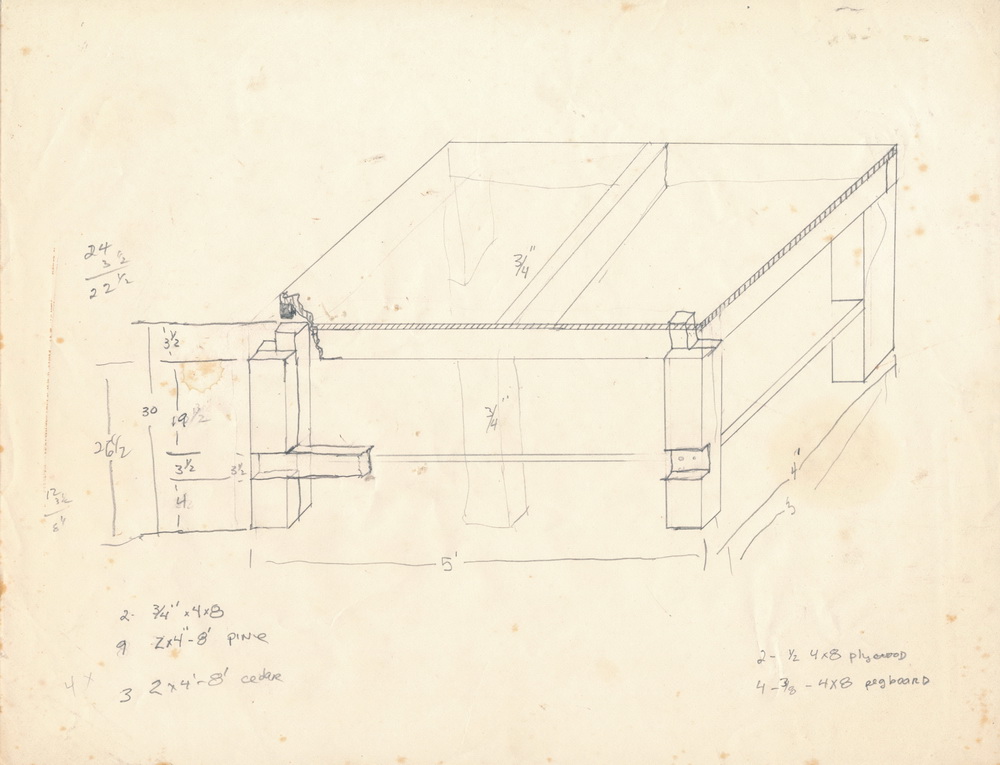 Coffee Table Design
The new place was unfurnished, so I bought a king size mattress which I placed on a platform I built from two-by-fours and a couple sheets of plywood. Someone gave me an old beat couch and a small dining table with two chairs and that was about it. Over the following year I would make a coffee table, [photo coffee table sketch] several bookshelves, a record player stand and a few other things. About six months after I moved in the refrigerator quit working and so I went to ask the old lady about getting it fixed. I really hated going to see the old lady which I did once a month when I went to pay the rent in cash. Oh, she was nice enough, invite me in ask me to sit, I couldn't just give her the rent and leave, we had to talk. I found her place a bit creepy, always dark with a single table light turned on, shades halfway pulled down with the sunlight coming through the window. Looking around I saw the place filled with a lifetime of family pictures and knickknacks, and so forth, all treasures of the life she had with her husband, everything covered in dust. I could tell she was lonely and just wanted to talk to someone so I would sit and talk with her fifteen or twenty minutes if I was lucky before I could get out.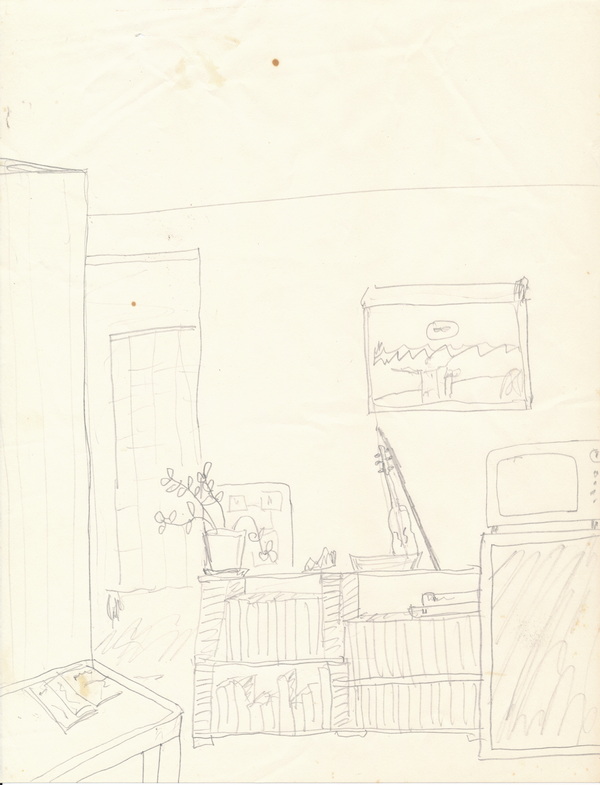 Sketch of living room as seen from sitting on the couch.
Coffee table lower left. Toy violin that Grandpa Mixson made on bookcase.
Painting on wall is "Enlightenment "
A couple of months after I moved in the eighty year old refrigerator quit working so I went to the old lady's house and knocked on the door. I had learned that it took her some time to walk to the door, so I waited patiently and finally opened the door, I say "Hello Mrs. Anderson". After looking at me a second she recognizes me and says, "Is it rent time already?", "No" I reply, "The refrigerator broke down and would like to have it repaired." She pauses a few seconds and tells me, "The place was rented unfurnished, you will have to get fixed yourself." I said, "But it is the refrigerator, it came with the house." she replied, "That old thing, I'm surprised it is still working, you will just have to get it fixed yourself." I mumble an OK and walk away thinking no wonder the place was so cheap. The next day I went to Sears and bought a refrigerator that had a frost-free freezer. They delivered it the next day and I put the old refrigerator out behind the house, let the old lady deal with it later I thought.